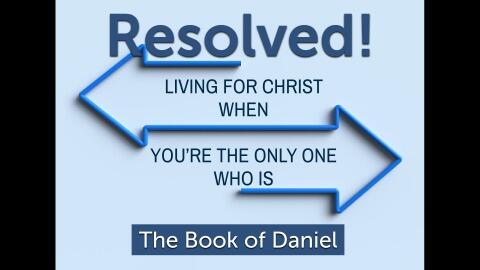 This is wrong + I have sinned + God is grieved + I hate this sin + Help me put this sin to death = Confession
Church Family: Where is your daily sin struggle? Is your struggle with hopelessness, bitterness, anger, violence, laziness, greed, sexual immorality, judgmental words, anxiety, gossip, selfishness? Whatever may be your daily struggle, you must remember that God welcomes and invites you as you are burdened with sin. "Jesus has not come to call the righteous but sinners to repentance" (Luke 5:32).
True repentance begins with a heart that is confessing sins openly and honestly before the Lord. This is where Daniel finds himself in Daniel 9. Daniel wanted all of God's people to confess and repent of their sins. He knew that the people of God in exile had yet to grieve, confess and repent of sins. The people of God were continuing in their life of exile and calamity because they had still refused to confess and turn from their sins, "all this calamity has come upon us; yet we have not entreated the favor of the Lord our God, turning from our iniquities and gaining insight by your truth" (Daniel 9:13). All they needed to do was to confess and repent of their sins and call upon the merciful and forgiving God to be restored. Is this our story too?
What is confession of sin that God calls us to? Confession of sin is the agreeing with a Holy God that you are actively pursuing personal sin that is an offense to Him. Confession includes an initial event at the beginning of your Christian life when you confess that you are a sinner in need of a Savior. Confession is also an ongoing discipline throughout your Christian life when you grieve over continued sinning against the God who has made you holy and righteous in Jesus Christ. Both are to be present in the follower of Christ.
How does confession work in our hearts? You confess sin that you see, that you grieve and that you hate. You can't grieve sin that you do not see, and you cannot repent of sin that you have not confessed. As believers we must pray that by God's grace He will give us spiritual eyes to see our sin and hearts that are willing to confess it.
As natural born sinners we do not naturally see our sin and grieve them. Our tendency is to be like Adam and Eve. Adam blamed Eve, Eve blamed the Serpent, and both of them hid, but neither stepped forward and made willing and heartfelt confession. We also have a tendency to blame others for our wrongdoings. We like to think that our sins rise out of us being victimized by difficult people and difficult circumstances and difficult places, so we defend and justify ourselves.
Church, let us join together, in the example of Daniel in chapter 9:1-19, slowing down and looking and listening to God for a conviction of sin in our heart to confess and turn from and then quickly receive the assurance that we are forgiven and made clean from that sin. "If we confess our sins, he is faithful and just to forgive us our sins and to cleanse us from all unrighteousness" (1 John 1:9).
I look forward to worshipping with you Sunday, Steve
Our address is: 180 NC-210, Hampstead, NC 28443, USA