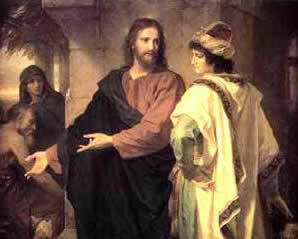 20th Sunday of Pentecost
October 10, 2021
In Person Services
Sunday 10:30 AM Eucharist in person
Sunday 8AM Eucharist in person
Wednesday Noon Eucharist in person and masked
Sunday 10:30 AM Eucharist online
Streamed live on Youtube Channel Grace Episcopal Camden
Proper 23, Year B
Old Testament
Amos 5:6-7,10-15
Seek the Lord and live,
or he will break out against the house of Joseph like fire,
and it will devour Bethel, with no one to quench it.
Ah, you that turn justice to wormwood,
and bring righteousness to the ground!
They hate the one who reproves in the gate,
and they abhor the one who speaks the truth.
Therefore, because you trample on the poor
and take from them levies of grain,
you have built houses of hewn stone,
but you shall not live in them;
you have planted pleasant vineyards,
but you shall not drink their wine.
For I know how many are your transgressions,
and how great are your sins—
you who afflict the righteous, who take a bribe,
and push aside the needy in the gate.
Therefore the prudent will keep silent in such a time;
for it is an evil time.
Seek good and not evil,
that you may live;
and so the Lord, the God of hosts, will be with you,
just as you have said.
Hate evil and love good,
and establish justice in the gate;
it may be that the Lord, the God of hosts,
will be gracious to the remnant of Joseph.
The Psalm
Psalm 90:12-17
Domine, refugium
12 So teach us to number our days *
that we may apply our hearts to wisdom.
13 Return, O Lord; how long will you tarry? *
be gracious to your servants.
14 Satisfy us by your loving-kindness in the morning; *
so shall we rejoice and be glad all the days of our life.
15 Make us glad by the measure of the days that you afflicted us *
and the years in which we suffered adversity.
16 Show your servants your works *
and your splendor to their children.
17 May the graciousness of the Lord our God be upon us; *
prosper the work of our hands;
prosper our handiwork.
The Epistle
Hebrews 4:12-16
The word of God is living and active, sharper than any two-edged sword, piercing until it divides soul from spirit, joints from marrow; it is able to judge the thoughts and intentions of the heart. And before him no creature is hidden, but all are naked and laid bare to the eyes of the one to whom we must render an account.
Since, then, we have a great high priest who has passed through the heavens, Jesus, the Son of God, let us hold fast to our confession. For we do not have a high priest who is unable to sympathize with our weaknesses, but we have one who in every respect has been tested as we are, yet without sin. Let us therefore approach the throne of grace with boldness, so that we may receive mercy and find grace to help in time of need.
The Gospel
Mark 10:17-31
As Jesus was setting out on a journey, a man ran up and knelt before him, and asked him, "Good Teacher, what must I do to inherit eternal life?" Jesus said to him, "Why do you call me good? No one is good but God alone. You know the commandments: 'You shall not murder; You shall not commit adultery; You shall not steal; You shall not bear false witness; You shall not defraud; Honor your father and mother.'" He said to him, "Teacher, I have kept all these since my youth." Jesus, looking at him, loved him and said, "You lack one thing; go, sell what you own, and give the money to the poor, and you will have treasure in heaven; then come, follow me." When he heard this, he was shocked and went away grieving, for he had many possessions.
Then Jesus looked around and said to his disciples, "How hard it will be for those who have wealth to enter the kingdom of God!" And the disciples were perplexed at these words. But Jesus said to them again, "Children, how hard it is to enter the kingdom of God! It is easier for a camel to go through the eye of a needle than for someone who is rich to enter the kingdom of God." They were greatly astounded and said to one another, "Then who can be saved?" Jesus looked at them and said, "For mortals it is impossible, but not for God; for God all things are possible."
Peter began to say to him, "Look, we have left everything and followed you." Jesus said, "Truly I tell you, there is no one who has left house or brothers or sisters or mother or father or children or fields, for my sake and for the sake of the good news, who will not receive a hundredfold now in this age—houses, brothers and sisters, mothers and children, and fields with persecutions—and in the age to come eternal life. But many who are first will be last, and the last will be first."
Prayers of the People as of 10/3/2021
We pray for the Church, for +Michael, Presiding Bishop and Primate; +Andrew our Bishop; for Pickett+ our rector.
We pray for Joe our President; for the leaders of the nations, Henry our Governor; Alfred Mae our Mayor and all first responders in our city and country.
We pray for those who are in need of God's healing, especially: Patty Baker, Bob Barinowski, Michael Beard, Collins Coker, Pat McKinney Criminger, Effie Taylor Ellis, Virginia Ferguson, Barbara Goode, Mary Hendrix, Rodney Hungerford, Peggy Mullikin Kinney, Gene Lockhart, Judy Martin, Jack McGee, Laurie Owen, Jim Parrish, Mel Pearson, Rich Pinkerton, Alma Raley, Jamie Raley, Helen Royall, Sara Jane, Neal Stegner, Patsy Topping, Carl Wylie
Please call church office, if there are additions or updates to the Wednesday extended or Sunday prayer lists. Names will be removed every four (4) weeks unless notified.
We pray for those serving in the Armed Forces: Alex Baker, Afghanistan; Holden Brunson, Camp Lejeune, NC; Hunt Brunson, Syria; Mitchell Edwards, Charleston; Allen Dempsey, Texas; Campbell Freitas, Norfolk, VA; Riley Kohn, OCS Navy training; AMN Dara O'Neal, McChord AFB, Washington; Chris Smith, Korea; Joe Todd, Ft. Gordon, GA; Parker White, New River, NC; and those around the world and at home.
For those celebrating birthdays this week: 10/10-Moultrie Burns, Jacob Prince; 10-10/11-Tom LaRoche
The Flowers on the Altar are given to the glory of God in loving memory of Gary Sahr, by Kay Wages and family
Announcements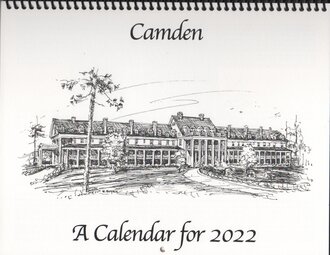 On sale ($10) at these locations:
Church Office
Books on Broad
Camden Antiques Market
Camden Archives and Museum
Cantey, Tiller, Pierce and Green, CPA
Everyday Gourmet
Historic Camden Museum
MUSC Health KMC- Gift Shop
Off The Hook
Revolutionary War Visitor Center
Travis Hair Salon
All Calendar profits will benefit the Community Medical Clinic and Christian Community Ministry of Kershaw County.
A Note from Pickett...
Good People,
We are well into another program year at Grace Church. The Blue's festival is this weekend, our annual giving campaign is about to kickoff, and the advent season is just around the corner. Our spirit and faith remain. Unfortunately, Covid-19, also remains. Last night I drove down Broad Street. I stopped at the red light at DeKalb and looked to my right. A large crowd sat elbow to elbow at the bar. I could see through the window that none of them were wearing masks. I looked to my left. In the car stopped beside me was a single person. A mask covered his face as he drove alone in his vehicle. There at the red light, in the center of town, I was flanked by two very different approaches. Every member of our community has developed a unique approach to pandemic safety. As individuals and families, these approaches change based on where we are and who we are with. Our comfort levels ebb and flow. Upon ascending to the throne of England, Queen Elizabeth said "I would not open window's into men's souls." Her primary objective was for the English people to recognize their commonality in the midst of their different opinion and beliefs. That has always been our strength at Grace Church. We are a body woven together from different perspectives that unite in common prayer.
We offer a variety of services and opportunities to engage. The risk level for each of these activities varies. I trust you, the people of this church, to make decisions that are appropriate for you and your family and friends. I know many of you have higher risk factors or care for loved ones that are vulnerable. I know many of you that are ready to press on with life. I believe our services allow for both of these perspectives. I will list them below from highest to lowest risk according to CDC guidelines.
Sunday 10:30 AM Eucharist in person
Sunday 8AM Eucharist in person
Wednesday Noon Eucharist in person and masked
Sunday 10:30 AM Eucharist online
There is opportunity at every one of these services to spread out and social distance. I remind you that the Bishop still requires face coverings for the unvaccinated. I encourage them for all. I believe that face coverings are the most effective preventative. You will notice, if you bump into me at the grocery store, that I still wear one. I am tested every ten days out of an abundance of caution. I have been tested three times this week alone. I encourage all of you to utilize the free testing that is available in the Rose's parking lot (free for everybody) and the Walgreens (free on most health plans).
The Covid-19 virus is not going anywhere in the near future. Neither are we! Stay engaged in the way that befits your family best and continue to lift prayers for one another, our community and the world.
See you Sunday,
Pickett+
Tomorrow's Service
Prelude will start early at 10:15 so that folks can come out and listen to the blues musicians and enjoy it.
Our address is: 1315 Lyttleton St, Camden, SC 29020, USA