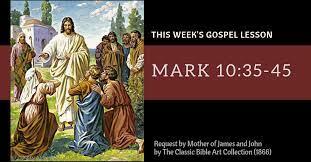 21st Sunday of Pentecost
October 17, 2021
In Person Services
Sunday 10:30 AM Eucharist in person
Sunday 8AM Eucharist in person
Wednesday Noon Eucharist in person and masked
Sunday 10:30 AM Eucharist online
Streamed live on Youtube Channel Grace Episcopal Camden
Proper 24, Year B
Old Testament
Isaiah 53:4-12
Surely he has borne our infirmities
and carried our diseases;
yet we accounted him stricken,
struck down by God, and afflicted.
But he was wounded for our transgressions,
crushed for our iniquities;
upon him was the punishment that made us whole,
and by his bruises we are healed.
All we like sheep have gone astray;
we have all turned to our own way,
and the Lord has laid on him
the iniquity of us all.
He was oppressed, and he was afflicted,
yet he did not open his mouth;
like a lamb that is led to the slaughter,
and like a sheep that before its shearers is silent,
so he did not open his mouth.
By a perversion of justice he was taken away.
Who could have imagined his future?
For he was cut off from the land of the living,
stricken for the transgression of my people.
They made his grave with the wicked
and his tomb with the rich,
although he had done no violence,
and there was no deceit in his mouth.
Yet it was the will of the Lord to crush him with pain.
When you make his life an offering for sin,
he shall see his offspring, and shall prolong his days;
through him the will of the Lord shall prosper.
Out of his anguish he shall see light;
he shall find satisfaction through his knowledge.
The righteous one, my servant, shall make many righteous,
and he shall bear their iniquities.
Therefore I will allot him a portion with the great,
and he shall divide the spoil with the strong;
because he poured out himself to death,
and was numbered with the transgressors;
yet he bore the sin of many,
and made intercession for the transgressors.
The Psalm
Psalm 91:9-16
Qui habitat
9 Because you have made the Lord your refuge, *
and the Most High your habitation,
10 There shall no evil happen to you, *
neither shall any plague come near your dwelling.
11 For he shall give his angels charge over you, *
to keep you in all your ways.
12 They shall bear you in their hands, *
lest you dash your foot against a stone.
13 You shall tread upon the lion and adder; *
you shall trample the young lion and the serpent under your feet.
14 Because he is bound to me in love,
therefore will I deliver him; *
I will protect him, because he knows my Name.
15 He shall call upon me, and I will answer him; *
I am with him in trouble;
I will rescue him and bring him to honor.
16 With long life will I satisfy him, *
and show him my salvation.
The Epistle
Hebrews 5:1-10
Every high priest chosen from among mortals is put in charge of things pertaining to God on their behalf, to offer gifts and sacrifices for sins. He is able to deal gently with the ignorant and wayward, since he himself is subject to weakness; and because of this he must offer sacrifice for his own sins as well as for those of the people. And one does not presume to take this honor, but takes it only when called by God, just as Aaron was.
So also Christ did not glorify himself in becoming a high priest, but was appointed by the one who said to him,
"You are my Son,
today I have begotten you";
as he says also in another place,
"You are a priest forever,
according to the order of Melchizedek."
In the days of his flesh, Jesus offered up prayers and supplications, with loud cries and tears, to the one who was able to save him from death, and he was heard because of his reverent submission. Although he was a Son, he learned obedience through what he suffered; and having been made perfect, he became the source of eternal salvation for all who obey him, having been designated by God a high priest according to the order of Melchizedek.
The Gospel
Mark 10:35-45
James and John, the sons of Zebedee, came forward to Jesus and said to him, "Teacher, we want you to do for us whatever we ask of you." And he said to them, "What is it you want me to do for you?" And they said to him, "Grant us to sit, one at your right hand and one at your left, in your glory." But Jesus said to them, "You do not know what you are asking. Are you able to drink the cup that I drink, or be baptized with the baptism that I am baptized with?" They replied, "We are able." Then Jesus said to them, "The cup that I drink you will drink; and with the baptism with which I am baptized, you will be baptized; but to sit at my right hand or at my left is not mine to grant, but it is for those for whom it has been prepared."
When the ten heard this, they began to be angry with James and John. So Jesus called them and said to them, "You know that among the Gentiles those whom they recognize as their rulers lord it over them, and their great ones are tyrants over them. But it is not so among you; but whoever wishes to become great among you must be your servant, and whoever wishes to be first among you must be slave of all. For the Son of Man came not to be served but to serve, and to give his life a ransom for many."
Prayers of the People as of 10/17/2021
We pray for the Church, for +Michael, Presiding Bishop and Primate; +Andrew our Bishop; for Pickett+ our rector.
We pray for Joe our President; for the leaders of the nations, Henry our Governor; Alfred Mae our Mayor and all first responders in our city and country.
We pray for those who are in need of God's healing, especially: Patty Baker, Bob Barinowski, Michael Beard, Collins Coker, Pat McKinney Criminger, Effie Taylor Ellis, Virginia Ferguson, Barbara Goode, Mary Hendrix, Rodney Hungerford, Peggy Mullikin Kinney, Judy Martin, Jack McGee, Laurie Owen, Jim Parrish, Mel Pearson, Rich Pinkerton, Alma Raley, Jamie Raley, Helen Royall, Sara Jane, Neal Stegner, Patsy Topping, Carl Wylie
Please call church office, if there are additions or updates to the Wednesday extended or Sunday prayer lists. Names will be removed every four (4) weeks unless notified.
Repose of the Soul: Gene Lockhart, (brother of Mike Lockhart)

We pray for those serving in the Armed Forces: Alex Baker, Afghanistan; Holden Brunson, Camp Lejeune, NC; Hunt Brunson, Syria; Mitchell Edwards, Charleston; Allen Dempsey, Texas; Campbell Freitas, Norfolk, VA; Riley Kohn, OCS Navy training; AMN Dara O'Neal, McChord AFB, Washington; Chris Smith, Korea; Joe Todd, Ft. Gordon, GA; Parker White, New River, NC; and those around the world and at home.
For those celebrating birthdays this week: 10/17-Lisa Butler; Carter Fakoury, Nelson Semple, Sarah Semple; 10/18-Daphne Wooten; 10/19-Roy Fakoury; 10/20-Nelson Lindsay; 10/21-Margaret Mertz; 10/22-Dennis Stuber
For those celebrating anniversaries this week: 10/17- Jim and Louise Burns
Announcements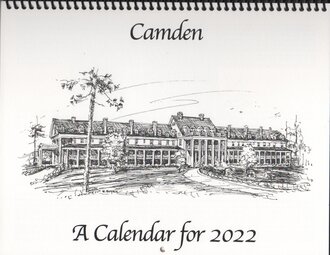 On sale ($10) at these locations:
Church Office
Books on Broad
Camden Antiques Market
Camden Archives and Museum
Cantey, Tiller, Pierce and Green, CPA
Everyday Gourmet
Historic Camden Museum
MUSC Health KMC- Gift Shop
Off The Hook
Revolutionary War Visitor Center
Travis Hair Salon
All Calendar profits will benefit the Community Medical Clinic and Christian Community Ministry of Kershaw County.
Volunteers needed for the Community Garden to help water and participate in work days throughout the year. Please contact Mary-Stuart Hardy (marystuarthardy@gmail.com) if you are interested in volunteering.
Our address is: 1315 Lyttleton St, Camden, SC 29020, USA