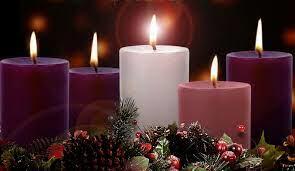 Advent 4
December 19, 2021
In Person Services
Sunday 8AM Eucharist in person
Sunday 10:30AM Eucharist in person
Wednesday Noon Eucharist in person and masked
Sunday 10:30 AM Eucharist online
Streamed live on Youtube Channel Grace Episcopal Camden
Readings Advent 4, Year C
The Collect
Purify our conscience, Almighty God, by your daily visitation, that your Son Jesus Christ, at his coming, may find in us a mansion prepared for himself; who lives and reigns with you, in the unity of the Holy Spirit, one God, now and for ever. Amen.
Old Testament
Micah 5:2-5a
You, O Bethlehem of Ephrathah,
who are one of the little clans of Judah,
from you shall come forth for me
one who is to rule in Israel,
whose origin is from of old,
from ancient days.
Therefore he shall give them up until the time
when she who is in labor has brought forth;
then the rest of his kindred shall return
to the people of Israel.
And he shall stand and feed his flock in the strength of the Lord,
in the majesty of the name of the Lord his God.
And they shall live secure, for now he shall be great
to the ends of the earth;
and he shall be the one of peace.
The Response
Psalm 80:1-7
Qui regis Israel
1 Hear, O Shepherd of Israel, leading Joseph like a flock; *
shine forth, you that are enthroned upon the cherubim.
2 In the presence of Ephraim, Benjamin, and Manasseh, *
stir up your strength and come to help us.
3 Restore us, O God of hosts; *
show the light of your countenance, and we shall be saved.
4 O Lord God of hosts, *
how long will you be angered
despite the prayers of your people?
5 You have fed them with the bread of tears; *
you have given them bowls of tears to drink.
6 You have made us the derision of our neighbors, *
and our enemies laugh us to scorn.
7 Restore us, O God of hosts; *
show the light of your countenance, and we shall be saved.
The New Testament
Hebrews 10:5-10
When Christ came into the world, he said,
"Sacrifices and offerings you have not desired,
but a body you have prepared for me;
in burnt offerings and sin offerings
you have taken no pleasure.
Then I said, 'See, God, I have come to do your will, O God'
(in the scroll of the book it is written of me)."
When he said above, "You have neither desired nor taken pleasure in sacrifices and offerings and burnt offerings and sin offerings" (these are offered according to the law), then he added, "See, I have come to do your will." He abolishes the first in order to establish the second. And it is by God's will that we have been sanctified through the offering of the body of Jesus Christ once for all.
The Gospel
Luke 1:39-45(46-55)
In those days Mary set out and went with haste to a Judean town in the hill country, where she entered the house of Zechariah and greeted Elizabeth.
When Elizabeth heard Mary's greeting, the child leaped in her womb. And Elizabeth was filled with the Holy Spirit and exclaimed with a loud cry, "Blessed are you among women, and blessed is the fruit of your womb. And why has this happened to me, that the mother of my Lord comes to me? For as soon as I heard the sound of your greeting, the child in my womb leaped for joy. And blessed is she who believed that there would be a fulfillment of what was spoken to her by the Lord."
[And Mary said,
"My soul magnifies the Lord,
and my spirit rejoices in God my Savior,
for he has looked with favor on the lowliness of his servant.
Surely, from now on all generations will call me blessed;
for the Mighty One has done great things for me,
and holy is his name.
His mercy is for those who fear him
from generation to generation.
He has shown strength with his arm;
he has scattered the proud in the thoughts of their hearts.
He has brought down the powerful from their thrones,
and lifted up the lowly;
he has filled the hungry with good things,
and sent the rich away empty.
He has helped his servant Israel,
in remembrance of his mercy,
according to the promise he made to our ancestors,
to Abraham and to his descendants forever."]
Prayers of the People as of 12/19/2021
Prayers of the People As of December 19, 2021
We pray for the Church, for +Michael, Presiding Bishop and Primate; +Andrew our Bishop; for Pickett+ our rector.
We pray for Joe our President; for the leaders of the nations, Henry our Governor; Alfred Mae our Mayor and for our city and country.
We pray for those who are in need of God's healing, especially: Patty Baker, Bob Barinowski, Michael Beard, Collins Coker, Effie Taylor Ellis, Virginia Ferguson, Barbara Goode, Mary Hendrix, Peggy Mullikin Kinney, Cindy, Mike and Dyke Leonard, Laurie Owen, Jim Parrish, Mel Pearson, Rich Pinkerton, Alma Raley, Jamie Raley, Ed Royall, Helen Royall, Sara Jane, Jerry Stallworth, Mike Stegner, Neal Stegner, Patsy Topping, The Rev. Joseph Patrick Ward, Carl Wylie
Please call church office, if there are additions or updates to the Wednesday extended or Sunday prayer lists. Names will be removed every four (4) weeks unless notified.
We pray for those serving in the Armed Forces: Alex Baker, Afghanistan; Holden Brunson, Camp Lejeune, NC; Hunt Brunson, Syria; Mitchell Edwards, Charleston; Allen Dempsey, Texas; Campbell Freitas, Norfolk, VA; Riley Kohn, OCS Navy training; AMN Dara O'Neal, McChord AFB, Washington; Chris Smith, Korea; Joe Todd, Ft. Gordon, GA; Parker White, New River, NC; and those around the world and at home.
For those celebrating birthdays this week: 12/20-Barbara Kovacs, Marianne Monrone; 12/21- Mary Dawson Lindsay, Patrick Lindsay; 12/23-Leila Long, Janis Pierce, Paul Robbins-Murphy
For those celebrating anniversaries this week: 12/21- Jim and Eleanor Parrish
Our address is: 1315 Lyttleton St, Camden, SC 29020, USA