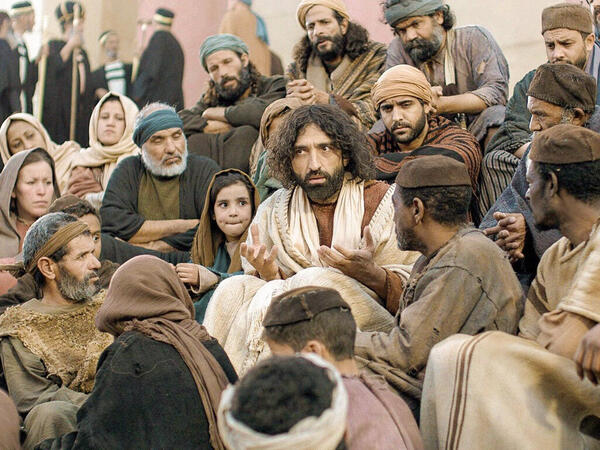 8th Sunday after Pentecost
Proper 13 - July 31, 2022
Readings for 8th Sun after Pentecost
Year C
The Collect
Let your continual mercy, O Lord, cleanse and defend your Church; and, because it cannot continue in safety without your help, protect and govern it always by your goodness; through Jesus Christ our Lord, who lives and reigns with you and the Holy Spirit, one God, for ever and ever. Amen.
Old Testament
Ecclesiastes 1:2, 12-14; 2:18-23
Vanity of vanities, says the Teacher, vanity of vanities! All is vanity.
I, the Teacher, when king over Israel in Jerusalem, applied my mind to seek and to search out by wisdom all that is done under heaven; it is an unhappy business that God has given to human beings to be busy with. I saw all the deeds that are done under the sun; and see, all is vanity and a chasing after wind.
I hated all my toil in which I had toiled under the sun, seeing that I must leave it to those who come after me -- and who knows whether they will be wise or foolish? Yet they will be master of all for which I toiled and used my wisdom under the sun. This also is vanity. So I turned and gave my heart up to despair concerning all the toil of my labors under the sun, because sometimes one who has toiled with wisdom and knowledge and skill must leave all to be enjoyed by another who did not toil for it. This also is vanity and a great evil. What do mortals get from all the toil and strain with which they toil under the sun? For all their days are full of pain, and their work is a vexation; even at night their minds do not rest. This also is vanity.
The Psalm
Psalm 49:1-11
Audite haec, omnes
1 Hear this, all you peoples;
hearken, all you who dwell in the world, *
you of high degree and low, rich and poor together.
2 My mouth shall speak of wisdom, *
and my heart shall meditate on understanding.
3 I will incline my ear to a proverb *
and set forth my riddle upon the harp.
4 Why should I be afraid in evil days, *
when the wickedness of those at my heels surrounds me,
5 The wickedness of those who put their trust in their goods, *
and boast of their great riches?
6 We can never ransom ourselves, *
or deliver to God the price of our life;
7 For the ransom of our life is so great, *
that we should never have enough to pay it,
8 In order to live for ever and ever, *
and never see the grave.
9 For we see that the wise die also;
like the dull and stupid they perish *
and leave their wealth to those who come after them.
10 Their graves shall be their homes for ever,
their dwelling places from generation to generation, *
though they call the lands after their own names.
11 Even though honored, they cannot live for ever; *
they are like the beasts that perish.
The Epistle
Colossians 3:1-11
If you have been raised with Christ, seek the things that are above, where Christ is, seated at the right hand of God. Set your minds on things that are above, not on things that are on earth, for you have died, and your life is hidden with Christ in God. When Christ who is your life is revealed, then you also will be revealed with him in glory.
Put to death, therefore, whatever in you is earthly: fornication, impurity, passion, evil desire, and greed (which is idolatry). On account of these the wrath of God is coming on those who are disobedient. These are the ways you also once followed, when you were living that life. But now you must get rid of all such things-- anger, wrath, malice, slander, and abusive language from your mouth. Do not lie to one another, seeing that you have stripped off the old self with its practices and have clothed yourselves with the new self, which is being renewed in knowledge according to the image of its creator. In that renewal there is no longer Greek and Jew, circumcised and uncircumcised, barbarian, Scythian, slave and free; but Christ is all and in all!
The Gospel
Luke 12:13-21
Someone in the crowd said to Jesus, "Teacher, tell my brother to divide the family inheritance with me." But he said to him, "Friend, who set me to be a judge or arbitrator over you?" And he said to them, "Take care! Be on your guard against all kinds of greed; for one's life does not consist in the abundance of possessions." Then he told them a parable: "The land of a rich man produced abundantly. And he thought to himself, `What should I do, for I have no place to store my crops?' Then he said, `I will do this: I will pull down my barns and build larger ones, and there I will store all my grain and my goods. And I will say to my soul, `Soul, you have ample goods laid up for many years; relax, eat, drink, be merry.' But God said to him, `You fool! This very night your life is being demanded of you. And the things you have prepared, whose will they be?' So it is with those who store up treasures for themselves but are not rich toward God."
Prayers of the People as of 7/31/2022
We pray for the Church, for +Michael, Presiding Bishop and Primate; +Daniel our Bishop; for Pickett+ our rector.
We pray for Joe our President; for the leaders of the nations, Henry our Governor; Alfred Mae our Mayor, and for our city and country.
We pray for those who are in need of God's healing, especially: Patty Baker, Bob Barinowski, Liz Campbell, Collins Coker, Ansley Culp, Effie Taylor Ellis, Virginia Ferguson, Barbara Goode, Sallie Grooms, Mary Hendrix, Parkie Linder, Amy Mathisen, Laurie Owen, Jim Parrish, Mel Pearson, Rich Pinkerton, John Price, Alma Raley, Helen Royall, Sara Jane, Jackie Smith, Mike Spearman, Jerry Stallworth, Mike Stegner, Neal Stegner
Please call the church office, if there are additions or updates to the Wednesday extended or Sunday prayer lists. Names will be removed every four (4) weeks unless notified.
We pray for those serving in the Armed Forces: Alex Baker, Afghanistan; Holden Brunson, Camp Lejeune, NC; Hunt Brunson, Colorado Springs, CO; Mitchell Edwards, Charleston; Allen Dempsey, Texas; Campbell Freitas, Norfolk, VA; Lieutenant Thomas Hobgood-Air Craft Carrier, Med. Sea;
Noah M Howle, Parris Island; AMN Dara O'Neal, McChord AFB, Washington; Chris Smith, Korea; Joe Todd, Ft. Gordon, GA; Parker White, New River, NC; and those around the world and at home.
For those celebrating birthdays this week: 7/31- Gus Conder; Jamie Guy; 8/1- Gene Wages; 8/3- Callie Cox, DJ Creed; 8/4- Lilly Bradley, Chris Cotton; 8/5- Avery Priebe
For those celebrating anniversaries this week: 8/2- John and Eileen Rushing
The Flowers on the altar are given to the glory of God in loving memory of Garnetta & Ernest Nutting, Charles David Nutting and Xanthan W. Polk, Sr. by Kay Polk
Blessing of the Backpacks!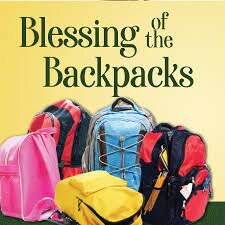 Blessing of the Backpacks!
Join us this Sunday, July 31st for the blessing of the backpacks! Let's get our students started on the right foot!
Sunday school Teachers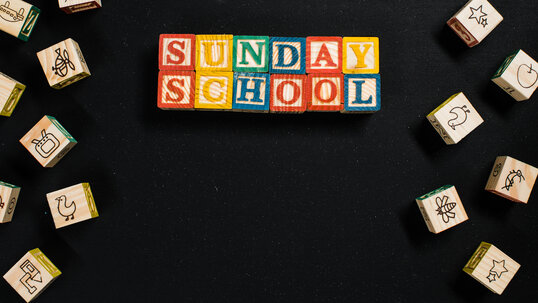 Calling all Sunday School teachers! Please contact LeeAnne Wall if you are interested in teaching Sunday School this year. We plan to start classes on August 21. 803-514-3630 or lagwall@gmail.com
The 100th Convention of the EDUSC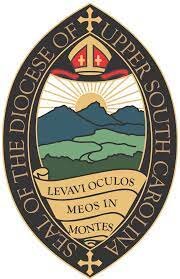 The Diocese is accepting nominations for
The Diocesan Executive Council
The Disciplinary Board
Trustee for the University of the South (Sewanee)
Deputy to the 81st General Convention of The Episcopal Church in 2024
If you are interested please get in touch with Father Pickett gracecamdenrector15@gmail.com or (803) 439-3224
Regarding each office, its requirements, and expectations.
The deadline to submit an application is September 11, 2022
Christian Community Ministries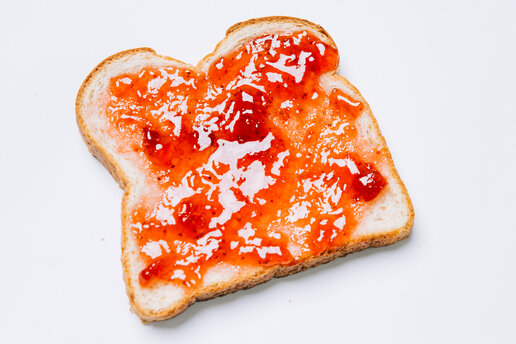 CCM needs non-perishables, especially jelly. Donations can be brought to church and placed in the wagons on Sunday morning, or you may drop off donations at CCM.
How Can You Serve?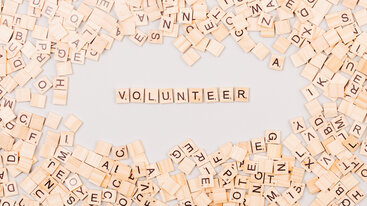 Click on the button below if you are interested in serving
at Grace Episcopal Church.
The Community Garden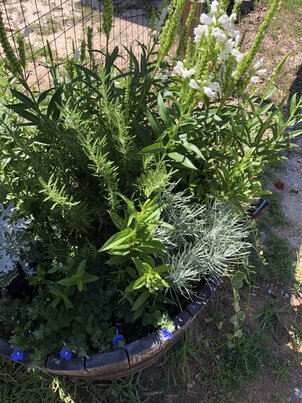 The Herbs and Veggies are ready for picking!
Please come and check it out!
Our address is: 1315 Lyttleton St, Camden, SC 29020, USA