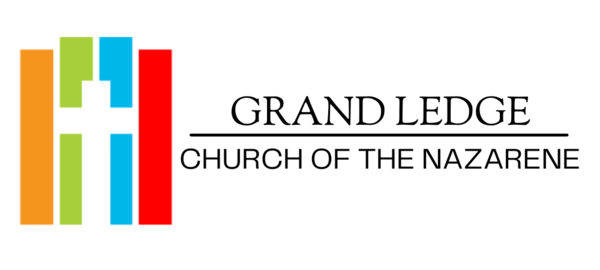 "He loved us not because we were lovable, but because He is love."
- C.S. Lewis
Sunday, September 25th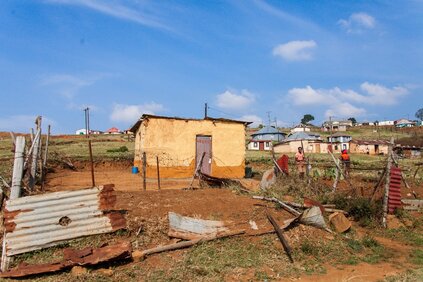 Some years ago, I had a recurring thought/mental vision that kept invading my mind. I believe it was a thought that came from the Lord at the time. The thought was this; "What if you had a different reality than you do? What if you were quite poor, living in an oppressive place with little resources or opportunity to advance yourself? If that was true, would you still be able to love and serve God? Would He be enough for you?"
It made me realize that we often depend on many things, and situations to find our satisfaction rather than find our sufficiency in God. Even if we had very little earthly resources it is possible to love and serve God. In fact, many things in life can be deterrents to our vital relationship with the Lord.
This coming Lord's Day we will continue to explore what the Holy Spirit does in our lives. He is the resource that makes all the difference. We learned last week that He counsels, He abides, He teaches, testifies, and convicts our hearts so we will turn to God. We will look at five more functions of the Holy Spirit as He dwells with us and in us. What an incredible presence He is for every believer as we walk through this life we are given, wherever we find ourselves.
Pastor Rich
Spiritual Gifts Inventory
The Holy Spirit gifts each believer with at least one spiritual gift to be used for the good of the Body of Christ. We are most effective and fulfilled when we work within our giftedness.
You are encouraged to take a simple gifts inventory to identify your gifts and put them to work.
Click the image above to take the test online or paper copies are available in the foyer at church.

Are you searching for ways to be the church throughout the week? Join our Helping Hands group for opportunities!
Grand Ledge Church of the Nazarene - Helping Hands
General • 20

See what the kids are up to!

See what the teens are up to!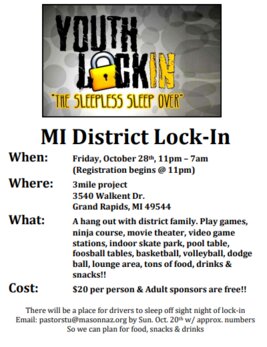 Life Groups

Life is better when we do it together - when we are able to come alongside and support and encourage each other.
Life Groups have begun! They meet at various locations/times/dates every other week.
Use the link below to sign up or see John Harris: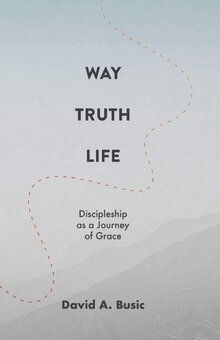 Grief Share Support Group

This support group meets from 6:30 - 8:30pm in the side classroom off the sanctuary.
Here are the scheduled meeting dates:
Tuesday, September 20
Tuesday, September 27
Tuesday, October 4
Thursday, October 18
Tuesday, October 25
Tuesday, November 1
Thursday, November10
Tuesday, November 15
Tuesday, November 22
Tuesday, November 29
Tuesday, December 6
Thursday, December 15
There is no cost to participate but you may purchase the work book for $15. If cost presents a problem for you, the church can help with that so you can attend this healing process.
See Richelle Martzke for more information on this group.
Financial Peace University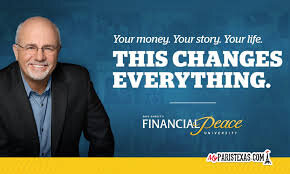 Would you like to take control of your money? See John or Darlene Harris for a one-on-one FPU class or sign up for a group class with others.
Craft Day - Coming Soon!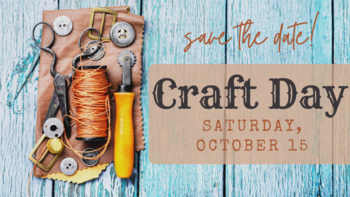 Join us for another Craft Day!
Bring your latest (or oldest) projects you have been working on for a day of crafting together.
More details coming soon!
Shared Pregnancy Women's Center Partnership

We are excited for our new partnership with Shared Pregnancy Women's Center. There are many ways we can give, donate, volunteer and pray for this ministry.
See the list below of items they can use. You can bring them in and drop them in the toy box in the kids hallway.
If you wish to donate money, you can drop change or bills in the baby bottle outside the kids room or give online at https://faithlife.com/glnaz/give and choosing the "Shared Pregnancy Women's Center" Fund
If you have any questions, see Kara Purves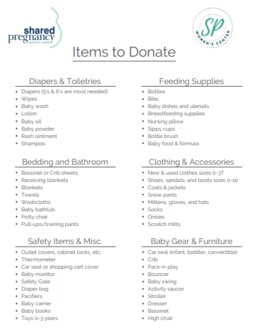 Trunk or Treat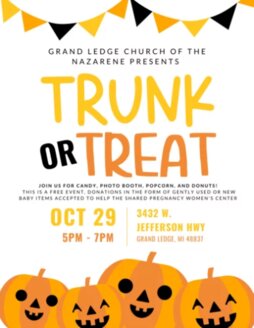 Join us for our 2nd annual Trunk or Treat! Here are a few ways you can help us serve at this outreach event:
Sign up to decorate your trunk (kid friendly theme) - See Kara Purves or sign up on the clipboard in the foyer
Candy donations (can drop them in the bucket located in the foyer)
Help with parking, registration, candy refills or other spots on that day
Pray for our neighbors who may come to this event

Use the link below to order your very own GLCN, ILMC and STRIVE logo wear items!

Mark Your Calendars!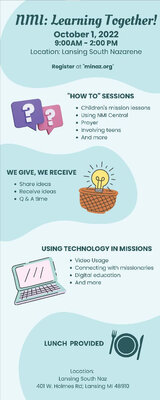 Crisis Care Kits are a way we can help others in emergency situations. Receiving simple items like toothpaste, a comb, or band-aids become very helpful in a natural disaster, war or other crisis. Crisis Care Kits (CCKs) are designed to provide people with some of the essentials they may not have due to those scenarios.
Most of the current stock of CCKs stored in the Nazarene Compassionate Ministries warehouses is already committed, and they need our help to provide more.
Our NMI Council has set a goal for Grand Ledge to collect 12 boxes (72 CCK's) by July 2023. Each month or so, we will feature an item to collect. (Although you can always give any of the items at any time!)
See below for this month's featured item and the details on the specifics. Thank you for helping us work toward reaching our goal!
September Featured Item: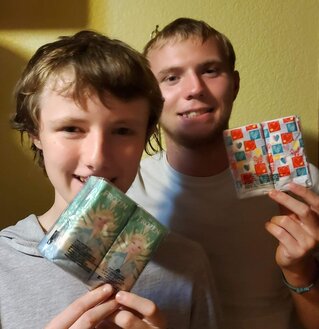 We've got tissues
Yes we do!
We've got tissues
How 'bout you?
September = Pocket sized tissue packs
We will be collecting these at the Missions wall in the foyer. Here is an idea of how many we will need by July 2023:
4 per CCK
24 per box
288 for all 12 boxes
Other ways to help:
Pick up banana boxes (can get free from most grocery stores) we will need at least 12 before July 2023
Pray for those who will be receiving these kits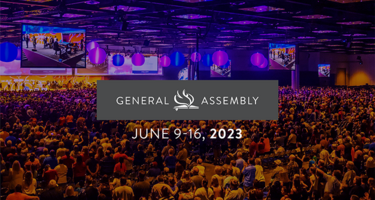 Our address is: Grand Ledge, MI