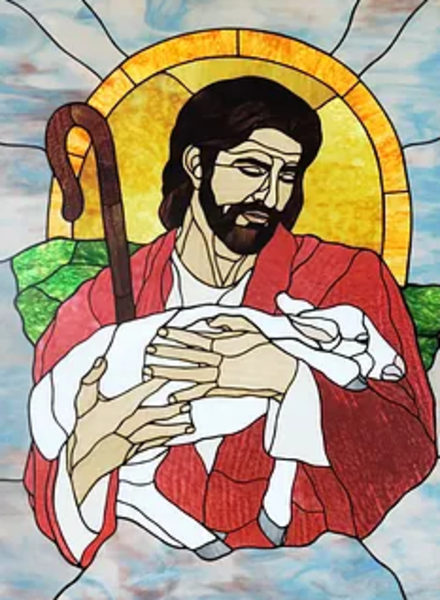 The Shepherd's Voice
Sunday, July 11, 2021
What's Happening Today
As We Gather
In today's Gospel, it looks like the end of the story when John the Baptist is executed. But he was but the forerunner for Jesus, the promised Messiah. Appearances were certainly deceiving! That was the case with Amos, a herdsman and dresser of sycamore figs when the Lord called him. He did not look like a prophet, but he stood up to Amaziah and Jeroboam in a long line of faithful prophets. Sometimes Satan uses appearances to deceive us, but the Epistle reminds us that God had predestined us to be with Him forever—even before He began creation! Although others might not recognize it, the Holy Spirit is the guarantee of our inheritance. Blessed be the God and Father of our Lord Jesus Christ!.
Today's Readings
O.T. Amos 7:7–15 (Amos boldly speaks for the Lord.) https://bible.faithlife.com/bible/amos/7/7-15?_ga=2.227101917.1147279034.1625840697-402095793.1559144528
N. T. Ephesians 1:3–14 (God made our salvation certain.) https://bible.faithlife.com/bible/ephesians/1/3-14?_ga=2.227101917.1147279034.1625840697-402095793.1559144528
Gospel Mark 6:14–29 (Herodias gets John the Baptist's head.) https://bible.faithlife.com/bible/mark/6/14-29?_ga=2.227101917.1147279034.1625840697-402095793.1559144528
Reader Jeff Largiader
Many Thanks
To Vicar Jeffrey Campbell, who is filling in for Pastor Schonberg this morning. May God bless him as he brings us God's Word and leads us in worship. While Pastor Schonberg is on vacation, if an emergency arises requiring pastoral care, please contact Rev. Daniel Berteau, Pastor of Redeemer, Manchester, at 732-657-2828.
July Mission of the Month
We are blessed in the LCMS with pastors and leaders well-equipped by our two world-class seminaries. Every gift to the LCMS Joint Seminary Fund supports both seminaries as they continue preparing future messengers of God's forgiveness. Every donation helps LCMS seminaries and is an easy way to make a lasting difference.
Free Stuff Table
Now loaded with the "Crosses of Lent" in the foyer/narthex. Check it out and help yourself.
Busy Bags
COVID friendly Busy Bags are available on the table in the foyer/narthex for children who would like an activity to do during the Service. These were printed, packaged, and sanitized in the home office of one person. Feel free to take one for your child(ren) and take them home with you. As these are a one-time use type of activity, they should not be returned or left at the church. Thank you.
Check out this drone footage of Good Shepherd!
https://www.youtube.com/watch?v=5LsawOTgoM8
What's Happening Soon
Adopt-a-Spot
Now that the growing season has "sprung" upon us, it's time to keep up with the weeds around our church building. It would be wonderful if one or two people or families would "adopt-a-spot" and maintain it into the Fall. There are five spots that need attention:
1. South end of our Christian Education Building (where the garbage bins are located)
2. Left of the entrance to our Christian Education Building (our Nursery School entrance)
3. Between the south side of the original church building and the ramp (please kill the vine)
4. West side of the original church building (between the main and back doors)
5. North side of the church building, along Route 88 (definitely more than one person/family)
You don't need permission or to tell anyone (unless you want to). Just show up and make the weeds disappear. We'll even reimburse you for minor expenses. Thank you!
Meditation Platform Project
Brandon Erlenmeyer is a member of the church congregation and has been working really hard on his Boy Scout journey. Thankfully he is VERY close to earning his Eagle Scout rank. All he has left is 1 merit badge (which is 95% completed) and his service project. For Brandon's project, he is working in conjunction with 2 Girl Scouts in Point Pleasant on building a mediation area at Good Shepherd Lutheran Church. The area will consist of a raised platform in front of the white cross and will allow everyone the access to meditate, pray, and reflect. Brandon's portion of the project is to create the platform with benches for visitors to sit on. Brandon is looking for donations of any kind: monetary (cash, check, Venmo, even gift cards), supplies, volunteers when the time comes and lots of prayer! Please reach out if you have any questions to 908-783-9895 or clyness113@gmail.com. Thank you in advance for your support!
What's Been Happening
Remember Our Homebound and Elderly
Please remember our homebound and elderly in prayer or with a card or phone call: Annaliese Benson, Fran McCallum,Robert Mueller, and Rev. Paul Voitko. Contact information is listed on the board in the foyer/Narthex.
This Week at Good Shepherd Lutheran Church
In Our Prayers
To add someone to our list, please fill out a pink Prayer Request Form and submit it to Pastor or the Church office. Also, please let us know when we can remove names. Prayer requests submitted without a pink form are removed after one week. If we have removed a name in error, please resubmit the name and accept our apologies. Thank you.
Missionaries:
Rev. Dale and Suzanne Kaster, Prague
Pastor Matt Lytikainen and the Kairos Network
Under Doctor's Care:
John Aldarelli Alles Blaze
Kieran Dillane Ruth Gilmore
Ray Kuri, Sr Jeff Luckenback
James McCaffrey Daniel McCallum
Linda McKelvey Erna Meyerle
Susan Rentas Bernadette Roman
Mena Schollenberger John Shand
Harler Jean Visbeck
Special Needs: Garrett T. Midgett II, Robert H. Mueller, the Murray family, Jack Pausz, and Zupanc family. All who serve to keep us healthy, fed, and supplied.
Armed Forces: All who serve to keep us safe.
Justin Gruendling Kate Gruendling
Kelly Handy Travis Harvey Jonathan Kaster Matthew Orgill
Mason Remondelli David Schauer
Readings for Next Sunday
Jeremiah 23:1–6 (The righteous Branch)
Ephesians 2:11–22 (One in Christ)
Mark 6:30–44 (Jesus feeds the five thousand.)
I am a disciple of Jesus Christ.
Our address is: 708 Route 88, Point Pleasant Boro, NJ, 8742