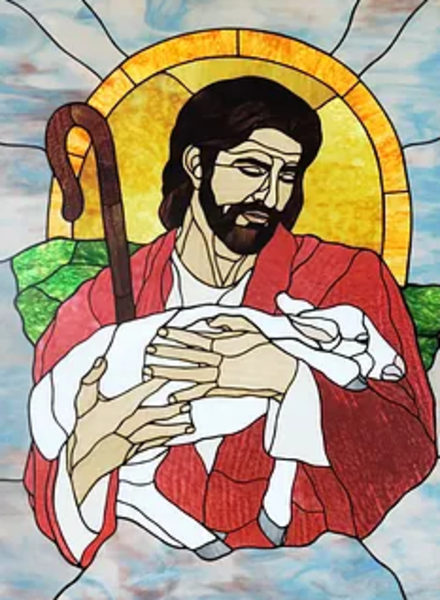 The Shepherd's Voice
Sunday, September 05, 2021
What's Happening Today
As We Gather
In today's Readings, James encourages us toward good works of service and love, and Jesus does the good work of healing by restoring a man's hearing and speech. Our faith in Jesus is marked by our reflection of His love and service. While we are not able to do all the things Jesus can do, we are called to reflect His faithful work as we serve in our vocations by loving our neighbors.
Today's Readings
O.T. Isaiah 35:4–7a (God will come and restore all things.) https://bible.faithlife.com/bible/isaiah-35-4--7a?_ga=2.116578819.443916489.1630423849-402095793.1559144528
N. T. James 2:1–10, 14–18 (What good is a dead faith?) https://bible.faithlife.com/bible/james/2/14-18?_ga=2.116578819.443916489.1630423849-402095793.1559144528 https://bible.faithlife.com/bible/james/2/1-10?_ga=2.116578819.443916489.1630423849-402095793.1559144528
Gospel Mark 7: 31–37 (Jesus heals a deaf man in the Decapolis.) https://bible.faithlife.com/bible/mark/7/31-37?_ga=2.116578819.443916489.1630423849-402095793.1559144528
Reader Ed Mohlenoff
Today's Altar Flowers are Given to the Glory of God
By the Lusardi Family in celebration of Louise's 70th birthday.
September Mission of the Month
The LCMS Disaster Response is currently assessing the damage to LCMS congregations and their neighbors that were affected by the recent flooding and storms. Your donate with help support on-site assessment, emergency relief, development grants, and pastoral care for LCMS church workers and members, and other resources.
Free Stuff Table
Now loaded with new goodies in the foyer/narthex. Check it out and help yourself.
Busy Bags
COVID friendly Busy Bags are available on the table in the foyer/narthex for children who would like an activity to do during the Service. These were printed, packaged, and sanitized in the home office of one person. Feel free to take one for your child(ren) and take them home with you. As these are a one-time use type of activity, they should not be returned or left at the church. Thank you.
What's Happening Soon
September 11 Observance
On Saturday, September 11, our church building will be open for prayer, remembrance, and reflection from 8:30 AM to 10:30 AM. All are welcome. A brief Prayer Service at 10:30 AM will conclude the morning. Please join us and invite others. Our new "Outdoor Prayer Chapel" will be open all day on this 20th anniversary of the terrorist attacks. "Lord, have mercy."
Bible Basics Class for Adults- September 16 or 18
This class in intended for people from a non-Lutheran background who would like to join Good Shepherd, and for people from our church who would like to refresh their theology and beliefs (and get to know some potential new members). There is no obligation to join. The class can meet on Thursday at 7:00 or 7:30 pm, or on Saturday at 9:00 or 10:00 am. Please sign the sheet in the foyer/narthex to indicate your preference, or email Pastor (gsppnj.pastor@gmail.com).
Family Fun Day
Join us on Sunday, September 19, in Riverfront Park in Point Pleasant (site of the former hospital) for our first "Family Fun Day"! We will have our Sunday Service at 10:00 AM under the Pavilion, which will include our annual "Back to School Blessing". Immediately following our Service, we will have a Picnic, featuring individually wrapped Jersey Mike's subs. Please sign up using the sheet the foyer/narthex. Please mark what subs you and your family member would like.
Wednesday Bible Study for Adults -- September 22
Wednesdays at 4:00 PM, join us in the Fellowship Room for an opportunity to grow in God's Word. The topic is chosen by those in attendance, and Pastor will have some suggestions. We conclude at 5:00 PM.
Sunday Bible Study for Adults -- September 26
Sundays at 9:00 AM, join us in the Fellowship Room for a time of growing in God's Word. The topic is chosen by those in attendance, and Pastor will have some suggestions. We conclude by 9:45 AM to get ready for the Service.
Bible Adventure Time for Kids- September 26
Sundays at 10:00 AM, children join their families in the Service until the Sharing of Peace, when they are dismissed for an age-appropriate lesson in Bible Adventure Time. They rejoin their families before the Service concludes.
What's Been Happening
Church Improvements
There are currently a few tasks around the church and church grounds that need some tending to. It takes a lot of work and a lot of hands to keep things in good shape. Please take a look at the list below and assess if there is something you would be able to help with. With your help we will be able to get our church in tip top shape in no time.
1. Replace all 11 shades in the Sanctuary (Lowes accordion shades).
2. Caulk and weather strip around/ between the main doors and Christian Education Building doors.
3. Paint two ceiling tiles in Pastor's Office.
4. Replace or wash light covers in Fellowship Room.
5. Reattach bottom of left sink cabinet in upper basement.
6. Repair 4 light fixtures in far right corner of upper basement.
7. Paint red door and white panel by choir loft and clean/paint cross on elevator tower.
8. Adopt-a-Spot (see below).
Any questions regarding these repairs, please see a trustee. Thank you!
Adopt-a-Spot
Now that the growing season has "sprung" upon us, it's time to keep up with the weeds around our church building. It would be wonderful if one or two people or families would "adopt-a-spot" and maintain it into the Fall. There are six spots that need attention:
1. South end of our Christian Education Building (where the garbage bins are located)
2. Left of the entrance to our Nursery School entrance- in progress
3. Between the south side of the original church building and the ramp - in progress
4. West side of the original church building (between the main and back doors)
5. Inside the courtyard (our Nursery School playground)
6. North side of the church building, along Route 88 (definitely more than one person/family)
You don't need permission or to tell anyone (unless you want to). Just show up and make the weeds disappear. We'll even reimburse you for minor expenses. Thank you!
Remember Our Homebound and Elderly
Please remember our homebound and elderly in prayer or with a card or phone call: Annaliese Benson, Fran McCallum,Robert Mueller, and Rev. Paul Voitko. Contact information is listed on the board in the foyer/Narthex.
This Week at Good Shepherd Lutheran Church
In Our Prayers
To add someone to our list, please fill out a pink Prayer Request Form and submit it to Pastor or the Church office. Also, please let us know when we can remove names. Prayer requests submitted without a pink form are removed after one week. If we have removed a name in error, please resubmit the name and accept our apologies. Thank you.
Missionaries:
Rev. Dale and Suzanne Kaster, Prague
Pastor Matt Lytikainen and the Kairos Network
Hospitalized: Dan Largiader and Irene Rush
Under Doctor's Care:
John Aldarelli Carlee Allred
Kevin Brady Alles Blaze
Kieran Dillane Sr Jerry Ferrara
Jeff Luckenback James McCaffrey
Daniel McCallum Linda McKelvey
Susan Rentas Bernadette Roman
John Shand Harler Jean Visbeck
Special Needs: Afghanistan, Garrett T. Midgett II, Robert H. Mueller, the Murray family, Dan Largiader, and Zupanc family. All who serve to keep us healthy, fed, and supplied.
Armed Forces: All who serve to keep us safe.
Justin Gruendling Kate Gruendling
Kelly Handy Travis Harvey Jonathan Kaster Matthew Orgill
Mason Remondelli David Schauer
Readings for Next Sunday
Isaiah 50:4–10 (God sustains and vindicates His people.)
James 3:1–12 (The tongue is small but powerful in speaking both good and evil.)
Mark 9:14–29 (Jesus heals a demon-possessed boy.)
I am a disciple of Jesus Christ.
Our address is: 708 Route 88, Point Pleasant Boro, NJ, 8742