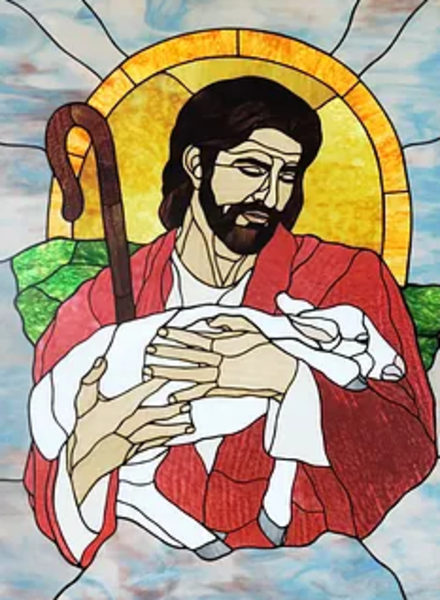 The Shepherd's Voice
Sunday, October 03, 2021
What's Happening Today
As We Gather
The pages of Scripture counsel us regarding things that are not to be neglected. Proverbs says plainly: "Hear instruction and be wise, and do not neglect it" (Proverbs 8:33). Paul writes to young Timothy: "Do not neglect the gift you have, which was given you by prophecy when the council of elders laid their hands on you" (1 Timothy 4:14). But the book of the Bible with the most reminders about what is not to be neglected is Hebrews. Here we are directed: do not neglect to do good (Hebrews 13:16), do not neglect to show hospitality (13:2), do not neglect to meet together (10:25), and do not neglect our great salvation (2:3). We do well to take that divine guidance to heart.
Today's Readings
O.T. Genesis 2:18–25 (God creates and fashions the first woman.) https://bible.faithlife.com/bible/genesis/2/18-25?_ga=2.84741968.896593368.1632754318-402095793.1559144528
N. T. Hebrews 2:1–18 (Counsel against neglecting salvation) https://bible.faithlife.com/bible/hebrews/2/1-18?_ga=2.84741968.896593368.1632754318-402095793.1559144528
Gospel Mark 10:2–16 (Jesus blesses the children.) https://bible.faithlife.com/bible/mark/10/2-16?_ga=2.84741968.896593368.1632754318-402095793.1559144528
Reader Carlie Zeidler
Today's Altar Flowers are Given to the Glory of God
By Jeff and Moira Largiader for their 40th anniversary.
October Mission of the Month
You are invited to make a gift to St. Gregory's Pantry, a local food pantry helping to feed those in need. The holidays are around the corner and this Thanksgiving and Christmas, St. Gregory's will distribute to over 300 needy families at each distribution and have gifts for children. Through generosity and commitment, St. Gregory's Pantry provides temporary aid to approximately 10,000 individuals annually. Please make your check out to Good Shepherd and memo it "Mission of the Month". Thank you!
Our Christian Congratulations
are extended to Nick and Carley Kurica Faraldi on the birth of Olivia Louise Faraldi on Tuesday, September 14. Both mother and daughter (and the rest of the family) are doing well. May God our heavenly Father keep Olivia and her family in His protection and care!
Outdoor Service
Starting today at 9:00 AM in our "Outdoor Prayer Chapel" we will meet in front of the big white cross. Feel free to bring your own seating, or you can sit in the benches provided. It will be a spoken Service so it should conclude by 9:40-ish.
We will meet as long as the following two conditions are met:
1. it's not raining or snowing (although it might be fun to meet in the snow:)
2. it's above 32 degrees in actual temperature and wind chill temperature.
If it's raining, snowing, or below 32 actual or wind chill degrees, we will not meet.
Unfortunately, at this time, Holy Communion will not be offered at this Service, but it will continue to be offered every Sunday at our 10:00 AM indoor Service. However, Pastor can arrange for private Communion for you. Please contact him so he can set up an appointment.
The weather should be really nice for the next several weeks, and we'll need to bundle up a bit in November. Then we'll see how things go in December. Please join us as you are able.
Bible Adventure Time for Kids
Sundays at 10:00 AM, children join their families in the Service until the Sharing of Peace, when they are dismissed for an age-appropriate lesson in Bible Adventure Time. They rejoin their families before the Service concludes.
Free Stuff Table
Now loaded with new goodies in the foyer/narthex. Check it out and help yourself.
Busy Bags
COVID friendly Busy Bags are available on the table in the foyer/narthex for children who would like an activity to do during the Service. These were printed, packaged, and sanitized in the home office of one person. Feel free to take one for your child(ren) and take them home with you. As these are a one-time use type of activity, they should not be returned or left at the church. Thank you.
What's Been Happening
Congregational Voters Meeting Results
After a brief discussion, those present at the meeting voted to reconstruct the areas of our driveway and parking lot which present a hazard. The work is estimated to cost $12,500. and will be scheduled for completion in the coming weeks. The vote was 25 - 0. We thank all who remained for the meeting. The next Congregational Meeting will be held following service on November 21st.
Church Improvements
There are currently a few tasks around the church and church grounds that need some tending to. It takes a lot of work and a lot of hands to keep things in good shape. Please take a look at the list below and assess if there is something you would be able to help with. With your help we will be able to get our church in tip top shape in no time.
1. Replace all 11 shades in the Sanctuary (Lowes accordion shades).
2. Caulk and weather strip around/ between the main doors and Christian Education Building doors.
3. Paint two ceiling tiles in Pastor's Office.
4. Replace or wash light covers in Fellowship Room.
5. Reattach bottom of left sink cabinet in upper basement.
6. Repair 4 light fixtures in far right corner of upper basement.
7. Paint white panel by choir loft and clean/paint cross on elevator tower.
8. Adopt-a-Spot (see below).
Any questions regarding these repairs, please see a trustee. Thank you!
Adopt-a-Spot
Now that the growing season has "sprung" upon us, it's time to keep up with the weeds around our church building. It would be wonderful if one or two people or families would "adopt-a-spot" and maintain it into the Fall. There are six spots that need attention:
1. South end of our Christian Education Building (where the garbage bins are located)
2. Left of the entrance to our Nursery School entrance- in progress
3. Between the south side of the original church building and the ramp - in progress
4. West side of the original church building (between the main and back doors)
5. Inside the courtyard (our Nursery School playground)
6. North side of the church building, along Route 88 (definitely more than one person/family)
You don't need permission or to tell anyone (unless you want to). Just show up and make the weeds disappear. We'll even reimburse you for minor expenses. Thank you!
Remember Our Homebound and Elderly
Please remember our homebound and elderly in prayer or with a card or phone call: Bill Bartsch, Annaliese Benson, Fran McCallum,Robert Mueller, and Rev. Paul Voitko. Contact information is listed on the board in the foyer/Narthex.
Mission of the Month Update

This Week at Good Shepherd Lutheran Church
In Our Prayers
To add someone to our list, please fill out a pink Prayer Request Form and submit it to Pastor or the Church office. Also, please let us know when we can remove names. Prayer requests submitted without a pink form are removed after one week. If we have removed a name in error, please resubmit the name and accept our apologies. Thank you.
Missionaries:
Rev. Dale and Suzanne Kaster, Prague
Pastor Matt Lytikainen and the Kairos Network
Hospitalized: Dan Largiader
Under Doctor's Care:
John Aldarelli Carlee Allred
Alles Blaze Kieran Dillane Sr
Marion Dillane Mary Elliott
Jerry Ferrara Jeff Luckenback
James McCaffrey Daniel McCallum
Linda McKelvey Susan Rentas
Bernadette Roman John Shand
Harler Jean Visbeck
Special Needs: Afghanistan, Garrett T. Midgett II, Robert H. Mueller, the Murray family, Dan Largiader, and Zupanc family. All who serve to keep us healthy, fed, and supplied.
Armed Forces: All who serve to keep us safe.
Justin Gruendling Kate Gruendling
Kelly Handy Travis Harvey Jonathan Kaster Matthew Orgill
Mason Remondelli David Schauer
Readings for Next Sunday
Readings for Next Sunday
Amos 5:6–7, 10–15 (Seek the Lord and live.)
Hebrews 3:12–19 (A warning against the danger of evils in life)
Mark 10:17–22 (Jesus has a conversation with a rich young man.)
I am a disciple of Jesus Christ.
Our address is: 708 Route 88, Point Pleasant Boro, NJ, 8742