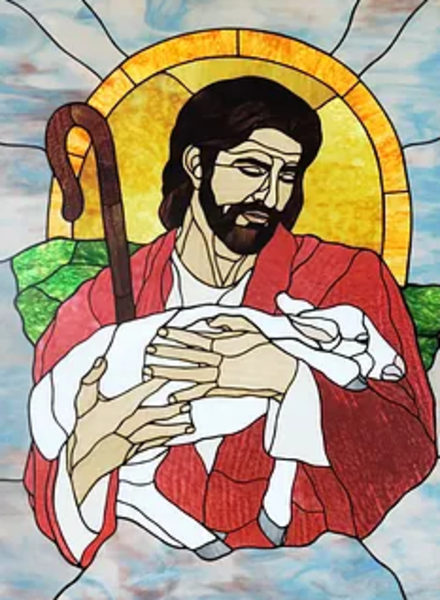 The Shepherd's Voice
Sunday, November 7, 2021
What's Happening Today
As We Gather
Today we lift our eyes from the present and focus them on the promises of God that will be fulfilled in the future. What a blessed day it will be when we will gather with all of Jesus' holy ones around His throne in heaven! But today is also a blessed day. In Matthew 5, Jesus speaks blessings over a crowd gathered on a mountainside. Place yourself in that crowd today. Hear Jesus bless you also! Listen as He speaks of mercy, purity, and peace. And know this: Jesus does not simply speak of these blessings; He freely gives them to you! How blessed you are—today, tomorrow, and forever!
Today's Readings
First Revelation 7: 9–17 (The blessed ones surround the heavenly throne of God.) https://bible.faithlife.com/bible/revelation/7/9-17?_ga=2.119963976.1568384871.1635773351-402095793.1559144528
N. T. 1 John 3:1–3 (The blessing of being God's children) https://bible.faithlife.com/bible/1-john/3/1-3?_ga=2.119963976.1568384871.1635773351-402095793.1559144528
Gospel Matthew 5:1–12 (Jesus speaks blessings over His people.) https://bible.faithlife.com/bible/matthew/5/1-12?_ga=2.119963976.1568384871.1635773351-402095793.1559144528
Reader Carlie Zeidler
Our Christian Sympathy
is extended to the family and friends of Bill Bartsch who died on Saturday, October 30. Colonial Funeral Home on Route 88 in Brick is handling the arrangements. Visitation will be held there on Monday, November 8, from 3:00 PM to 7:00 PM. Pastor will conduct the Funeral Service at Colonial on Tuesday, November 9, at 10:45 AM. Interment will follow the Service at the Brigadier General William C. Doyle Memorial Cemetery in Arneytown. May the God of all comfort strengthen all who mourn with the hope and promise of the resurrection and reunion in heaven.
Today's Altar Flowers are Given to the Glory of God
By Charlotte Visbeck in memory of Ray Visbeck
November Mission of the Month
Compassion Café is a registered 501(c)(3) non-profit, in Southern Ocean County, founded to provide meaningful employment and job training for adolescents and adults with disabilities. Donations provide the cafe with everything needed to facilitate a real restaurant setting: ordering food, aprons, sanitation, advertising, menus, and much more! The majority of your donation will go directly to funding payroll for the staff of adolescents and adults with disabilities. Thank you for your support!
Outdoor Service
Sundays at 9:00 AM in our "Outdoor Prayer Chapel" we will meet in front of the big white cross. Feel free to bring your own seating, or you can sit in the benches provided. It will be a spoken Service so it should conclude by 9:40-ish.
We will meet as long as the following two conditions are met:
1. it's not raining or snowing (although it might be fun to meet in the snow:)
2. it's above 32 degrees in actual temperature and wind chill temperature.
If it's raining, snowing, or below 32 actual or wind chill degrees, we will not meet.
Unfortunately, at this time, Holy Communion will not be offered at this Service, but it will continue to be offered every Sunday at our 10:00 AM indoor Service. However, Pastor can arrange for private Communion for you. Please contact him so he can set up an appointment.
The weather should be really nice for the next several weeks, and we'll need to bundle up a bit in November. Then we'll see how things go in December. Please join us as you are able.
Free Stuff Table
Now loaded with new goodies in the foyer/narthex. Luther stuff in the right; church life stuff on the left. Check it out and help yourself.
What's Happening Soon
Congregational Voters Meeting
Will be held on November 21st following the 10 am Service. We will be electing Church Council Members for 2022 as well as Vision and Mission Team members. The Nursery School Board of Directors will also be elected. We will also have a look at the 2022 budget. The meeting will be followed by a soup luncheon. Please join us! A sign-up sheet can be found in the foyer/narthex to confirm your attendance and to let us know what food item you will bring. Thank you!
Last Call: Call For Nominations
We are looking for a few enthusiastic people to serve on our Nursery School Board . The task of the Nursery School Board is to guide and support the staff and operation of our Nursery School; some familiarity with the state education system is helpful but not required. Please nominate yourself or someone you know to Pastor ASAP. Thank you!
Thanksgiving Eve Service
Our annual Thanksgiving Eve Service will be held this year on Wednesday, November 24, at 11:00 AM. Please join us as we thank God for His grace and mercy and other blessings during the past year. Each family in attendance will receive a loaf of bread for their Thanksgiving table.
What's Been Happening
Church Life Photos
We would like to dedicate one of our bulletin boards to church life and memories. If you have photos of any events or happenings with Good Shepherd then please email them to gsppnj@gmail.com or pop them in the church office mailbox. Thank you!
Church Council Positions
We have important positions in our Church Council still open, to those who are willing to volunteer their time and effort towards the maintenance and governance of our church.
Currently, we have the following openings:
· Elder (one year vacancy, for 2022)
· Deacon 2022-2024
· Trustee 2022-2024
If you are interested in further serving our Lord, please contact Jeff Largiader by call or text
(732-757-2984) or speak with him or Ed Mohlenhoff at our Sunday church service.
Thanks then to all who serve for the benefit of all of us, on behalf of our Lord.
Church Improvements
There are currently a few tasks around the church and church grounds that need some tending to. It takes a lot of work and a lot of hands to keep things in good shape. Please take a look at the list below and assess if there is something you would be able to help with. With your help we will be able to get our church in tip top shape in no time.
1. Replace all 11 shades in the Sanctuary (Lowes accordion shades).
2. Caulk and weather strip around/ between the main doors and Christian Education Building doors.
3. Paint two ceiling tiles in Pastor's Office.
4. Replace or wash light covers in Fellowship Room.
5. Reattach bottom of left sink cabinet in upper basement.
6. Repair 4 light fixtures in far right corner of upper basement.
7. Paint white panel by choir loft and clean/paint cross on elevator tower.
8. Adopt-a-Spot (see below).
Any questions regarding these repairs, please see a trustee. Thank you!
Remember Our Homebound and Elderly
Please remember our homebound and elderly in prayer or with a card or phone call: Bill Bartsch, Annaliese Benson, Fran McCallum,Robert Mueller, and Rev. Paul Voitko. Contact information is listed on the board in the foyer/Narthex.
Financial Information

Thank you for your continuing support!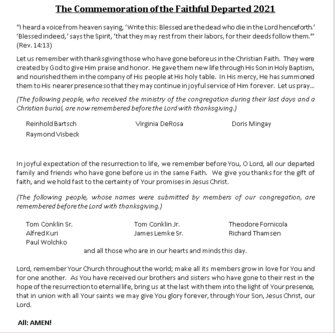 This Week at Good Shepherd Lutheran Church
In Our Prayers
To add someone to our list, please fill out a pink Prayer Request Form and submit it to Pastor or the Church office. Also, please let us know when we can remove names. Prayer requests submitted without a pink form are removed after one week. If we have removed a name in error, please resubmit the name and accept our apologies. Thank you.
Missionaries:
Rev. Dale and Suzanne Kaster, Prague
Pastor Matt Lytikainen and the Kairos Network
Hospitalized: Suzie Moshier
Under Doctor's Care:
John Aldarelli Carlee Allred
Alles Blaze Kieran Dillane Sr
Marion Dillane Mary Elliott
Jerry Ferrara James McCaffrey
Daniel McCallum Linda McKelvey
Susan Rentas Bernadette Roman
John Shand Harler Jean Visbeck
Special Needs: Dan Largiader, Garrett T. Midgett II, Robert H. Mueller, the Murray family, and Zupanc family. All who serve to keep us healthy, fed, and supplied.
Armed Forces: All who serve to keep us safe.
Kate Gruendling Kelly Handy
Travis Harvey Jonathan Kaster Matthew Orgill
Mason Remondelli David Schauer
Readings for Next Sunday
Daniel 12:1–3 (Those who are wise shall shine like stars.)
Hebrews 10:11–25 (A single sacrifice for sins)
Mark 13:1–13 (The one who endures to the end will be saved.)
I am a disciple of Jesus Christ.
Our address is: 708 Route 88, Point Pleasant Boro, NJ, 8742