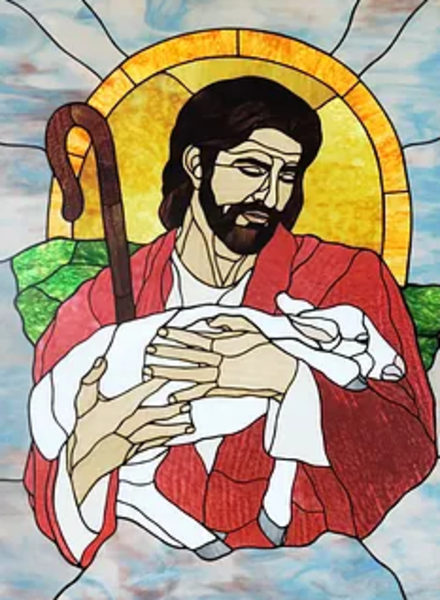 The Shepherd's Voice
Sunday, March 13, 2022
What's Happening Today
As We Gather
Throughout biblical history, God used prophets to call His people to repentance with the promise of mercy. God's mercy should encourage us to return to Him, but too often, the people of God have refused His care. That is the story of Jeremiah, who was sent by the Lord to speak His Word, warn His people of disaster if they refused Him, and promise mercy to all who repent. It is also our story. The Law warns us of the failure to confess our sins and the Gospel promises forgiveness to all who confess and believe in our Lord Jesus Christ. Today, we pray the Lord to grant us hearts willing to hear His Word, confess our sins, believe in the forgiveness of Christ, and rejoice in this blessing all our days.
Today's Readings
O.T. Jeremiah 26:8–15 (The Lord has sent me to speak all these words.) https://bible.faithlife.com/bible/jeremiah/26/8-15?_ga=2.217296671.840794766.1646840299-257035986.1643645019&_gac=1.47542997.1643734538.Cj0KCQiA5aWOBhDMARIsAIXLlkfdOLT96f9HFcU-1-sAKWBqMwRD-dwbqKSFXbRjOp91VQPSqiY7usEaAvesEALw_wcB
N. T. Philippians 3:17–4:1 (Paul laments those who become enemies of the Gospel.) https://bible.faithlife.com/bible/philippians-3-17--4-1?_ga=2.217296671.840794766.1646840299-257035986.1643645019&_gac=1.47542997.1643734538.Cj0KCQiA5aWOBhDMARIsAIXLlkfdOLT96f9HFcU-1-sAKWBqMwRD-dwbqKSFXbRjOp91VQPSqiY7usEaAvesEALw_wcB
Gospel Luke 13:31–35 (Jesus would gather His people like a hen gathers her chicks.) https://bible.faithlife.com/bible/luke/13/31-35?_ga=2.217296671.840794766.1646840299-257035986.1643645019&_gac=1.47542997.1643734538.Cj0KCQiA5aWOBhDMARIsAIXLlkfdOLT96f9HFcU-1-sAKWBqMwRD-dwbqKSFXbRjOp91VQPSqiY7usEaAvesEALw_wcB
Reader Ed Mohlenhoff
Today's Altar Flowers are Given to the Glory of God
By Ed and Diane Mohlenhoff in honor of their granddaughter, Annabel's, 10th birthday.
March Mission of the Month
The beautiful church of St Paul's Lutheran church in Beecher, IL, stood for the past 150 years in the community as a beacon of the hope in Christ. On 9/19/21 they suffered a devastating loss when the entire church became engulfed in flames. Your thoughts and prayers are very much appreciated at this time as they suffer and grieve this tragic loss. Thank God no one was hurt. The building is gone, but the Church still stands. Thank you for your support. May God bless us all with His comfort as we trust in His guidance for these weeks and months ahead. Thank you and God's blessings!
Worship in the Woods
has resumed on Sundays at 9:00 AM. However, during the winter month of March, we will continue to meet indoors to eliminate the guesswork concerning the weather. It will remain a spoken Service, so we will conclude by 9:30-9:40. It will also be a more "Covid-friendly" Service, the first one of the day, so feel free to wear a mask and maintain social distance. Since we are meeting indoors, we will also be able to have Communion during March. Please join us.
What's Happening Soon
Easter Lilies
Altar Guild will be taking orders for Easter Lilies today after the Service. Price will be $8, cash only. Lilies may be taken home immediately after the Service on Easter morning.
St Gregory's Easter Basket Collection
St. Gregory's is once again collecting Easter Baskets for our clients during our Easter Distribution. You can help us by donating filled baskets for babies, kids or teens. Our Distribution begins April 7th so we would ask that all baskets please be dropped off by April 1st. We are anticipating at least 170 local families with children. Your help is greatly appreciated.
Weekday Bible Study
has moved to Mondays in 2022. Please join us at 4:00 PM in the Fellowship Room. This year, we will be using the various Bible resources we have accumulated at Good Shepherd over the years. Join us for lively and interesting conversation and learning.
Lenten Services
Join us for Lent Wednesday Services at 11:00 AM on March 16, 23, 30, and April 6. Soup Luncheons are not planned for those dates. Please join us as we journey with Jesus to Good Friday and Easter.
70th Anniversary Service and Celebration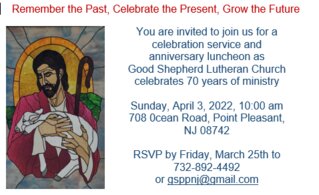 Rsvp is important because the Luncheon will be catered.
Our guest preacher at the Service will be Rev. dale Kaster, Missionary at Prague, and Pastor at Good Shepherd from 1989 to1994.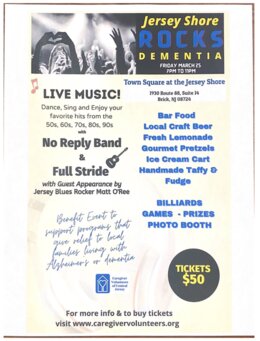 LCMS Survey
Do you know any young man who would make a great pastor? How about someone who would be a great Lutheran school teacher, deaconess or DCE? Jesus gives His church people who work full time in service to the Gospel. He told us to pray for such workers. The LCMS continues to pray, and has begun Set Apart to Serve (SAS), an intentional effort to encourage young people to consider church work as their career. Your opinion can help improve SAS. Please fill out a brief survey at lcms.org/set-apart-to-serve-survey by March 15, and let us know how you think SAS can be beneficial to your congregation. Thank you.
The more responses we receive the better equipped we can be to serve the church in this effort. We would appreciate receiving all responses by March 15. All responses are completely anonymous and confidential. If you have any questions, please reach out to the LCMS Church Information Center at 888-THE LCMS (843-5267) or infocenter@lcms.org.
What's Been Happening
Church Life Photos
We have dedicated one of our bulletin boards to church life and memories. If you have photos of any events or happenings with Good Shepherd then please email them to gsppnj@gmail.com or pop them in the church office mailbox. Thank you!
Remember Our Homebound and Elderly
Please remember our homebound and elderly in prayer or with a card or phone call: Annaliese Benson, Fran McCallum, and Robert Mueller. Contact information is listed on the board in the foyer/Narthex.
This Week at Good Shepherd Lutheran Church
In Our Prayers
To add someone to our list, please fill out a pink Prayer Request Form and submit it to Pastor or the Church office. Also, please let us know when we can remove names. Prayer requests submitted without a pink form are removed after one week. If we have removed a name in error, please resubmit the name and accept our apologies. Thank you.
Missionaries:
Rev. Dale and Suzanne Kaster, Prague
Under Doctor's Care:
John Aldarelli, Carlee Allfrey
Alice Blaze, Kieran Dillane
Dolores France, Dale Kaster,
James McCaffrey, Linda McKelvey,
Tammy Pausz, Susan Rentas,
Bernadette Roman, Jenn Shand,
John Shand, Harler Jean Visbeck
Special Needs: Situation in Ukraine, Kim DeAngelo, Ernest Johnson, Joseph Kosmich and family, James McNellis, Robert H. Mueller, the Murray family, Walters family, Charlotte Visbeck, and Zupanc family. All who serve to keep us healthy, fed, and supplied.
Armed Forces: All who serve to keep us safe.
Kate Gruendling Kelly Handy
Jonathan Kaster Matthew Orgill
Mason Remondelli David Schauer
Readings for Next Sunday
Ezekiel 33:7–20 (The Lord seeks not the death of the
sinner but that he live.)
1 Corinthians 10:1–13 (God is faithful; He will not allow you to be tempted beyond your ability.)
Luke 13:1–9 (Unless you repent, you also will perish.)
I am a disciple of Jesus Christ.
Our address is: 708 Route 88, Point Pleasant Boro, NJ, 8742