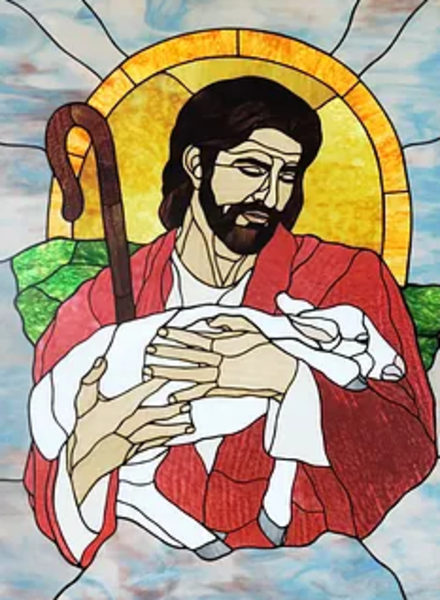 The Shepherd's Voice
Sunday, March 27, 2022
What's Happening Today
As We Gather
No parable more fully describes the profound character of God's mercy than the prodigal son and the waiting father. We are the rebels who begin to think we deserve our heavenly Father's kindness and who demand from Him what is not our right to claim. But instead of disowning us, He meets us with joy, welcomes us with His forgiveness, restores our tattered righteousness with the robe of Christ's holiness, and sets His Table before us. This is what happens every Sunday as the Lord reclaims us from our sins, restores joy to our heavy hearts, reminds us of His baptismal promise, and feeds our body and soul with the body and blood of His Son. This is the source of our holy joy and this is the peace that passes all understanding.
Today's Readings
O.T. Isaiah 12:1–6 (Surely God is my Savior.) https://bible.faithlife.com/bible/isaiah/12/1-6?_ga=2.21004987.1205491678.1647869626-257035986.1643645019
N. T. 2 Corinthians 5:16–21 (If anyone is in Christ, he is a new creation.) https://bible.faithlife.com/bible/2-corinthians/5/16-21?_ga=2.21004987.1205491678.1647869626-257035986.1643645019
Gospel Luke 15:1–3, 11b–32 (My son was dead and now he is alive again.) https://bible.faithlife.com/bible/luke-15-11b--32?_ga=2.21004987.1205491678.1647869626-257035986.1643645019 https://bible.faithlife.com/bible/luke/15/1-3?_ga=2.21004987.1205491678.1647869626-257035986.1643645019
Reader Carlie Zeidler
Our Christian Sympathy
is extended to the family and friends of Miriam Reiss, daughter of Pastor Emeritus Paul Voitko, who died on Saturday, March 19. May the God of all comfort strengthen all who mourn with the hope and promise of the resurrection and reunion in heaven.
Our Christian Sympathy
is also extended to the family and friends of Susan Walters, former member of Good Shepherd, who died recently. Her family will receive visitors on Saturday, April 2, at the Church in Brielle (on Riverview Drive) from 10:00 AM to 12:00 Noon. A Memorial Service will follow at Noon. Afterward, there will be a repast at the Church. May the God of all comfort strengthen all who mourn with the hope and promise of the resurrection and reunion in heaven.
Last Call: March Mission of the Month
The beautiful church of St Paul's Lutheran church in Beecher, IL, stood for the past 150 years in the community as a beacon of the hope in Christ. On 9/19/21 they suffered a devastating loss when the entire church became engulfed in flames. Your thoughts and prayers are very much appreciated at this time as they suffer and grieve this tragic loss. Thank God no one was hurt. The building is gone, but the Church still stands. Thank you for your support. May God bless us all with His comfort as we trust in His guidance for these weeks and months ahead. Thank you and God's blessings!
Worship in the Woods
We will not meet in April so we can all be together for our 70th Anniversary, Palm Sunday, and Easter! We will resume on May 1 at 9:00 am outdoors.
What's Happening Soon
Good Friday Fish Fry
Join us Good Friday, April 15th, following the 11 am Service, for a delicious fish fry provided by Shore Fresh Seafood Market. Pricing is $10 per person which includes the meal and beverages; all we ask is for you to bring a dessert to share. The deadline to order your lunch is April 10th; meals cannot be purchased at the door. Please see Rick Patton to sign up and pay!
Easter Lilies
Altar Guild is taking orders for Easter Lilies today after the Service. Price is $9, cash only. Only 8 spots remain. Lilies may be taken home immediately after the Service on Easter morning.
Last Call: St Gregory's Easter Basket Collection
St. Gregory's is once again collecting Easter Baskets for our clients during our Easter Distribution. You can help us by donating filled baskets for babies, kids or teens. Our Distribution begins April 7th so we would ask that all baskets please be dropped off by April 1st. We are anticipating at least 170 local families with children. Your help is greatly appreciated.
Weekday Bible Study
has moved to Mondays in 2022. Please join us at 4:00 PM in the Fellowship Room. This year, we will be using the various Bible resources we have accumulated at Good Shepherd over the years. Join us for lively and interesting conversation and learning.
Lenten Services
Join us for Wednesday Services at 11:00 AM on March 30 and April 6. We are exploring the theme: "In the Shadow of Judas". Soup Luncheons are not planned for those dates. Please join us as we journey with Jesus to Good Friday and Easter.
Holy Week Services
Join us to remember the events of the final days of Holy Week as Jesus accomplished the salvation of the world. We will gather at 11:00 AM on Holy Thursday, April 14, ant at 11:00 am on Good Friday, April 15. There will be no evening Services. May God bless our commemorations.
On Holy Saturday, we will host another Easter Egg Hunt from 1:00 to 3:00 pm. More information to follow.
Join us on Easter Sunday, April 17, at 9:00 am for a light (continental) breakfast in the Fellowship Room before we head into the sanctuary for our Easter Service. Bagels, pastries, coffee, and juice are on the menu.
Last Call: Attention Thrivent Members!
Start 2022 on a generous note! If you haven't already, you can still direct 2021 Choice Dollars. Don't miss this opportunity to recommend where Thrivent gives back! Contact our call center at 1-800-847-4836 and say "Thrivent Choice" at the prompt. Thank you!
Last Call: 70th Anniversary Service and Celebration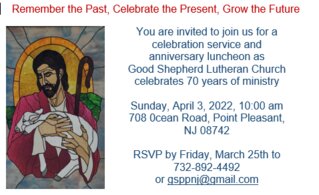 Rsvp is important because the Luncheon will be catered.
Our guest preacher at the Service will be Rev. dale Kaster, Missionary at Prague, and Pastor at Good Shepherd from 1989 to1994.
What's Been Happening
Church Life Photos
We have dedicated one of our bulletin boards to church life and memories. If you have photos of any events or happenings with Good Shepherd then please email them to gsppnj@gmail.com or pop them in the church office mailbox. Thank you!
Remember Our Homebound and Elderly
Please remember our homebound and elderly in prayer or with a card or phone call: Annaliese Benson, Fran McCallum, and Robert Mueller. Contact information is listed on the board in the foyer/Narthex.
Financial Information

Thank your for your continuing support!
This Week at Good Shepherd Lutheran Church
In Our Prayers
To add someone to our list, please fill out a pink Prayer Request Form and submit it to Pastor or the Church office. Also, please let us know when we can remove names. Prayer requests submitted without a pink form are removed after one week. If we have removed a name in error, please resubmit the name and accept our apologies. Thank you.
Missionaries:
Rev. Dale and Suzanne Kaster, Prague
To those Who Mourn: Family and friends of Miriam Reiss and Susan Walters
Hospitalized: Dorothy Meyer and Dennis Smith Jr.
Under Doctor's Care:
John Aldarelli, Carlee Allfrey
Alice Blaze, Kieran Dillane
Dolores France, Dale Kaster,
James McCaffrey, Linda McKelvey,
Tammy Pausz, Susan Rentas,
Bernadette Roman, Jenn Shand,
John Shand, Harler Jean Visbeck
Special Needs: Situation in Ukraine, Kim DeAngelo, Ernest Johnson, Joseph Kosmich and family, James McNellis, Robert H. Mueller, the Murray family, Walters family, Charlotte Visbeck, and Zupanc family. All who serve to keep us healthy, fed, and supplied.
Armed Forces: All who serve to keep us safe.
Kate Gruendling Kelly Handy
Jonathan Kaster Matthew Orgill
Mason Remondelli David Schauer
Readings for Next Sunday
I Kings 8:22-30 (Solomon dedicates the Temple)
I Peter 2:1-9 (Living stones in God's temple)
Luke 19:1-10 (salvation comes to Zacchaeus)
I am a disciple of Jesus Christ.
Our address is: 708 Route 88, Point Pleasant Boro, NJ, 8742