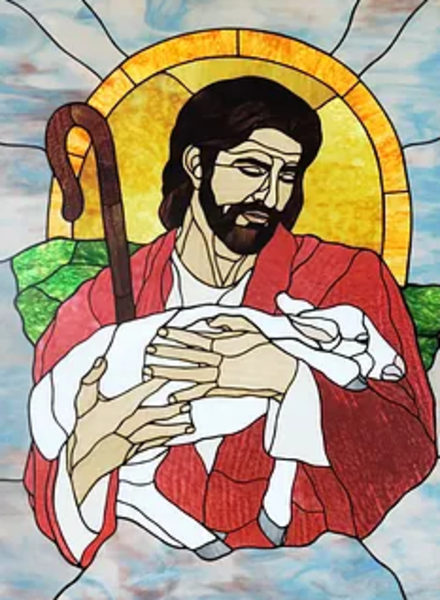 The Shepherd's Voice
Sunday, April 03, 2022
What's Happening Today
As We Gather
Today is a very special day in the life of our congregation. Today we celebrate the 70th Anniversary of the founding of Good Shepherd Lutheran Church in Point Pleasant, New Jersey. It is a day to remember the past, rejoice in it, and thank God for it. It is a day to celebrate the present, recognize God's continuing presence, and appreciate the people of our church. It is a day to grow the future, seize new opportunities, and look forward to the ways in which God will continue to use Good Shepherd.
Joining us today is Rev. Dale Kaster, currently a missionary in Prague, Czech Republic, who served as Pastor at Good Shepherd from 1989 to 1994. He will be delivering the sermon in today's Service.
Also joining us today is Rev. Paul Voitko, founding Pastor of Good Shepherd and currently our Pastor Emeritus. He will be sharing a few memories after the Service.
Also with us today is Rev. Steven Gewecke, President of our New Jersey District. He will bring greetings at the end of the Service.
We will also hear from Rev. Richard Norris, a son of our congregation, who sent us video greetings from his church in Florida.
Many people have worked hard to make today's celebration possible. We very much appreciate their efforts. We also appreciate your participation in today's celebration. Thank you for joining us today! May God bless this day to His glory, and may He rejuvenate our church in His service! To quote J. S. Bach: "Soli Deo Gloria!"
Today's Readings
O.T. I Kings 8:22-30 (Solomon dedicates the Temple) https://bible.faithlife.com/bible/1-kings/8/22-30?_ga=2.164790201.76150660.1648655758-257035986.1643645019
N. T. I Peter 2:1-9 (Living stones in God's temple) https://bible.faithlife.com/bible/1-peter/2/1-9?_ga=2.164790201.76150660.1648655758-257035986.1643645019
Gospel Luke 19:1-10 (Salvation comes to Zacchaeus) https://bible.faithlife.com/bible/luke/19/1-10?_ga=2.71155094.76150660.1648655758-257035986.1643645019
Today's Altar Flowers are Given to the Glory of God
By the Altar Guild, in honor of Good Shepherd's 70th anniversary.
April Mission of the Month
Samaritan's Purse is operating an emergency field hospital, medical clinics, and distributing relief items through church partners in Ukraine and Moldova. Through partner churches they are providing food, water, hygiene kits, blankets, winter clothing, and other important items for refugee families. Your donation will help support this cause.
Worship in the Woods
We will not meet in April so we can all be together for our 70th Anniversary, Palm Sunday, and Easter! We will resume on May 1 at 9:00 am outdoors.
What's Happening Soon
Good Friday Fish Fry
Join us Good Friday, April 15th, following the 11 am Service, for a delicious fish fry provided by Shore Fresh Seafood Market. Pricing is $10 per person which includes the meal and beverages; all we ask is for you to bring a dessert to share. Meals to go will also be available until 1:00pm. The deadline to order your lunch is April 10th; meals cannot be purchased at the door. Please see Rick Patton to sign up and pay!
Lenten Services
Wednesday Services at 11:00 AM conclude on April 6. We are exploring the theme: "In the Shadow of Judas". Please join us as we journey with Jesus to Good Friday and Easter.
Holy Week Services
We will commemorate Palm Sunday, when Jesus entered Jerusalem as King, at 10:00 AM on April 10. The first 50 people will receive a Palm Cross.
We will then gather at 11:00 AM on Holy Thursday, April 14, and at 11:00 am on Good Friday, April 15, to remember how Jesus instituted His Supper and how He died to save us.
On Holy Saturday, we will host an Easter Egg Hunt from 1:00 to 3:00 pm (see insert).
Join us on Easter Sunday, April 17, at 9:00 am for a light (continental) breakfast in the Fellowship Room before we head into the sanctuary for our Easter Service at 10:00 am. Bagels, pastries, coffee, and juice are on the menu.
Join us to remember the events of Holy Week as Jesus accomplished the salvation of the world.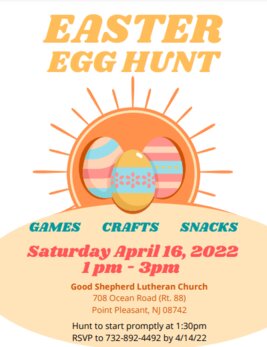 What's Been Happening
Church Life Photos
We have dedicated one of our bulletin boards to church life and memories. If you have photos of any events or happenings with Good Shepherd then please email them to gsppnj@gmail.com or pop them in the church office mailbox. Thank you!
Remember Our Homebound and Elderly
Please remember our homebound and elderly in prayer or with a card or phone call: Annaliese Benson, Fran McCallum, and Robert Mueller. Contact information is listed on the board in the foyer/Narthex.
Financial Information

Thank your for your continuing support!
This Week at Good Shepherd Lutheran Church
In Our Prayers
To add someone to our list, please fill out a pink Prayer Request Form and submit it to Pastor or the Church office. Also, please let us know when we can remove names. Prayer requests submitted without a pink form are removed after one week. If we have removed a name in error, please resubmit the name and accept our apologies. Thank you.
Missionaries:
Rev. Dale and Suzanne Kaster, Prague
To those Who Mourn: Family and friends of Miriam Reiss and Susan Walters
Hospitalized: Dorothy Meyer and Dennis Smith Jr.
Under Doctor's Care:
John Aldarelli, Carlee Allfrey
Alice Blaze, Kieran Dillane, Judy Gruendling
Dolores France, Dale Kaster,
James McCaffrey, Linda McKelvey,
Tammy Pausz, Susan Rentas, Kathryn Roach
Bernadette Roman, Jenn Shand,
John Shand, Harler Jean Visbeck
Special Needs: Situation in Ukraine, Kim DeAngelo, Ernest Johnson, Joseph Kosmich and family, James McNellis, Robert H. Mueller, the Murray family, Walters family, and Zupanc family. All who serve to keep us healthy, fed, and supplied.
Armed Forces: All who serve to keep us safe.
Kate Gruendling Kelly Handy
Jonathan Kaster Matthew Orgill
Mason Remondelli David Schauer
Readings for Next Sunday
Deuteronomy 32:36–39 (The Lord will vindicate His people.)
Philippians 2:5–11 (Christ poured Himself out in death for His people.)
Luke 19:28-48 (Jesus enters Jerusalem as King.)
I am a disciple of Jesus Christ.
Our address is: 708 Route 88, Point Pleasant Boro, NJ, 8742