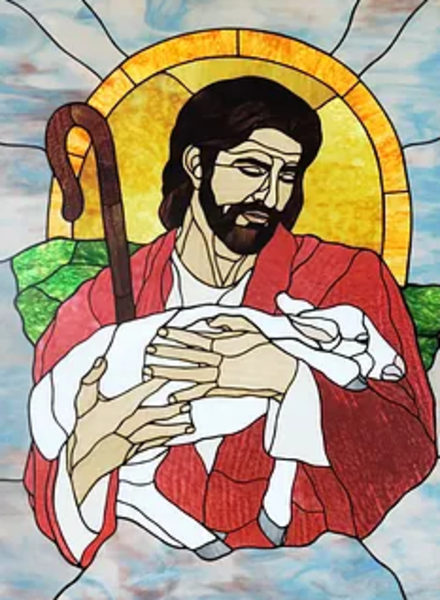 The Shepherd's Voice
Sunday, May 01, 2022
What's Happening Today
As We Gather
In the Reading from Revelation, John reports that he saw God's throne, where the Lamb is the only One worthy to open the sealed scrolls. Not only is Jesus holy in Himself, He makes holy all those whose sins He forgives because of His own sacrifice. Saul is a prime example. He is called by Christ to take the Gospel to the Gentiles, even though he had been looking for Christians to arrest. In their fishing attempt in the Gospel, the disciples learn that even their physical wellbeing depends on trusting their Savior's guidance. For Peter, that would also mean feeding and teaching Jesus' flock. Made worthy because of our incorporation into the Body of Christ, what are you called to do?
Today's Readings
First Acts 9:1–22 (Jesus appears to Saul, who then proclaims Him to be the Son of God.) https://bible.faithlife.com/bible/acts/9/1-22?_ga=2.202942865.1283254105.1650989968-257035986.1643645019
N. T. Revelation 5: 1–14 (Worthy is the Lamb.) https://bible.faithlife.com/bible/revelation/5/1-14?_ga=2.202942865.1283254105.1650989968-257035986.1643645019
Gospel John 20:19–31 (Thomas sees, touches, believes, and confesses the risen Jesus.) https://bible.faithlife.com/bible/john/20/19-31?_ga=2.202942865.1283254105.1650989968-257035986.1643645019
Reader: Ed Mohlenhoff
Our Christian Congratulations
are extended to the Lusardi family on the birth of Parker Greyson Lusardi on Wednesday, April 27. May God our heavenly Father keep Parker and his family in His protection and care!
May Mission of the Month
Dottie's House provides housing assistance and programs for women and children dealing with domestic violence in Ocean County NJ, serving all of NJ. Dottie's House is a long-term, comprehensive program offering a multitude of services to the residents who live there including weekly case management, supportive counseling, domestic violence groups, and therapeutic art classes for the children. They reside in fully furnished apartments, equipped with everything necessary to complete their homes and are able to take everything with them when they successfully graduate from the program. Your donation will help families receive ongoing support on a daily basis to ensure their recovery as they work towards independence and a life free from violence.
Worship in the Woods
Has resumed! We will meet Sundays at 9:00 am outdoors, or indoors due to bad weather.
What's Happening Soon
Bible Class Resumes
Monday Bible class will resume meeting on May 2 at 4:00 pm in the Fellowship Room. Please join us!
Congregation Voters Meeting
Will be held on May 15, following the 10 am Service. At that time, we will hold a brief meeting to seek permission to replace the roof of the narthex. Thank you.
What's Been Happening
Mission of the Month Update
Thank you for your generous support of our Missions for January, February, and March. Here are the totals:
January -- Open Door Pregnancy Center = $1,633
February -- Kentucky Tornado Damage = $1,805
March -- St. Paul's, Beecher, Illinois = $1,497
Year-to-Date donations to Missions: $4,955
Praise God, and may He bless the recipients!
Church Life Photos
We have dedicated one of our bulletin boards to church life and memories. If you have photos of any events or happenings with Good Shepherd then please email them to gsppnj@gmail.com or pop them in the church office mailbox. Thank you!
Remember Our Homebound and Elderly
Please remember our homebound and elderly in prayer or with a card or phone call: Annaliese Benson, Fran McCallum, and Robert Mueller. Contact information is listed on the board in the foyer/Narthex.
Financial Information

Thank you for your continuing support!
This Week at Good Shepherd Lutheran Church
In Our Prayers
To add someone to our list, please fill out a pink Prayer Request Form and submit it to Pastor or the Church office. Also, please let us know when we can remove names. Prayer requests submitted without a pink form are removed after one week. If we have removed a name in error, please resubmit the name and accept our apologies. Thank you.
Missionaries:
Rev. Dale and Suzanne Kaster, Prague
Hospitalized: Dorothy Meyer
Under Doctor's Care:
Carlee Allfrey, Alice Blaze,
Kieran Dillane, Judy Gruendling,
Dale Kaster, James McCaffrey,
Linda McKelvey, Helen Norris,
Tammy Pausz, Susan Rentas,
Bernadette Roman, John Shand,
Harler Jean Visbeck
Special Needs: Situation in Ukraine, Kim DeAngelo, James McNellis, Robert H. Mueller, the Murray family, Walters family, and Zupanc family. All who serve to keep us healthy, fed, and supplied.
Armed Forces: All who serve to keep us safe.
Kate Gruendling Kelly Handy
Jonathan Kaster Matthew Orgill
Mason Remondelli David Schauer
Readings for Next Sunday
Acts 20:17–35 (Paul commends the church overseers as
they care for the flock.)
Revelation 7:9–17 (John sees the Lamb who has conquered death and become the Shepherd.)
John 10:22–30 (No one following Jesus' voice can be snatched from Him.)
I am a disciple of Jesus Christ.
Our address is: 708 Route 88, Point Pleasant Boro, NJ, 8742