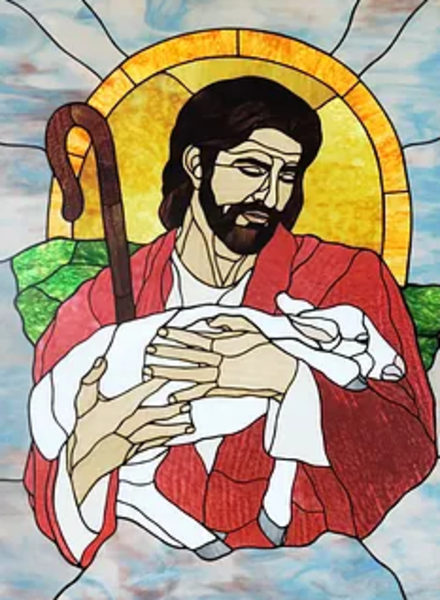 The Shepherd's Voice
Sunday, July 03, 2022
What's Happening Today
As We Gather
"Peace be to this house!" (Luke 10:5b). "The kingdom of God has come near to you" (Luke 10:9b). Did you catch that? Those are more than words spoken long ago; those are the realities of God's Word being proclaimed directly to you today! Through the living voice of Jesus, peace comes into Your heart and home. As you lay the burdens of your brokenness at the foot of Christ's cross, the healing medicine of His Word and Meal fills you with His mercy. The kingdom of God Himself comes to you and your family today as you gather for worship. Within the household of faith, Jesus is here and "brings pleasure eternal"! Since God Himself is present, lift up your hearts to Him in joyful songs of praise!
Today's Readings
O.T. Isaiah 66:10–14 (The Lord will extend His peace.) https://bible.faithlife.com/bible/isaiah/66/10-14?_ga=2.183817696.733971278.1656336159-257035986.1643645019
N. T. Galatians 6:1–10, 14–18 (Sharing peace, mercy, and all good things) https://bible.faithlife.com/bible/galatians/6/1-10?_ga=2.183817696.733971278.1656336159-257035986.1643645019 https://bible.faithlife.com/bible/galatians/6/14-18?_ga=2.183817696.733971278.1656336159-257035986.1643645019
Gospel Luke 10:1–20 (Jesus sends out His messengers of peace.) https://bible.faithlife.com/bible/luke/10/1-20?_ga=2.183817696.733971278.1656336159-257035986.1643645019
Reader: Jeff Largiader
Today's Altar Flowers are Given to the Glory of God
By Ed and Diane Mohlenhoff, in honor of their grandson's 13th birthday.
July Mission of the Month
The Joan Valentine House is a New Jersey nonprofit corporation composed of family members and friends of the mentally ill who are dedicated to providing residents with the safe, healthy, pleasant, caring environment they deserve. The Joan Valentine House is committed to the total care of each resident, which includes full housing provisions, the coordination of health care thru physical and psychiatric health care providers, and various additional support services. They are located on Bay Avenue in Point Pleasant. Thank you for your support.
Save the Date!
Join us on Sunday, September 18, in Riverfront Park in Point Pleasant (site of the former hospital) for our second annual "Family Fun Day". We will have our Sunday Service at 10:00 AM under the Pavilion, which will include communion. Immediately following our Service, we will have a picnic lunch. A sign up sheet will be put out in August.
Church Life Photos
We have dedicated one of our bulletin boards to church life and memories. If you have photos of any events or happenings with Good Shepherd then please email them to gsppnj@gmail.com or pop them in the church office mailbox. Thank you!
Remember Our Homebound and Elderly
Please remember our homebound and elderly in prayer or with a card or phone call: Annaliese Benson, Fran McCallum, and Robert Mueller. Contact information is listed on the board in the foyer/Narthex.
Financial Information

Thank you for your continuing support!
This Week at Good Shepherd Lutheran Church
In Our Prayers
To add someone to our list, please fill out a pink Prayer Request Form and submit it to Pastor or the Church office. Also, please let us know when we can remove names. Prayer requests submitted without a pink form are removed after one week. If we have removed a name in error, please resubmit the name and accept our apologies. Thank you.
Missionaries:
Rev. Dale and Suzanne Kaster, Prague
To Those Who Mourn: Family and friends of Mary Tango.
Under Doctor's Care:
J.R. Aldarelli, Carlee Allfrey,
Alice Blaze, Kieran Dillane,
Judy Gruendling, Dale Kaster,
James McCaffrey, Linda McKelvey,
Richard Norris, Tammy Pausz,
Susan Rentas, John Shand,
Harler Jean Visbeck
Special Needs: Situation in Ukraine, those effected by the recent mass shootings, the Brown family, Kim DeAngelo, the Hartdorn family, James McNellis, Robert H. Mueller, the Murray family, and the Zupanc family. All who serve to keep us healthy, fed, and supplied.
Armed Forces: All who serve to keep us safe.
Kate Gruendling Kelly Handy
Jonathan Kaster Matthew Orgill
Mason Remondelli David Schauer
Readings for Next Sunday
Leviticus 18:1–5;19:9–18 (The Lord instructs us to keep
His statutes.)
Colossians 1:1–14 (We live by faith in Christ Jesus.)
Luke 10:25–37 (The good Samaritan shows love for his neighbor.)
I am a disciple of Jesus Christ.
Our address is: 708 Route 88, Point Pleasant Boro, NJ, 8742