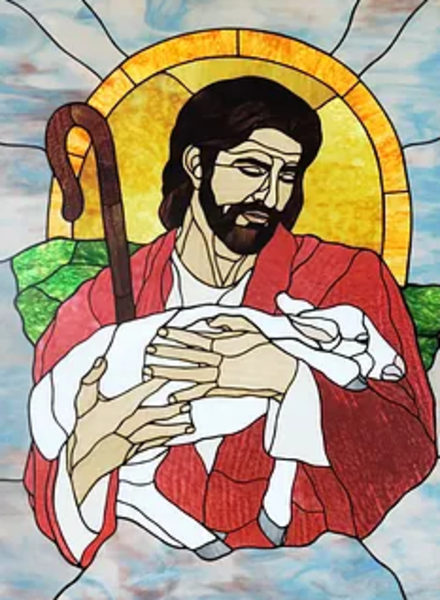 The Shepherd's Voice
Sunday, July 17, 2022
What's Happening Today
As We Gather
Our prayers are filled with "just one more thing" that we ask of God. Crowded into the prayers of God's people are the manifold concerns and burdens of this mortal life. But from another perspective, it is not one more thing but one thing only. In the Gospel for today, we see the contrast between the many things occupying the attention of and creating stress upon, Martha and the one thing needful, which her sister, Mary, has recognized. It is this one thing to which we are called today, and it is the key to finding our way through the stresses, burdens, and concerns that complicate our lives of faith.
Today's Readings
O.T. Genesis 18:1–14 (The Lord promises Abraham and Sarah a son.) https://bible.faithlife.com/bible/genesis/18/1-14?_ga=2.189655723.1020226038.1657551735-257035986.1643645019
N. T. Colossians 1:21–29 (Making known the mystery now revealed in Chris.) https://bible.faithlife.com/bible/colossians/1/21-29?_ga=2.189655723.1020226038.1657551735-257035986.1643645019
Gospel Luke 10:38–42 (The Lord visits the home of Mary and Martha.) https://bible.faithlife.com/bible/luke/10/38-42?_ga=2.189655723.1020226038.1657551735-257035986.1643645019
Reader: Matt Martz
Today's Altar Flowers are Given to the Glory of God
By Charlotte Visbeck, in memory of Ray's father, Nicholas Visbeck.
Many Thanks
To Vicar Jeffrey Campbell, who is filling in for Pastor Schonberg this morning. May God bless him as he brings us God's Word and leads us in worship. While Pastor Schonberg is on vacation, if an emergency arises requiring pastoral care, please contact Rev. Ken Fosse at 732-363-0732.
July Mission of the Month
Chiromissons provides free care to underprivileged children and people in third world countries. They have served over 550,000 youngsters and over 1,950,000 people in this capacity. This organization runs mission trips to Haiti, the Dominican Republic, and other countries. With the use of chiropractic care, Chiromissons is adjusting the osseous structures and restoring tone to the nervous system and has helped thousands of patients overcome a wide range of health issues.
Free Stuff Table
There are now binders and hand sanitizer available. Please help yourselves!
Save the Date!
Join us on Sunday, September 18, in Riverfront Park in Point Pleasant (site of the former hospital) for our second annual "Family Fun Day". We will have our Sunday Service at 10:00 AM under the Pavilion, which will include Communion. Immediately following our Service, we will have a picnic lunch. A sign up sheet will be put out in August.
A Message from Dottie's House
On behalf of the families who have survived domestic violence and found safe housing and emotional support at Dottie's House - we thank you for your generous contribution. Your $703.00 donation to Dottie's House from June 10, 2022 will help fund our comprehensive programs that provide women with the tools to better their futures and give children the chance to reach their greatest potential. For more details on Dottie's House programs and what we offer to our families please visit our website at www.DottiesHouse.org, sign up for our monthly e-newsletter, and like us on Facebook.
Church Life Photos
We have dedicated one of our bulletin boards to church life and memories. If you have photos of any events or happenings with Good Shepherd then please email them to gsppnj@gmail.com or pop them in the church office mailbox. Thank you!
Remember Our Homebound and Elderly
Please remember our homebound and elderly in prayer or with a card or phone call: Annaliese Benson, Fran McCallum, and Robert Mueller. Contact information is listed on the board in the foyer/Narthex.
This Week at Good Shepherd Lutheran Church
In Our Prayers
To add someone to our list, please fill out a pink Prayer Request Form and submit it to Pastor or the Church office. Also, please let us know when we can remove names. Prayer requests submitted without a pink form are removed after one week. If we have removed a name in error, please resubmit the name and accept our apologies. Thank you.
Missionaries:
Rev. Dale and Suzanne Kaster, Prague
Under Doctor's Care:
J.R. Aldarelli, Carlee Allfrey,
Alice Blaze, Bill Cerrato, Kieran Dillane,
Judy Gruendling, Dale Kaster,
James McCaffrey, Linda McKelvey,
Richard Norris, Tammy Pausz,
Susan Rentas, John Shand,
Harler Jean Visbeck
Special Needs: Situation in Ukraine, those effected by the recent mass shootings, the Brown family, Kim DeAngelo, the Hartdorn family, James McNellis, Robert H. Mueller, the Murray family, and the Zupanc family. All who serve to keep us healthy, fed, and supplied.
Armed Forces: All who serve to keep us safe.
Kate Gruendling Kelly Handy
Jonathan Kaster Matthew Orgill
Mason Remondelli David Schauer
Readings for Next Sunday
Genesis 18:17–33 (Abraham asks the Lord to spare Sodom and Gomorrah.)
Colossians 2:6–15 (Once dead, God made us alive in Christ.)
Luke 11:1–13 ("Lord, teach us to pray.")
I am a disciple of Jesus Christ.
Our address is: 708 Route 88, Point Pleasant Boro, NJ, 8742