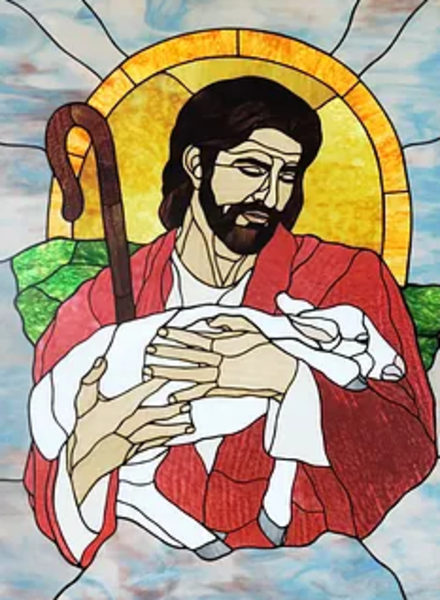 The Shepherd's Voice
Sunday, August 28, 2022
What's Happening Today
As We Gather
Christians do good works most of the time without even thinking about it. That's because faith is an active, living, real thing. God's Word for this day is all about how God-given faith shows itself in a Christian's life—in one's attitude, relationships, words, and deeds. Those without faith, like many of the Pharisees in today's Gospel, consider "good works" only as a way to influence or manipulate other people and even God. Such good works are never really good at all but are tainted with sin, selfishness, and pride. True faith, on the other hand, is not even our work alone at all, but the work of God the Holy Spirit who, through the Word of God and His Holy Sacraments, instills and inspires in the Christian the mind of Christ, the faithfulness and righteousness of Jesus. Such faith also endures the cross and all sufferings related to living in the world still disfigured by deadly sin. In faith God equips you with "everything good that you may do His will" (Hebrews 13:21). Offer up the sacrifice of praise to God in thanksgiving for His gift of redemption through faith in our Lord Jesus Christ.
Today's Readings
O.T. Proverbs 25:2–10 (The way of humility) https://bible.faithlife.com/bible/proverbs/25/2-10?_ga=2.144223861.1309983848.1661185967-257035986.1643645019
N. T. Hebrews 13:1–17 (Sacrifices pleasing to God) https://bible.faithlife.com/bible/hebrews/13/1-17?_ga=2.144223861.1309983848.1661185967-257035986.1643645019
Gospel Luke 14:1–14 (Parables of the wedding feast and the great banquet) https://bible.faithlife.com/bible/luke/14/1-14?_ga=2.144223861.1309983848.1661185967-257035986.1643645019
Reader: Carlie Zeidler
Today's Altar Flowers are Given to the Glory of God
By Jeanette Heckel for Rick and hers 54th Wedding Anniversary.
Many Thanks
To Vicar Jeffrey Campbell, who is filling in for Pastor Schonberg this morning, who is filling in for him in Old Bridge. May God bless him as he brings us God's Word and leads us in worship.
Our Christian Sympathy
is extended to the family and friends of Barbara Ressler, wife of Phil Ressler, Pastor of Good Shepherd, Old Bridge, who died unexpectedly last Monday. Visitation will be held at the church tonight, August 28, from 4:00 to 8:00 pm. The Funeral Service will be held at the church tomorrow, August 29, at 10:00 am. May the God of all comfort strengthen all who mourn with the hope and promise of the resurrection and reunion in heaven.
Last Call: August Mission of the Month
The Joan Valentine House is a New Jersey nonprofit corporation composed of family members and friends of the mentally ill who are dedicated to providing residents with the safe, healthy, pleasant, caring environment they deserve. The Joan Valentine House is committed to the total care of each resident, which includes full housing provisions, the coordination of health care thru physical and psychiatric health care providers, and various additional support services. They are located on Bay Avenue in Point Pleasant Beach. Thank you for your support.
Seasonal Insight
Our chancel is vested with green paraments to indicate the life and growth that God's Spirit works in us through His Word and Sacraments.
Reusable Bags from Point Pleasant Chambers of Commerce
Available on the literature table in the foyer/narthex. Good Shepherd is among the advertisers included on the tote bag. Please help yourself!
Free Stuff Table
Please browse and help yourself. Take something for your family or friends. This time, there are back issues of The Lutheran Witness from 2007 to 2011.
Save the Date!
Join us on Sunday, September 18, in Riverfront Park in Point Pleasant (site of the former hospital) for our second "Family Fun Day"! We will have our Sunday Service at 10:00 AM under the Pavilion, which will include our annual "Back to School Blessing". Immediately following our Service, we will have a Picnic, featuring individually wrapped Jersey Mike's subs. Please sign up using the sheet the foyer/narthex. Please mark what subs you and your family members would like. There will be no Worship in the Woods this day.
Financial Information

Thank you for your continuing support!
Church Life Photos
We have dedicated one of our bulletin boards to church life and memories. If you have photos of any events or happenings with Good Shepherd then please email them to gsppnj@gmail.com or pop them in the church office mailbox. Thank you!
Remember Our Homebound and Elderly
Please remember our homebound and elderly in prayer or with a card or phone call: Annaliese Benson, Fran McCallum, and Robert Mueller. Contact information is listed on the board in the foyer/Narthex.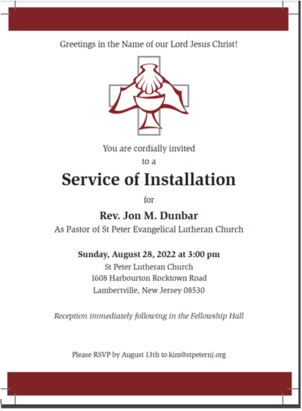 This Week at Good Shepherd Lutheran Church
In Our Prayers
To add someone to our list, please fill out a pink Prayer Request Form and submit it to Pastor or the Church office. Also, please let us know when we can remove names. Prayer requests submitted without a pink form are removed after one week. If we have removed a name in error, please resubmit the name and accept our apologies. Thank you.
Missionaries:
Rev. Dale and Suzanne Kaster, Prague
To Those Who Mourn: Family and friends of Barbra Ressler
Hospitalized: Eugina Smith
Under Doctor's Care:
J.R. Aldarelli, Carlee Allfrey,
Alice Blaze, Bill Cerrato, Kieran Dillane,
Judy Gruendling, Dale Kaster,
James McCaffrey, Linda McKelvey,
Richard Norris, Tammy Pausz,
Susan Rentas, Kate Rubin,
John Shand, Harler Jean Visbeck
Special Needs: The Brown family, Kim DeAngelo, James McNellis, Robert H. Mueller, the Murray family, and the Zupanc family. All who serve to keep us healthy, fed, and supplied.
Armed Forces: All who serve to keep us safe.
Kate Gruendling Kelly Handy
Jonathan Kaster Matthew Orgill
Mason Remondelli David Schauer
Readings for Next Sunday
Deuteronomy 30:15–20 (The choice of life and death)
Philemon 1–21 (Paul's plea for Onesimus)
Luke 14:25–35 (The cost of discipleship)
I am a disciple of Jesus Christ.
Our address is: 708 Route 88, Point Pleasant Boro, NJ, 8742