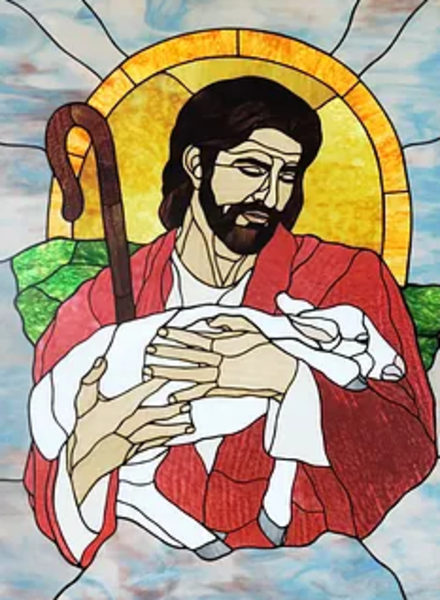 The Shepherd's Voice
Sunday, September 04, 2022
What's Happening Today
As We Gather
In the explanation of the Small Catechism, we are taught that the Law of God serves three purposes. First, as a curb, the Law helps to control violent outbursts of sin and keeps order in the world. Second, as a mirror, the Law accuses us and shows us our sin and our need for a Savior. Third, as a guide, the Law teaches us Christians what we should and should not do to lead a Godly life. Notice that the third use is for "us Christians," that is, those who have been freed from the Law's curse by faith in Christ. In that faith we discover God's love reflected even in His Law. So the Psalm teaches us to pray, "Oh how I love Your law," and "Your word is a lamp to my feet and a light to my path" (Psalm 119:97, 105). Today we receive that light and love to follow our Lord Jesus, the way, the truth, and the life.
Today's Readings
O.T. Deuteronomy 30:15–20 (The choice of life and death) https://bible.faithlife.com/bible/deuteronomy/30/15-20?_ga=2.247218308.1682390774.1661877024-257035986.1643645019
N. T. Philemon 1–21 (Paul's plea for Onesimus) https://bible.faithlife.com/bible/philemon/1-21?_ga=2.247218308.1682390774.1661877024-257035986.1643645019
Gospel Luke 14:25–35 (The cost of discipleship) https://bible.faithlife.com/bible/luke/14/25-35?_ga=2.247218308.1682390774.1661877024-257035986.1643645019
Reader: Jeff Largiader
Today's Altar Flowers are Given to the Glory of God
By Charlotte Visbeck in honor of Alexandria's birthday and wedding. Also by Louise Lusardi for her birthday.
Our Christian Congratulations
are extended to Alexandra Aldarelli & David Schauer who were married yesterday in Pennsylvania. May God bless their life together with His Gracious presence and forgiving love!
September Mission of the Month
Panthers Let's Eat is a group of parent volunteers from the Point Pleasant Community. They work in conjunction with the Ocean Road School PTO. Their mission is to provide children who are on the free/reduced lunch program healthy meals when school is not in session. They receive food and monetary donations from local residents and business, which help to provide families in the program with meals and snacks during school breaks. Their goal is to replace the meals that a child would normally receive during the school year. Panthers Let's Eat provides assistance in all four schools of Point Pleasant Boro: Ocean Road, Nellie Bennett, Memorial Middle School, and Pt. Pleasant High School.
Seasonal Insight
Our chancel is vested with green paraments to indicate the life and growth that God's Spirit works in us through His Word and Sacraments.
Reusable Bags from Point Pleasant Chambers of Commerce
Available on the literature table in the foyer/narthex. Good Shepherd is among the advertisers included on the tote bag. Please help yourself!
Last Call: Free Stuff Table
Please browse and help yourself. Take something for your family or friends. This time, there are back issues of The Lutheran Witness from 2007 to 2011.
Men of Faith
Is returning September 7th! Please join us in the kitchen at 5:30 pm on the 1st and 3rd Wednesday of each month. The Men of Faith explore various topics. Each meeting begins with dinner, which the men take turns providing. To start us off, Pastor will be working all day on his pizza!
Save the Date!
Join us on Sunday, September 18, in Riverfront Park in Point Pleasant (site of the former hospital) for our second "Family Fun Day"! We will have our Sunday Service at 10:00 AM under the Pavilion, which will include our annual "Back to School Blessing". Immediately following our Service, we will have a Picnic, featuring individually wrapped Jersey Mike's subs. Please sign up using the sheet the foyer/narthex. Please mark what subs you and your family members would like. There will be no Worship in the Woods this day.
Church Life Photos
We have dedicated one of our bulletin boards to church life and memories. If you have photos of any events or happenings with Good Shepherd then please email them to gsppnj@gmail.com or pop them in the church office mailbox. Thank you!
Remember Our Homebound and Elderly
Please remember our homebound and elderly in prayer or with a card or phone call: Annaliese Benson, Fran McCallum, and Robert Mueller. Contact information is listed on the board in the foyer/Narthex.
This Week at Good Shepherd Lutheran Church
In Our Prayers
To add someone to our list, please fill out a pink Prayer Request Form and submit it to Pastor or the Church office. Also, please let us know when we can remove names. Prayer requests submitted without a pink form are removed after one week. If we have removed a name in error, please resubmit the name and accept our apologies. Thank you.
Missionaries:
Rev. Dale and Suzanne Kaster, Prague
Hospitalized: Eugina Smith
Under Doctor's Care:
J.R. Aldarelli, Carlee Allfrey,
Alice Blaze, Bill Cerrato, Kieran Dillane,
Judy Gruendling, Dale Kaster,
James McCaffrey, Linda McKelvey,
Richard Norris, Tammy Pausz,
Susan Rentas, Kate Rubin,
John Shand, Harler Jean Visbeck
Special Needs: The Brown family, Kim DeAngelo, James McNellis, Robert H. Mueller, the Murray family, and the Zupanc family. All who serve to keep us healthy, fed, and supplied.
Armed Forces: All who serve to keep us safe.
Kate Gruendling Kelly Handy
Jonathan Kaster Matthew Orgill
Mason Remondelli David Schauer
Readings for Next Sunday
Deuteronomy 30:15–20 (The choice of life and death)
Philemon 1–21 (Paul's plea for Onesimus)
Luke 14:25–35 (The cost of discipleship)
I am a disciple of Jesus Christ.
Our address is: 708 Route 88, Point Pleasant Boro, NJ, 8742