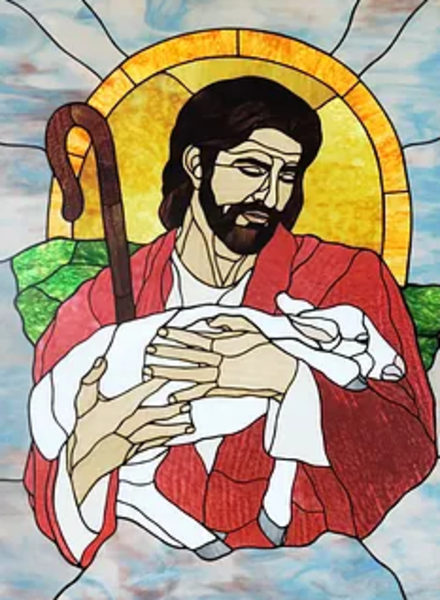 The Shepherd's Voice
Sunday, September 18, 2022
What's Happening Today
As We Gather
God's people are sometimes called "the people of the Book." The written Word is central to our lives of worship. As John concluded his Gospel account of the life, death, and resurrection of our Lord Jesus Christ, he states that he could have written much more extensively than he had done. But as he reflects on what he has shared in his Gospel, he says, "but these are written so that you may believe that Jesus is the Christ, the Son of God, and that by believing you may have life in His name" (John 20:31). The writings of John the Evangelist and of all the other biblical writers are there for us to read and reread and savor and share both as part of our worship and in our individual lives of faith. The written Word of the Lord is an essential part of our great and blessed heritage!
Today's Readings
O.T. Amos 8:4–7 (An exhortation to live justly) https://bible.faithlife.com/bible/amos/8/4-7?_ga=2.242769474.1935640072.1662989598-257035986.1643645019
N. T. 1 Timothy 2:1–15 (The Lord wants all people to be saved.) https://bible.faithlife.com/bible/1-timothy/2/1-15?_ga=2.242769474.1935640072.1662989598-257035986.1643645019
Gospel Luke 16:1–15 (Jesus calls His disciples to make serving Him the priority.) https://bible.faithlife.com/bible/luke/16/1-15?_ga=2.242769474.1935640072.1662989598-257035986.1643645019
Reader: Ed Mohlenhoff
September Mission of the Month
Panthers Let's Eat is a group of parent volunteers from the Point Pleasant Community. They work in conjunction with the Ocean Road School PTO. Their mission is to provide children who are on the free/reduced lunch program healthy meals when school is not in session. They receive food and monetary donations from local residents and business, which help to provide families in the program with meals and snacks during school breaks. Their goal is to replace the meals that a child would normally receive during the school year. Panthers Let's Eat provides assistance in all four schools of Point Pleasant Boro: Ocean Road, Nellie Bennett, Memorial Middle School, and Pt. Pleasant High School.
Seasonal Insight
Our chancel is vested with green paraments to indicate the life and growth that God's Spirit works in us through His Word and Sacraments.
Town Hall Meeting 1
Pastor Schonberg invites the congregation to a conversation on Sunday, September 25, after the 10:00 am Service to discuss his upcoming retirement. He will explain a few things and answer questions to the best of his ability to help us better prepare for the upcoming transition. This is not an official congregational voters meeting, but rather a sharing of information for the purpose of gaining greater understanding. Please plan on attending.
Town Hall Meeting 2
NJ District President Rev. Steven Gewecke will be with us on Sunday, October 2, to meet with the congregation after the 10:00 am Service regarding Pastor's upcoming retirement. He will also explain things and answer questions as only he can to help us prepare for the upcoming transition. This will also not be an official congregational voters meeting, but President Gewecke hopes the meeting will result in the congregation having a sense of direction for the near future. Please plan on attending.
Bible Class Resumes
Our weekly Bible Class will resume meeting on Monday, October 3, at 4:00 pm. Please join us in the Fellowship Room as we focus on various topics in the various resources we have accumulated over the years.
Bible Basics Class for Adults
This class is intended for people from a non-Lutheran background who would like to join Good Shepherd, and for people from our church who would like to refresh their theology and beliefs (and get to know some potential new members). There is no obligation to join. The class will meet on Thursdays from September 29-December 15, from 4:00-5:15 or 7:00-8:15. Please sign the sheet in the foyer/narthex to indicate your preference.
Men of Faith
Has returned! Please join us in the kitchen at 5:30 pm on the 1st and 3rd Wednesday of each month. The Men of Faith explore various topics. Each meeting begins with dinner, which the men take turns providing.
Ride Team
Who would like to help someone out by giving them a ride to church on Sundays or take them to an appointment? If that person is you, please sign up using the sheet in the foyer/ narthex. We would like to organize a team of people who could offer their time to others in our congregation who need a ride.
Prayer Team
With the beginning of a new season, it is a good time to reorganize our Prayer Team from several years ago. The purpose of the Prayer Team is to bring the compassion of Christ to bear on people through prayer so they can live with some sense of hope and joy. If you would like to serve, please sign the sheet in the foyer/narthex with your contact information.
Church Life Photos
We have dedicated one of our bulletin boards to church life and memories. If you have photos of any events or happenings with Good Shepherd then please email them to gsppnj@gmail.com or pop them in the church office mailbox. Thank you!
Remember Our Homebound and Elderly
Please remember our homebound and elderly in prayer or with a card or phone call: Annaliese Benson, Fran McCallum, and Robert Mueller. Contact information is listed on the board in the foyer/Narthex.
This Week at Good Shepherd Lutheran Church
In Our Prayers
To add someone to our list, please fill out a pink Prayer Request Form and submit it to Pastor or the Church office. Also, please let us know when we can remove names. Prayer requests submitted without a pink form are removed after one week. If we have removed a name in error, please resubmit the name and accept our apologies. Thank you.
Missionaries:
Rev. Dale and Suzanne Kaster, Prague
Hospitalized : Eugenia Smith
Under Doctor's Care:
J.R. Aldarelli, Carlee Allfrey,
Alice Blaze, Kieran Dillane,
Judy Gruendling, Dale Kaster,
James McCaffrey, Linda McKelvey,
Tammy Pausz, Susan Rentas,
Kate Rubin, John Shand,
Harler Jean Visbeck
Special Needs: The Brown family, Kim DeAngelo, James McNellis, Robert H. Mueller, the Murray family, and the Zupanc family. All who serve to keep us healthy, fed, and supplied.
Armed Forces: All who serve to keep us safe.
Kate Gruendling Kelly Handy
Jonathan Kaster Matthew Orgill
Mason Remondelli David Schauer
Readings for Next Sunday
Amos 6:1–7 (God's people are warned by the prophet.)
1 Timothy 3:1–13 (The qualities needed in an overseer and deacon)
Luke 16:19–31 (The story of the rich man and poor Lazarus)
I am a disciple of Jesus Christ.
Our address is: 708 Route 88, Point Pleasant Boro, NJ, 8742