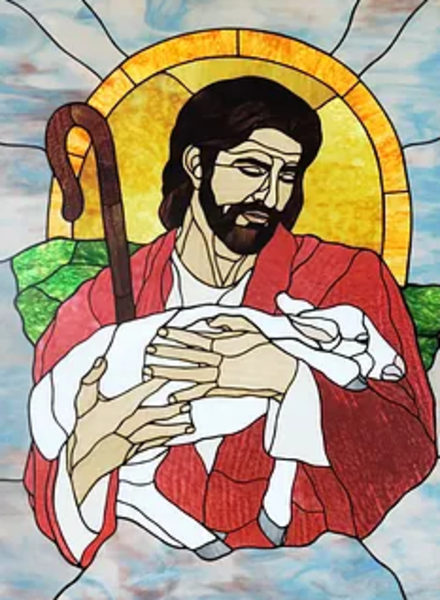 The Shepherd's Voice
Sunday, October 02, 2022
What's Happening Today
As We Gather
How strong is your faith? Jesus says in the Gospel that a tiny amount could do great deeds. We surely cannot trust ourselves, for we will certainly fail. Faith means trusting the giver, our gracious God. In today's Epistle, Paul notes that Timothy's faith came through his mother and grandmother. But Paul's trust is not in Timothy, but in "the power of God, who saved us . . . in Christ Jesus" (2 Timothy 1:8–9). Habakkuk didn't know that God would keep His Word in Christ but was told that God's promises were sure. The good news, which echoes throughout Scripture, is that "the righteous shall live by his faith" (Habakkuk 2:4). Today we hear that gracious Gospel again, the news that Christ "abolished death and brought life and immortality to light" (2 Timothy 1:10). Hearing that, we are enlivened to respond in word and song, energized to serve our gracious God in "power and love and self-control" (2 Timothy 1:7).
Today's Readings
O.T. Habakkuk 2:1–4 ("The righteous shall live by his faith.")
N. T. 2 Timothy 1:1–14 (Paul thanks God for the faith God has given Timothy.)
Gospel Luke 17:1–10 (Faith as a mustard seed.)
Reader: Jeff Largiader
Today's Altar Flowers are Given to the Glory of God
A Rosebud for the Baptism of Madelyn Raine Loveless.
Our Christian Congratulations
Are extended to Daniel and Anna Loveless upon the Baptism of their daughter, Madelyn Raine Loveless, this morning. Madelyn's godparents are Xylene Afable and Kyle Loveless. May the Lord bless Madelyn as she grows in the grace and knowledge of her Lord and Savior, Jesus Christ!
Our Christian Sympathy
is extended to the family and friends of Jerry Ferrara, who died the morning of September 27. Arrangements are being handled by O'Brien's Funeral Home in Brick (on Burnt Tavern Road, south of Route 70). There will be a time of Visitation on Tuesday, October 4, from 4:00 to 8:00 pm. The Funeral Service will be held at Good Shepherd on Wednesday, October 5, at 10:00 am, followed by interment in Toms River. May the God of all comfort strengthen all who mourn with the hope and promise of the resurrection and reunion in heaven.
Our Christian Sympathy
is extended to the family and friends of Eugenia Smith, wife of Dennis Smith, who passed into God's nearer presence on September 28 after a long hospitalization in Brick. A Funeral Mass was held at Saint Martha's Church on Friday, September 30, followed by Committal in the Atlantic View cemetery in Manasquan. May the God of all comfort strengthen all who mourn with the hope and promise of the resurrection and reunion in heaven.
October Mission of the Month
You are invited to make a gift to St. Gregory's Pantry, a local food pantry helping to feed those in need. The holidays are around the corner and this Thanksgiving and Christmas, St. Gregory's will distribute to over 300 needy families at each distribution and have gifts for children. Through generosity and commitment, St. Gregory's Pantry provides temporary aid to approximately 10,000 individuals annually. Please make your check out to Good Shepherd and memo it "Mission of the Month". Thank you!
Seasonal Insight
Our chancel is vested with green paraments to indicate the life and growth that God's Spirit works in us through His Word and Sacraments.
Town Hall Meeting 2
NJ District President Rev. Steven Gewecke will be with us TODAY, to meet with the congregation after the 10:00 am Service regarding Pastor's upcoming retirement. He will also explain things and answer questions as only he can to help us prepare for the upcoming transition. This will not be an official congregational voters meeting, but President Gewecke hopes the meeting will result in the congregation having a sense of direction for the near future. Please plan on attending. The Deacons will provide light lunch fare after the meeting.
Fall Devotionals
The fall editions of Portals of Prayer and Hope-full Living are available on the table in the foyer/Narthex. Please take one for yourself and a friend.
What's Happening Soon
Bible Class Resumes
Our weekly Bible Class will resume meeting tomorrow, at 4:00 pm. Please join us in the Fellowship Room as we focus on various topics in the various resources we have accumulated over the years.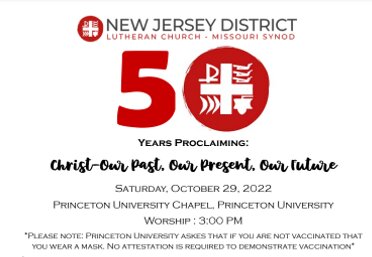 What's Been Happening
Men of Faith
Has returned! Please join us in the kitchen at 5:30 pm on the 1st and 3rd Wednesday of each month. The Men of Faith explore various topics. Each meeting begins with dinner, which the men take turns providing.
Joan Valentine House Update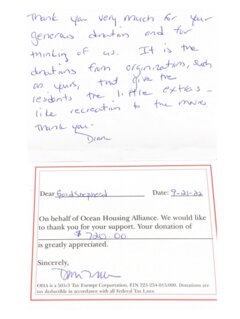 Chiromission Update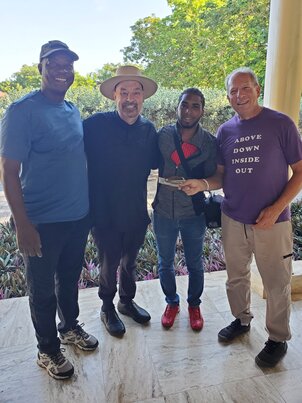 Here is a photo of our Dr. Rob Crystal handing over the Chiromissions donation from our July Mission of the Month. Funds are being used to make and pay for continuous operation of WIFI at a birthing center/orphanage in Haiti. It was very much appreciated!
Church Life Photos
We have dedicated one of our bulletin boards to church life and memories. If you have photos of any events or happenings with Good Shepherd then please email them to gsppnj@gmail.com or pop them in the church office mailbox. Thank you!
Remember Our Homebound and Elderly
Please remember our homebound and elderly in prayer or with a card or phone call: Annaliese Benson, Fran McCallum, and Robert Mueller. Contact information is listed on the board in the foyer/Narthex.
This Week at Good Shepherd Lutheran Church
In Our Prayers
To add someone to our list, please fill out a pink Prayer Request Form and submit it to Pastor or the Church office. Also, please let us know when we can remove names. Prayer requests submitted without a pink form are removed after one week. If we have removed a name in error, please resubmit the name and accept our apologies. Thank you.
Missionaries:
Rev. Dale and Suzanne Kaster, Prague
To Those Who Mourn: Families and friends of Jerry Ferrara and Eugenia Smith .
Under Doctor's Care:
Joan Aldarelli J.R. Aldarelli,
Carlee Allfrey, Alice Blaze,
Kieran Dillane, J udy Gruendling,
Dale Kaster, James McCaffrey,
Linda McKelvey, Tammy Pausz,
Susan Rentas, Kate Rubin,
John Shand, Harler Jean Visbeck
Special Needs: The Brown family, Kim DeAngelo, James McNellis, Robert H. Mueller, the Murray family, and the Zupanc family. All who serve to keep us healthy, fed, and supplied.
Armed Forces: All who serve to keep us safe.
Kate Gruendling Kelly Handy
Jonathan Kaster Matthew Orgill
Mason Remondelli David Schauer
Readings for Next Sunday
Ruth 1:1–19a (Widowed Ruth stays with Naomi and moves to
Bethlehem with her.)
2 Timothy 2:1–13 (Paul encourages Timothy to be a good soldier for Christ.)
Luke 17:11–19 (Only one leper thanks Jesus for his healing.)
I am a disciple of Jesus Christ.
Our address is: 708 Route 88, Point Pleasant Boro, NJ, 8742