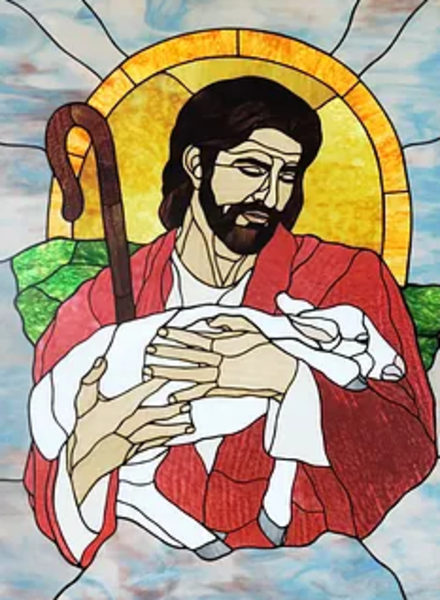 The Shepherd's Voice
Sunday, October 16, 2022
What's Happening Today
As We Gather
Although the Old Testament Reading and Gospel teach us about our prayer life, the Epistle goes beyond our conversation with God to His grace in time and eternity. Paul calls Scripture God-breathed and thereby reminds us of the breath of God in creation, Jesus' breathing on the disciples on Easter, and the clear witness that Scripture gives about our Savior. In this truth, we find confident hope that God hears our prayers. Today's Readings provide examples of prayer: Jacob receives a greater blessing than he expects, and a woman in Jesus' parable obtains justice in her persistence. But prayer does not really start with our request; it is always a response to God's grace and mercy revealed in the God-breathed Scriptures and known by faith in our Savior. We now hear that Word and respond with our brothers and sisters in confident peace and joy.
Today's Readings
O.T. Genesis 32:22–30 (Jacob wrestles with God; his name becomes Israel.) https://bible.faithlife.com/bible/genesis/32/22-30?_ga=2.187939560.1115469260.1665500088-257035986.1643645019
N. T. 2 Timothy 3:14–4:5 (Scripture is God-breathed and makes us wise for salvation.) https://bible.faithlife.com/bible/2-timothy-3-14--4-5?_ga=2.187939560.1115469260.1665500088-257035986.1643645019
Gospel Luke 18:1–8 (A persistent widow is granted her request from a godless judge.) https://bible.faithlife.com/bible/luke/18/1-8?_ga=2.187939560.1115469260.1665500088-257035986.1643645019
Reader: Jamie Hawthorne
October Mission of the Month
You are invited to make a gift to St. Gregory's Pantry, a local food pantry helping to feed those in need. The holidays are around the corner and this Thanksgiving and Christmas, St. Gregory's will distribute to over 300 needy families at each distribution and have gifts for children. Through generosity and commitment, St. Gregory's Pantry provides temporary aid to approximately 10,000 individuals annually. Please make your check out to Good Shepherd and memo it "Mission of the Month". Thank you!
Seasonal Insight
Our chancel is vested with green paraments to indicate the life and growth that God's Spirit works in us through His Word and Sacraments.
All Saints Day: November 6, 2022
If you would like a relative or friend who died as a Christian in the past 12 months to be remembered in the Service, please submit their name to Pastor or the Church office by Wednesday, November 2nd.
What's Happening Soon
Sunday School Results
The Sunday School has 7 children signed up, 5 in the 3 to 7 year old range, 6 prefer 9:00 am. What we need now is a person or two to teach/coordinate our Sunday School. Please identify yourself/ves to Pastor if you are so moved.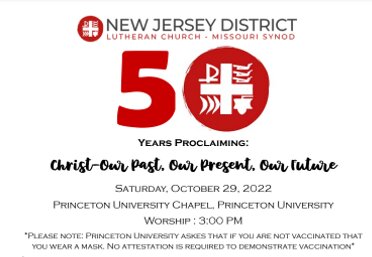 If you plan on attending, please us the signup sheet in the foyer/narthex so Pastor is aware.
What's Been Happening
If You Need Prayer:
Please contact either Jamie Hawthorne (732-267-9518), Diane Mohlenhoff (732-614-3975), or Charlotte Visbeck (732-899-6611). You request will be kept confidential unless you permit it to be shared.
If You Need a Ride to Church:
Please contact Jennifer Herkert (732-644-5956), Melinda Schonberg (732-948-3113), or Warren Wolf (908-278-3778).
Financial Information

Thank you for your continuing support!
Joan Valentine House Update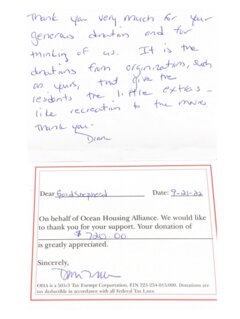 Chiromission Update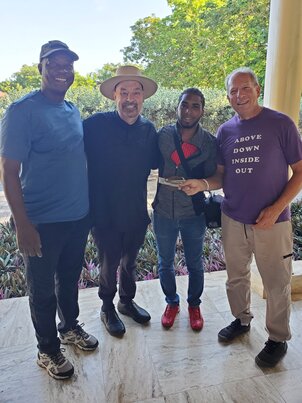 Here is a photo of our Dr. Rob Crystal handing over the Chiromissions donation from our July Mission of the Month. Funds are being used to make and pay for continuous operation of WIFI at a birthing center/orphanage in Haiti. It was very much appreciated!
Church Life Photos
We have dedicated one of our bulletin boards to church life and memories. If you have photos of any events or happenings with Good Shepherd then please email them to gsppnj@gmail.com or pop them in the church office mailbox. Thank you!
Remember Our Homebound and Elderly
Please remember our homebound and elderly in prayer or with a card or phone call: Annaliese Benson, Fran McCallum, and Robert Mueller. Contact information is listed on the board in the foyer/Narthex.
This Week at Good Shepherd Lutheran Church
In Our Prayers
To add someone to our list, please fill out a pink Prayer Request Form and submit it to Pastor or the Church office. Also, please let us know when we can remove names. Prayer requests submitted without a pink form are removed after one week. If we have removed a name in error, please resubmit the name and accept our apologies. Thank you.
Missionaries:
Rev. Dale and Suzanne Kaster, Prague
Hospitalized: Paul Wylam
Under Doctor's Care:
Joan Aldarelli J.R. Aldarelli,
Carlee Allfrey, Alice Blaze,
Kieran Dillane, J udy Gruendling,
Dale Kaster, James McCaffrey,
Linda McKelvey, Tammy Pausz,
Susan Rentas, Kate Rubin,
John Shand, Harler Jean Visbeck
Special Needs: The Brown family, Kim DeAngelo, James McNellis, Robert H. Mueller, the Murray family, and the Zupanc family. All who serve to keep us healthy, fed, and supplied.
Armed Forces: All who serve to keep us safe.
Daniel Gewecke Katie Gruendling
Kelly Handy Jonathan Kaster
Matthew Orgill Mason Remondelli David Schauer
Readings for Next Sunday
Genesis 4:1–15 (Cain and Abel bring their offerings to the Lord.)
2 Timothy 4:6–8, 16–18 (The Lord will bring me safely into His heavenly kingdom.)
Luke 18:9–17 (The kingdom of God belongs to the children who come to Jesus.)
I am a disciple of Jesus Christ.
Our address is: 708 Route 88, Point Pleasant Boro, NJ, 8742