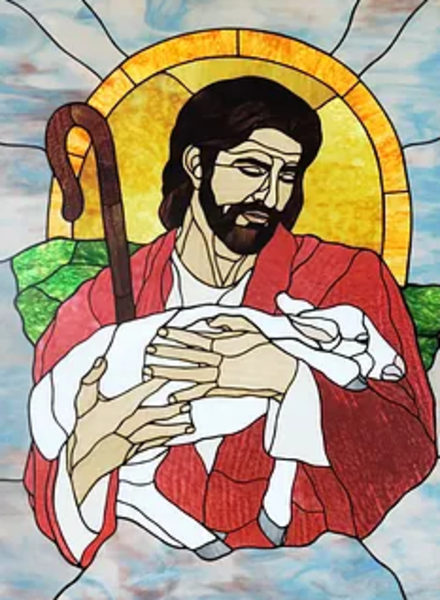 The Shepherd's Voice
Sunday, October 30, 2022
What's Happening Today
As We Gather
Reformation Day is sometimes treated as merely a nod to history for those who claim Luther's legacy. But the great Reformation is not about recalling a hero. It is about reclaiming the Gospel in our own time. The once and eternal call is to "fear God and give Him glory" (Revelation 14:7). This fear is nothing less than faith, although it is more. It is respect for the Law that condemns our sin and trust in the Gospel that forgives us. It is reverence before the God who could have settled for being just but instead chose to be merciful. With joy, we claim the heritage and enjoin the responsibility of keeping this faith pure, vigorously proclaiming this faith both within and outside the company of the faithful.
Today's Readings
O.T. Revelation 14:6–7 (The eternal Gospel is to be proclaimed to every people.) https://bible.faithlife.com/bible/revelation/14/6-7?_ga=2.235229377.1792092798.1666620066-257035986.1643645019
N. T. Romans 3:19–28 (By grace are you saved through faith and not of yourselves.) https://bible.faithlife.com/bible/romans/3/19-28?_ga=2.235229377.1792092798.1666620066-257035986.1643645019
Gospel John 8:31–36 (If the Son sets you free, you will be free indeed.) https://bible.faithlife.com/bible/john/8/31-36?_ga=2.235229377.1792092798.1666620066-257035986.1643645019
Reader: Matt Martz
Today's Altar Flowers are Given to the Glory of God
By Charlotte Visbeck in memory of her aunt and godmother, Katherine M Schmitt.
Last Call: October Mission of the Month
You are invited to make a gift to St. Gregory's Pantry, a local food pantry helping to feed those in need. The holidays are around the corner and this Thanksgiving and Christmas, St. Gregory's will distribute to over 300 needy families at each distribution and have gifts for children. Through generosity and commitment, St. Gregory's Pantry provides temporary aid to approximately 10,000 individuals annually. Please make your check out to Good Shepherd and memo it "Mission of the Month". Thank you!
Seasonal Insight
Our chancel is vested with red paraments to indicate the fire of the Holy Spirit who inspired faithful people to witness to the good news of Jesus, even to the point of shedding their blood.
Last Call: All Saints Day: November 6, 2022
If you would like a relative or friend who died as a Christian in the past 12 months to be remembered in the Service, please submit their name to Pastor or the Church office by Wednesday, November 2nd.
What's Happening Soon
Time Change:
Please remember to set your clocks back one hour on November 5th.
Congregational Voters Meeting
Will be held on November 20th following the 10 am Service. We will be discussing Pastor's retirement and the budget for 2023 and electing Church Council members. Please plan to attend this important meeting!
What's Been Happening
Trunk or Treat: Thank You!
A big thank you to Diane, Jen, Pastor, Carol Crystal, and Janice, Anna, and Mary from our preschool for a successful Trunk or Treat. Thanks to the generosity of those who donated, we had plenty of candy to give out this year.
Church Life Photos
We have dedicated one of our bulletin boards to church life and memories. If you have photos of any events or happenings with Good Shepherd then please email them to gsppnj@gmail.com or pop them in the church office mailbox. Thank you!
Remember Our Homebound and Elderly
Please remember our homebound and elderly in prayer or with a card or phone call: Annaliese Benson, Fran McCallum, and Robert Mueller. Contact information is listed on the board in the foyer/Narthex.
This Week at Good Shepherd Lutheran Church
In Our Prayers
To add someone to our list, please fill out a pink Prayer Request Form and submit it to Pastor or the Church office. Also, please let us know when we can remove names. Prayer requests submitted without a pink form are removed after one week. If we have removed a name in error, please resubmit the name and accept our apologies. Thank you.
Missionaries:
Rev. Dale and Suzanne Kaster, Prague
Hospitalized: John Meyerle
Under Doctor's Care:
Joan Aldarelli J.R. Aldarelli,
Carlee Allfrey, Alice Blaze,
Kieran Dillane, J udy Gruendling,
Dale Kaster, James McCaffrey,
Linda McKelvey, Tammy Pausz,
Susan Rentas, Kate Rubin,
John Shand, Amelia Shappell
Harler Jean Visbeck
Special Needs: The Brown family, Kim DeAngelo, James McNellis, Robert H. Mueller, the Murray family, and the Zupanc family. All who serve to keep us healthy, fed, and supplied.
Armed Forces: All who serve to keep us safe.
Daniel Gewecke Katie Gruendling
Kelly Handy Jonathan Kaster
Matthew Orgill Mason Remondelli David Schauer
Readings for Next Sunday
Revelation 7:2–17 (The Lamb will be their shepherd.)
1 John 3:1–3 (Beloved, we are God's children now.)
Matthew 5:1–12 (Rejoice and be glad, for great is your reward in
heaven.)
I am a disciple of Jesus Christ.
Our address is: 708 Route 88, Point Pleasant Boro, NJ, 8742