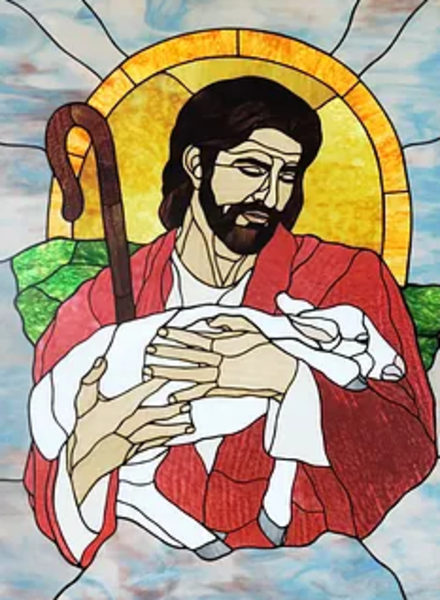 The Shepherd's Voice
Sunday, November 27, 2022
What's Happening Today
Today you are in a most important waiting room—every church sanctuary or other holy space in which God's people gather is, in its way, a waiting room. Together we are waiting for the greatest of all events—the coming of our Lord Jesus Christ. This is the mountain of the house of the Lord, where two or three are gathered in His name. Here God dwells and is enthroned and reveals Himself to His people. Here we keep alert, joyfully anticipating the advent of our King.
Today's Readings
O.T. Isaiah 2:1–5 (Isaiah proclaims the peaceable kingdom of God.) https://bible.faithlife.com/bible/isaiah/2/1-5?_ga=2.114389895.1055785990.1669131861-257035986.1643645019
N. T. Romans 13:8–14 (Put on the Lord Jesus Christ as you await His coming.) https://bible.faithlife.com/bible/romans/13/8-14?_ga=2.114389895.1055785990.1669131861-257035986.1643645019
Gospel Matthew 21:1–11 (Jesus enters the city of Jerusalem.) https://bible.faithlife.com/bible/matthew/21/1-11?_ga=2.114389895.1055785990.1669131861-257035986.1643645019
Reader: Carlie Zeidler
Today's Altar Flowers are Given to the Glory of God
By Warren Wolf in remembrance of his dad.
Last Call November Mission of the Month
The memory of Hurricane Ian has begun to fade from our memories even though it has only been about three weeks. But let's not forget the people who were victims of this storm and its destruction. We now know that we have at least a dozen churches with varying degrees of damage. This damage ranges from approximately $50,000 to several hundred. In many cases, the damage is either below their deductible or they have no coverage i.e., no flood insurance etc. In addition, we now have requests for assistance from more than 60 workers (pastors, teachers, etc.) and anticipate that we may reach 100 with need for assistance. We have several homes with flooding and only one of those with flood insurance. Most of the damage in the others is due to wind (lost roofs) and resulting water damage. The NJ District is committed to helping our brothers and sisters in need. The New Jersey District will match dollar for dollar gifts given to the Florida/Georgia District.
Seasonal Insight
Our chancel is vested with green paraments indicate the life and growth that God's Spirit works in us through His Word and Sacraments.
Winter Devotions
The winter editions of Portals of Prayer and Hope-full Living are available on the table in the foyer/Narthex. Please take one for yourself and a friend.
What's Happening Soon
2023 Offerings:
As we prepare to close out the year and start a new calendar year, I wanted to share some details about the different ways you can give your offerings.
You have several options available to you at Good Shepherd!
1. Offering Box Set: This is an annual box set that is provided to you, with an assigned number and a variety of different envelopes for different offerings throughout the year. If you wish to have a box set for 2023 you MUST sign up. This will allow us to have a more accurate number of box sets provided and reduce waste. This sign up will be available starting today and run through Wednesday, November 30.
2. Online Offering: This is available directly through our website for a one time or a recurring debit. This is a great way to "set it and forget it"! Check it out at https://gsppnj.org/
3. Mail in Offering: For members who are not local throughout the year or unable to attend church, you can send in your offering via Mail. You do not need a box set for this but if you prefer to have a box set, please contact our Financial Secretary, Dani Sloan @ 732-608-1641 to reserve your box set for 2023.
4. Check or Cash, no envelope: This is an option for those who prefer not to use a box set or don't have their envelopes with them. You can place a check or cash in the offering plate or use a pew envelope. As long as your name is on the check or pew envelope it will be applied to your Annual Statement.
If you have any questions please do not hesitate to contact me directly at danisloan3264@gmail.com or 732-608-1641 (call or text). I will be happy to help you choose the option that's best for you! Blessings, Dani Sloan Financial Secretary
Advent Services
We will be having mid-week Advent Services on Wednesday, November 30, December 7, and 14, at 11 am. We will be looking at the three legs of the stool of spiritual growth. Please join us!
Poinsettias
It is that time again! Once again, we will be placing poinsettias around our altar area. The cost per plant remains $9, cash only. Please see an Altar Guild member in the narthex/foyer to place your order. Your plant(s) may be taken home after Christmas morning Service.
Media Booth News
Now that Melinda and Emily are "retiring" at the end of December after many years of service, they would like to train one or two or three people to operate the media booth. Our church's Administrative Assistant, Amanda, will continue to be involved. If you would like more information or are being led to learn and serve, please speak to Melinda or Emily. Thank you!
What's Been Happening
Many Thanks
We are grateful to Diane Mohlenhoff and our Deacons for hosting a wonderful Soup Luncheon after the Voters Meeting last Sunday. Thank you also to all who contributed food. It was a great way to "break bread" together!
Church Life Photos
We have dedicated one of our bulletin boards to church life and memories. If you have photos of any events or happenings with Good Shepherd then please email them to gsppnj@gmail.com or pop them in the church office mailbox. Thank you!
Remember Our Homebound and Elderly
Please remember our homebound and elderly in prayer or with a card or phone call: Annaliese Benson, Fran McCallum, and Robert Mueller. Contact information is listed on the board in the foyer/Narthex.
Last Call: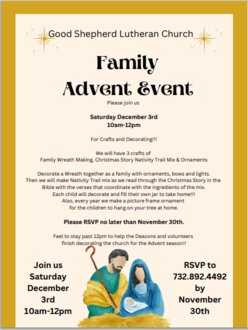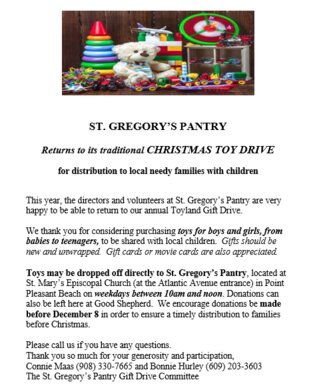 This Week at Good Shepherd Lutheran Church
In Our Prayers
To add someone to our list, please fill out a pink Prayer Request Form and submit it to Pastor or the Church office. Also, please let us know when we can remove names. Prayer requests submitted without a pink form are removed after one week. If we have removed a name in error, please resubmit the name and accept our apologies. Thank you.
Missionaries:
Rev. Dale and Suzanne Kaster, Prague
Hospitalized: Garrett Gruendling, Dale Kaster, and John Meyerle
Under Doctor's Care:
Joan Aldarelli J.R. Aldarelli,
Carlee Allfrey, Alice Blaze,
Kieran Dillane, Dale Kaster,
James McCaffrey, Linda McKelvey,
Tammy Pausz, Susan Rentas,
Kate Rubin, John Shand,
Amelia Shappell, Harler Jean Visbeck,
Carlie Zeidler
Special Needs: The Brown family, Kim DeAngelo, James McNellis, Robert H. Mueller, the Murray family, and the Zupanc family. All who serve to keep us healthy, fed, and supplied.
Armed Forces: All who serve to keep us safe.
Daniel Gewecke Katie Gruendling
Kelly Handy Jonathan Kaster
Matthew Orgill Mason Remondelli David Schauer
Readings for Next Sunday
Isaiah 11:1–10 (A shoot shall come forth from the stump of
Jesse.)
Romans 15:4–13 (Paul points to Christ as the source of hope.)
Matthew 3:1–12 (John the Baptist preaches in the wilderness.)
I am a disciple of Jesus Christ.
Our address is: 708 Route 88, Point Pleasant Boro, NJ, 8742