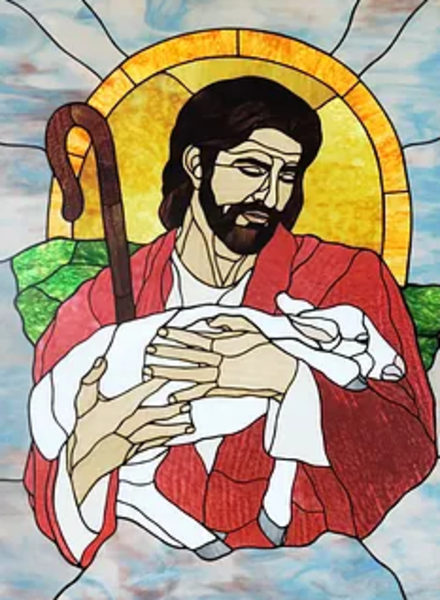 The Shepherd's Voice
Sunday, December 25 , 2022
What's Happening Today
Today's Altar Flowers are Given to the Glory of God
By the Herkerts for their 12th Anniversary and by Lee Cecelski in memory of Anne.
Seasonal Insight
Our chancel is vested with white paraments to indicate the joy of Jesus' birth.
Last Call: December Mission of the Month
Upon recent routine inspection of Good Shepherd, it was found that we have many doors and signs around our church that need to be added and upgraded to meet the current fire code. This will unfortunately cost tens of thousands of dollars for our already struggling financial situation but is necessary for the safety and longevity of Good Shepherd. Therefore, this month's Mission of the Month will contribute to upgrading the building to meet fire safety regulations.
Winter Devotions
The winter editions of Portals of Prayer and Hope-full Living are available on the table in the foyer/Narthex. Please take one for yourself and a friend.
Free Stuff Table
Please browse and help yourself. Take something for your family or friends.
What's Happening Soon
Sunday, January 1, 2023 9:00 am NO Worship in the Woods
10:00 am Traditional New Year's Day Service with Communion
Please join us and invite or bring someone with you!
2023 Offerings:
As we prepare to close out the year and start a new calendar year, I wanted to share some details about the different ways you can give your offerings.
You have several options available to you at Good Shepherd!
1. Offering Box Set: This is an annual box set that is provided to you, with an assigned number and a variety of different envelopes for different offerings throughout the year.
2. Online Offering: This is available directly through our website for a one time or a recurring debit. This is a great way to "set it and forget it"! Check it out at https://gsppnj.org/
3. Mail in Offering: For members who are not local throughout the year or unable to attend church, you can send in your offering via Mail. You do not need a box set for this but if you prefer to have a box set, please contact our Financial Secretary, Dani Sloan @ 732-608-1641 to reserve your box set for 2023.
4. Check or Cash, no envelope: This is an option for those who prefer not to use a box set or don't have their envelopes with them. You can place a check or cash in the offering plate or use a pew envelope. As long as your name is on the check or pew envelope it will be applied to your Annual Statement.
If you have any questions please do not hesitate to contact me directly at danisloan3264@gmail.com or 732-608-1641 (call or text). I will be happy to help you choose the option that's best for you! Blessings, Dani Sloan Financial Secretary
Thank You Fund
It's the time of the year that we want to say "Thank You" to the people who serve us, Pastor and our Administrative Assistant. You can make your contribution in-person on Sunday or by mail to the church office. Please make your check payable to Good Shepherd Lutheran Church and memo it "Thank You Fund". You can also label your envelope "Thank You Fund". Thank you!
Sunday School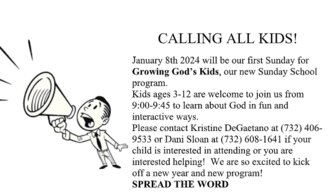 Our Christian Sympathy
is extended to the family and friends of John Meyerle, who died on Thursday, December 15, after a prolonged hospitalization. A Memorial Service for John will be held at Good Shepherd on Thursday, December 29, at 11:00 am. There will be no visitation times prior to the Service. May the God of all comfort strengthen all who mourn with the hope and promise of the resurrection and reunion in heaven.
Altar Flowers
The sign-up sheet for 2023 altar flowers is now available. One vase is $14. We will not be offering two vases at this time. The sign-up book is located in the foyer/narthex. We appreciate your contribution to our Services.
Church Life Photos
We have dedicated one of our bulletin boards to church life and memories. If you have photos of any events or happenings with Good Shepherd then please email them to gsppnj@gmail.com or pop them in the church office mailbox. Thank you!
Remember Our Homebound and Elderly
Please remember our homebound and elderly in prayer or with a card or phone call: Annaliese Benson, Fran McCallum, and Robert Mueller. Contact information is listed on the board in the foyer/Narthex.
This Week at Good Shepherd Lutheran Church
In Our Prayers
To add someone to our list, please fill out a pink Prayer Request Form and submit it to Pastor or the Church office. Also, please let us know when we can remove names. Prayer requests submitted without a pink form are removed after one week. If we have removed a name in error, please resubmit the name and accept our apologies. Thank you.
Missionaries:
Rev. Dale and Suzanne Kaster, Prague
Under Doctor's Care:
Joan Aldarelli J.R. Aldarelli,
Carlee Allfrey, Alice Blaze,
Kieran Dillane, Garrett Gruendling,
Dale Kaster, James McCaffrey,
Linda McKelvey, Erna Meyerle
Tammy Pausz, Susan Rentas,
Kate Rubin, John Shand,
Amelia Shappell, Harler Jean Visbeck,
Carlie Zeidler
Special Needs: The Brown family, Kim DeAngelo, James McNellis, Robert H. Mueller, the Murray family, and the Zupanc family. All who serve to keep us healthy, fed, and supplied.
Armed Forces: All who serve to keep us safe.
Daniel Gewecke Katie Gruendling
Kelly Handy Jonathan Kaster
Matthew Orgill Mason Remondelli David Schauer
Readings for Next Sunday
Numbers 6:22–27 (The Aaronic blessing)
Galatians 3:23–29 (The Law and the promise)
Luke 2:21 (Jesus is circumcised and named.)
I am a disciple of Jesus Christ.
Our address is: 708 Route 88, Point Pleasant Boro, NJ, 8742