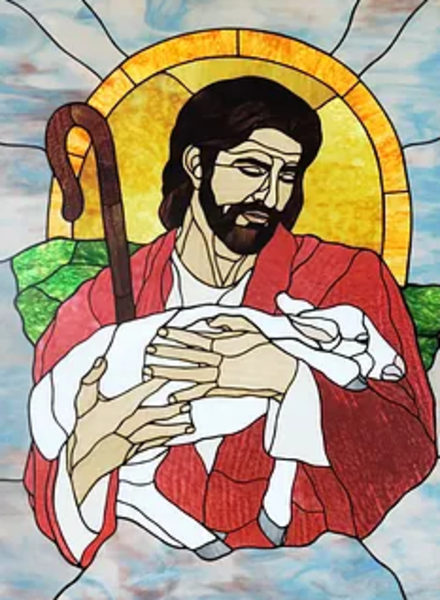 The Shepherd's Voice
Sunday, January 08, 2023
What's Happening Today
As We Gather
When Jesus was coming up out of the baptismal waters, the voice of the Father proclaimed Him as His Son, in whom He delighted. Those words would be repeated on the Mount of Transfiguration, but with this addition to the disciples: "Listen to Him!" Those two events "framed" Jesus' ministry of obedient service and His revelation of God's great love even before His sacrifice on the cross. Seeing Him, we learn what it means to be "alive to God in Christ Jesus," as Paul urges in the Epistle. We are also "framed"—considered God's children through our Baptism. It is all grace, of course; we never achieve our Lord's righteousness, but are given it as a gift. Today we listen again to the Gospel, respond with prayer and praise, and are given grace to tell our friends what Christ has done for us all.
Today's Readings
O.T. Isaiah 42:1–9 (God delights in His Servant.) https://bible.faithlife.com/bible/isaiah/42/1-9?_ga=2.40406306.1805487718.1672756429-257035986.1643645019
N. T. Romans 6:1–11 (Buried and raised with Christ in Baptism.) https://bible.faithlife.com/bible/romans/6/1-11?_ga=2.40406306.1805487718.1672756429-257035986.1643645019
Gospel Matthew 3:13–17 (The Father proclaims Jesus His beloved Son.) https://bible.faithlife.com/bible/matthew/3/13-17?_ga=2.40406306.1805487718.1672756429-257035986.1643645019
Reader: Jamie Hawthorne
Many Thanks
To Rev. Philip Matarazzo, who is filling in this morning for Pastor Schonberg who is recovering from a medical procedure. May God bless him as he brings us God's Word and leads us in worship.
January Mission of the Month
Epiphany Lutheran Church, which traces its beginning to the oldest and only historically black Lutheran Church—Missouri Synod (LCMS) church in Jackson, Miss., burned down in the early morning hours of Nov. 8. They are now without a permanent facility to worship God due to this evil act of arson. Please consider donating to help them rebuild.
Seasonal Insight
Our chancel is vested with white paraments to indicate the joy of Jesus' Baptism.
Worship in the Woods
We will be meeting in the Sanctuary at 9:00am for the duration of the winter. Feel free to join us for a brief spoken Service with communion.
Free Stuff Table
There's new stuff available, so please browse and help yourself. Take something for your family or friends.
Sunday School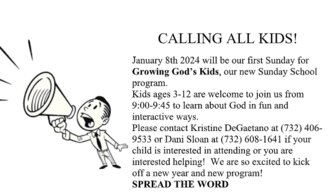 Altar Flowers
The sign-up sheet for 2023 altar flowers is now available. One vase is $14. We will not be offering two vases at this time. The sign-up book is located in the foyer/narthex. We appreciate your contribution to our Services.
Church Life Photos
We have dedicated one of our bulletin boards to church life and memories. If you have photos of any events or happenings with Good Shepherd then please email them to gsppnj@gmail.com or pop them in the church office mailbox. Thank you!
Remember Our Homebound and Elderly
Please remember our homebound and elderly in prayer or with a card or phone call: Annaliese Benson, Fran McCallum, and Robert Mueller. Contact information is listed on the board in the foyer/Narthex.
This Week at Good Shepherd Lutheran Church
In Our Prayers
To add someone to our list, please fill out a pink Prayer Request Form and submit it to Pastor or the Church office. Also, please let us know when we can remove names. Prayer requests submitted without a pink form are removed after one week. If we have removed a name in error, please resubmit the name and accept our apologies. Thank you.
Missionaries:
Rev. Dale and Suzanne Kaster, Prague
Under Doctor's Care:
Joan Aldarelli J.R. Aldarelli,
Carlee Allfrey, Alice Blaze,
Kieran Dillane, Garrett Gruendling,
Dale Kaster, James McCaffrey,
Linda McKelvey, Erna Meyerle
Tammy Pausz, Susan Rentas,
Kate Rubin, John Shand,
Amelia Shappell, Harler Jean Visbeck,
Carlie Zeidler
Special Needs: The Brown family, Kim DeAngelo, James McNellis, Robert H. Mueller, the Murray family, and the Zupanc family. All who serve to keep us healthy, fed, and supplied.
Armed Forces: All who serve to keep us safe.
Daniel Gewecke Katie Gruendling
Kelly Handy Jonathan Kaster
Matthew Orgill Mason Remondelli David Schauer
Readings for Next Sunday
Isaiah 49:1–7 (God's Servant is to be light for the nations.)
1 Corinthians 1:1–9 (God called you into the fellowship of His Son.)
John 1:29–42a (Jesus invites two disciples to stay with Him.)
I am a disciple of Jesus Christ.
Our address is: 708 Route 88, Point Pleasant Boro, NJ, 8742