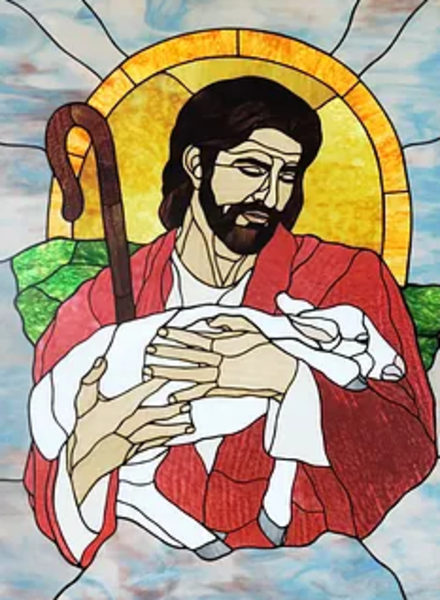 The Shepherd's Voice
Sunday, January 29, 2023
What's Happening Today
As We Gather
Why do the Beatitudes resonate with us? Yes, we who follow Christ are poor in spirit, we hunger for righteousness, and we know some persecution; but so do others, those who follow other gods. The difference is that, at the deepest level, God has promised blessings while we experience all those human emotions and take what action we think best. Those blessings come to us by grace, simply because God has chosen us, without any merit or worthiness in us. We are not worthy, just as God's Old Testament people did not merit His attention, but we and they received it nonetheless. God has chosen to make us worthy by sending His Son in our place. In today's Readings, He explains what pleases Him. Only Christ lived the perfect life, but the Gospel certainly moves us to respond to God's choosing us, as best we can, in love and service.
Today's Readings
O.T. Micah 6:1–8 (The Lord indicts Israel, and asks for justice and kindness.) https://bible.faithlife.com/bible/micah/6/1-8?_ga=2.40299874.1182523261.1674490414-257035986.1643645019
N. T. 1 Corinthians 1:18–31 (Paul contrasts God's folly with worldly wisdom.) https://bible.faithlife.com/bible/1-corinthians/1/18-31?_ga=2.40299874.1182523261.1674490414-257035986.1643645019
Gospel Matthew 5:1–12 (Jesus explains that God's blessings abound for people of faith no matter their circumstances.) https://bible.faithlife.com/bible/matthew/5/1-12?_ga=2.40299874.1182523261.1674490414-257035986.1643645019
Reader: Matt Martz
Our Christian Sympathy
is extended to the family and friends of our Pastor Emeritus Paul Voitko, who died the evening of January 24th. The Funeral Service was held here at Good Shepherd yesterday. May the God of all comfort strengthen all who mourn with the hope and promise of the resurrection and reunion in heaven.
Seasonal Insight
Our chancel is vested with green paraments to indicate the life that Jesus gives to His followers.
Worship in the Woods
We will be meeting in the Sanctuary at 9:00am for the duration of the winter. Feel free to join us for a brief spoken Service with communion.
Sunday School
January 8th was our first Sunday for Growing God's Kids, our new Sunday School program. Kids ages 3-12 are welcome to join us from 9:00-9:45 in Room C to learn about God in fun and interactive ways. Please contact Kristine DeGaetano at 732-406-9533 or Dani Sloan at 732-608-1641 if your child is interested in attending or you are interested in helping! We are so excited to kick off a new year and new program. Spread the Word!
Ordination Service for Jeffery Campbell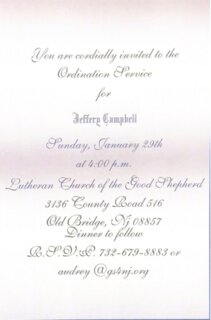 There is a signup sheet in the foyer/narthex If you plan to stay for dinner after.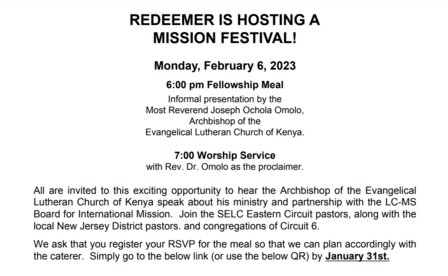 https://www.signupgenius.com/go/10c0c4ca9ad29a0fbc16-mission
What's Been Happening
Altar Flowers
The sign-up sheet for 2023 altar flowers is now available. One vase is $14. We will not be offering two vases at this time. The sign-up book is located in the foyer/narthex. We appreciate your contribution to our Services.
Church Life Photos
We have dedicated one of our bulletin boards to church life and memories. If you have photos of any events or happenings with Good Shepherd then please email them to gsppnj@gmail.com or pop them in the church office mailbox. Thank you!
Remember Our Homebound and Elderly
Please remember our homebound and elderly in prayer or with a card or phone call: Annaliese Benson, Fran McCallum, and Robert Mueller. Contact information is listed on the board in the foyer/Narthex.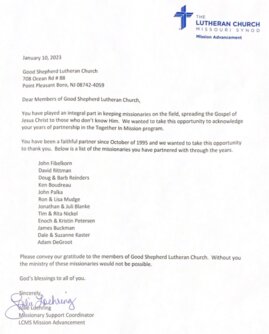 Thank You!

Thank you to everyone who donated to help support our church in December. We received a huge outpouring of unexpected donations and some large donations to help make up some of the deficit and to also support the December Mission of the Month for our Fire Safety needs. Your generosity and kindness is greatly appreciated and have helped us in so many ways! Thank you is not enough!
God's Blessing to you all!
Thanks to the December donations, our deficit was reduced from $35,000+ to $12,249.94. Our total assets now stand at $138,514.91, an increase of over $39,000! (Including $14,397.00 to offset the cost of fire safety requirements. Thank you!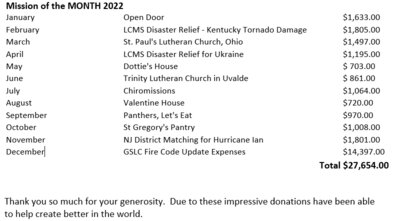 This Week at Good Shepherd Lutheran Church
In Our Prayers
To add someone to our list, please fill out a pink Prayer Request Form and submit it to Pastor or the Church office. Also, please let us know when we can remove names. Prayer requests submitted without a pink form are removed after one week. If we have removed a name in error, please resubmit the name and accept our apologies. Thank you.
Missionaries:
Rev. Dale and Suzanne Kaster, Prague
Under Doctor's Care:
Joan Aldarelli J.R. Aldarelli,
Carlee Allfrey, Alice Blaze,
Kieran Dillane, Garrett Gruendling,
Dale Kaster, James McCaffrey,
Linda McKelvey, Erna Meyerle
Tammy Pausz, Susan Rentas,
Kate Rubin, John Shand,
Amelia Shappell, Mary Skalitza
Harler Jean Visbeck, Janice Yunginger,
Carlie Zeidler
Special Needs: The Brown family, Kim DeAngelo, James McNellis, Robert H. Mueller, the Murray family, and the Zupanc family. All who serve to keep us healthy, fed, and supplied.
Armed Forces: All who serve to keep us safe.
Daniel Gewecke Katie Gruendling
Kelly Handy Jonathan Kaster
Matthew Orgill Mason Remondelli David Schauer
Readings for Next Sunday
Isaiah 58:3–9a (True fasting, true faith)
1 Corinthians 2:1–12 (13–16) (God's wisdom revealed by the Spirit)
Matthew 5:13–20 (The fulfillment of the Law)
I am a disciple of Jesus Christ.
Our address is: 708 Route 88, Point Pleasant Boro, NJ, 8742