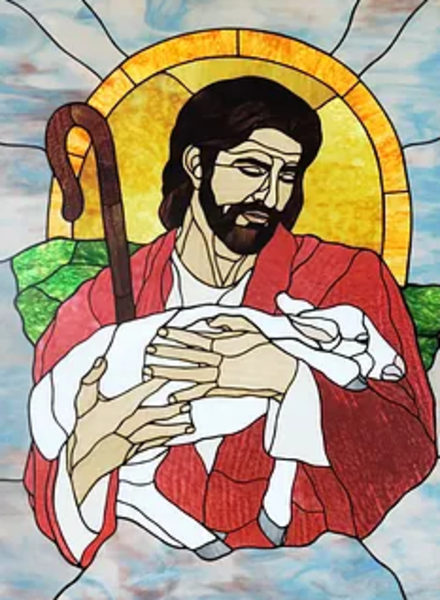 The Shepherd's Voice
Sunday, February 05, 2023
What's Happening Today
As We Gather
The Epiphany season continues to illuminate the miracle of Christmas shining its light forward to the goal and purpose of Christ's coming to us in the flesh. That purpose is the salvation of the world through the forgiveness of our sins. That forgiveness can and will happen only through the sacrifice on Christ's cross. As often as we Christians have heard this Gospel and believe it, however, the more often we tend to forget that this knowledge, this faith, remains a hidden mystery to the world, which ignores, rejects, or explains away "Jesus Christ and Him crucified." Many really don't get it! Yet, here through the Divine Word and Sacraments, God the Holy Spirit, the Lord and giver of life, enlightens minds and hearts to a spiritual epiphany.
Today's Readings
O.T. Isaiah 58:3–9a (True fasting, true faith) https://bible.faithlife.com/bible/isaiah-58-3--9a?_ga=2.128192526.385989819.1675093580-257035986.1643645019
N. T. 1 Corinthians 2:1–12 (God's wisdom revealed by the Spirit) https://bible.faithlife.com/bible/1-corinthians/2/1-12?_ga=2.128192526.385989819.1675093580-257035986.1643645019
Gospel Matthew 5:13–20 (The fulfillment of the Law) https://bible.faithlife.com/bible/matthew/5/13-20?_ga=2.128192526.385989819.1675093580-257035986.1643645019
Reader: Jamie Hawthorne
Mission of the Month
The Joan Valentine House is a New Jersey nonprofit corporation composed of family members and friends of the mentally ill who are dedicated to providing residents with the safe, healthy, pleasant, caring environment they deserve. The Joan Valentine House is committed to the total care of each resident, which includes full housing provisions, the coordination of health care thru physical and psychiatric health care providers, and various additional support services. They are located on Bay Avenue in Point Pleasant Beach. Thank you for your support.
Seasonal Insight
Our chancel is vested with green paraments to indicate the life that Jesus gives to His followers.
What's Happening Soon
Lent 2023
This year, Lent begins on February 22, Ash Wednesday. To enable more people to attend, we will have TWO Services that day: 11:00 am and 7:00 pm, with a Soup Luncheon following the 11:00 Service. Please sign the sheet on the counter in the Foyer/Narthex if you will be attending the Luncheon. There will be NO soup supper in the evening.
Due to poor attendance during Advent, there will be NO Wednesday
Services during Lent. Instead, a midweek Lenten theme will be presented on the first five Sundays of Lent (February 26 and March 5, 12, 19, and 26).
On Palm Sunday, April 2, there will be only ONE Service at 10:00 am so that we may all be together to observe this important day in the life of Jesus for our salvation.
Holy Thursday, April 6, will offer ONE Service at 7:00 pm, not in the morning. Attendance at last year's morning Service was very poor.
For Good Friday, April 7, we will try something different: ONE Service at 3:00 pm, followed by our annual Fish Fry at 4:30-ish. Details for signing up and paying will be available soon.
We will celebrate the Resurrection of Jesus on Easter Sunday, April 9, with ONE Service at 10:00 am, preceded by a light breakfast at 9:00 am.
We invite you to mark your calendars and join us for this special spiritual journey.
What's Been Happening
Altar Flowers
The sign-up sheet for 2023 altar flowers is now available. One vase is $14. We will not be offering two vases at this time. The sign-up book is located in the foyer/narthex. We appreciate your contribution to our Services.
Church Life Photos
We have dedicated one of our bulletin boards to church life and memories. If you have photos of any events or happenings with Good Shepherd then please email them to gsppnj@gmail.com or pop them in the church office mailbox. Thank you!
Remember Our Homebound and Elderly
Please remember our homebound and elderly in prayer or with a card or phone call: Annaliese Benson, Fran McCallum, and Robert Mueller. Contact information is listed on the board in the foyer/Narthex.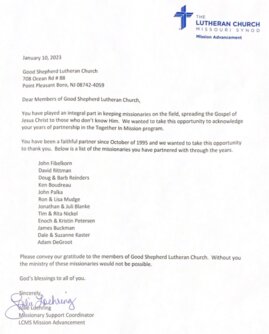 This Week at Good Shepherd Lutheran Church
In Our Prayers
To add someone to our list, please fill out a pink Prayer Request Form and submit it to Pastor or the Church office. Also, please let us know when we can remove names. Prayer requests submitted without a pink form are removed after one week. If we have removed a name in error, please resubmit the name and accept our apologies. Thank you.
Missionaries:
Rev. Dale and Suzanne Kaster, Prague
Under Doctor's Care:
Joan Aldarelli J.R. Aldarelli,
Carlee Allfrey, Alice Blaze,
Kieran Dillane, Garrett Gruendling,
Dale Kaster, James McCaffrey,
Linda McKelvey, Erna Meyerle
Tammy Pausz, Susan Rentas,
Kate Rubin, John Shand,
Amelia Shappell, Mary Skalitza
Harler Jean Visbeck, Janice Yunginger,
Carlie Zeidler
Special Needs: The Brown family, James McNellis, Robert H. Mueller, the Murray family, and the Zupanc family. All who serve to keep us healthy, fed, and supplied.
Armed Forces: All who serve to keep us safe.
Daniel Gewecke Katie Gruendling
Kelly Handy Jonathan Kaster
Matthew Orgill Mason Remondelli David Schauer
Readings for Next Sunday
Deuteronomy 30:15–20 (The offer of life or death)
1 Corinthians 3:1–9 (The Church and her leaders)
Matthew 5:21–37 (The heart of the Law revealed)
I am a disciple of Jesus Christ.
Our address is: 708 Route 88, Point Pleasant Boro, NJ, 8742