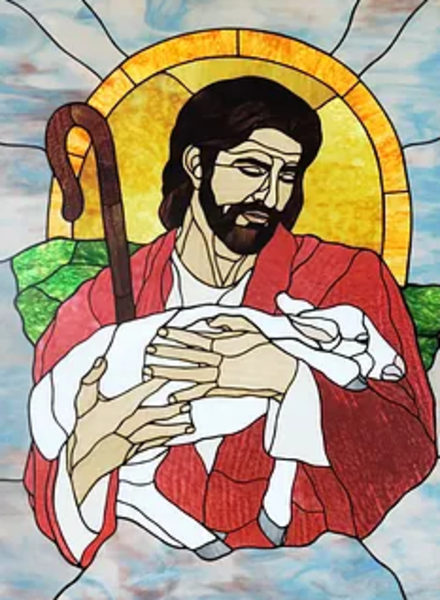 The Shepherd's Voice
Sunday, February 19, 2023
What's Happening Today
As We Gather
In one sense, the Transfiguration of Our Lord provides a sort of climax to the first part of the story of Jesus in the liturgical year. In the glorious vision, Moses and Elijah appear as if to prove that everything written in the Bible in the Law and the Prophets has come true in the advent and appearance of Jesus, "true God, begotten of the Father from eternity, and also true man, born of the virgin Mary" (explanation of the Second Article). Yet this climactic event is not yet the true and complete climax of the story, but a transition now into the season of Lent and the road to the true climax: the cross of Good Friday, the resurrection of Easter, His ascension into heaven, and the sending of the Holy Spirit on Pentecost. There is so much more to tell. This brief glimpse of glory and Peter's eyewitness account is to give us the strength and encouragement now to bring the story to completion in us, that we become witnesses in possession of the glorious hope of eternal life through the forgiveness of our sins.
Today's Readings
O.T. Exodus 24:8–18 (The covenant that the Lord made is confirmed.) https://bible.faithlife.com/bible/exodus/24/8-18?_ga=2.264391560.622922669.1676302460-257035986.1643645019
N. T. 2 Peter 1:16–21 (Eyewitness news) https://bible.faithlife.com/bible/2-peter/1/16-21?_ga=2.264391560.622922669.1676302460-257035986.1643645019
Gospel Matthew 17:1–9 (The transfiguration) https://bible.faithlife.com/bible/matthew/17/1-9?_ga=2.264391560.622922669.1676302460-257035986.1643645019
Reader: Ed Mohlenhoff
Mission of the Month
The Joan Valentine House is a New Jersey nonprofit corporation composed of family members and friends of the mentally ill who are dedicated to providing residents with the safe, healthy, pleasant, caring environment they deserve. The Joan Valentine House is committed to the total care of each resident, which includes full housing provisions, the coordination of health care thru physical and psychiatric health care providers, and various additional support services. They are located on Bay Avenue in Point Pleasant Beach. Thank you for your support.
Voters Meeting
A brief Voter's Meeting will be held next Sunday after the 10 am service as a nomination has been received for the position of Eastern Regional Vice President for the Lutheran Church - Missouri Synod. This is the sole item on the agenda. Please stay 5 extra minutes to vote.

Seasonal Insight
Our chancel is vested with white paraments to indicate the joy that Jesus gives to His followers.
What's Happening Soon
Come Join the Altar Guild!
On March 5, following the 10 am Service, there will be a brief meeting held for those interested in helping as a part of the Altar Guild. Please call Charlotte with any questions: 732 899-6611.
Lent 2023
This year, Lent begins on February 22, Ash Wednesday. To enable more people to attend, we will have TWO Services that day: 11:00 am and 7:00 pm, with a Soup Luncheon following the 11:00 Service. Please sign the sheet on the counter in the Foyer/Narthex if you will be attending the Luncheon. There will be NO soup supper in the evening.
Due to poor attendance during Advent, there will be NO Wednesday
Services during Lent. Instead, a midweek Lenten theme will be presented on the first five Sundays of Lent (February 26 and March 5, 12, 19, and 26).
On Palm Sunday, April 2, there will be only ONE Service at 10:00 am so that we may all be together to observe this important day in the life of Jesus for our salvation.
Holy Thursday, April 6, will offer ONE Service at 7:00 pm, not in the morning. Attendance at last year's morning Service was very poor.
For Good Friday, April 7, we will try something different: ONE Service at 3:00 pm, followed by our annual Fish Fry at 4:30-ish. Details for signing up and paying will be available soon.
We will celebrate the Resurrection of Jesus on Easter Sunday, April 9, with ONE Service at 10:00 am, preceded by a light breakfast at 9:00 am.
We invite you to mark your calendars and join us for this special spiritual journey.
What's Been Happening
Easter Lilies
Altar Guild is taking orders for Easter Lilies today after the Service. Price is $10, cash only. Lilies may be taken home immediately after the Service on Easter morning.
Church Life Photos
We have dedicated one of our bulletin boards to church life and memories. If you have photos of any events or happenings with Good Shepherd then please email them to gsppnj@gmail.com or pop them in the church office mailbox. Thank you!
Remember Our Homebound and Elderly
Please remember our homebound and elderly in prayer or with a card or phone call: Annaliese Benson, Fran McCallum, and Robert Mueller. Contact information is listed on the board in the foyer/Narthex.
Small Church Clarity
INTRODUCTION
The ultimate Guiding Statement for the Christian Church is the Great Commission of Jesus Christ given in Matthew 28:18-20: "All authority in heaven and on earth has been given to Me. Therefore, by going, make disciples of all nations, baptizing them in the name of the Father and of the Son and of the Holy Spirit, and teaching them to observe everything I have taught you. And surely I am with you always, to the very end of the age." We have translated that to
the following:
GUIDING STATEMENT
As children of a gracious God who know Jesus Christ by faith,
we make Him known by our words and deeds.
What does this mean?
By children of God, we mean that we are the recipients of the great love of God the Father (1 John 3:1). Born separated from God (Ephesians 2:1-15), He has now adopted us into His family (John 1:12-13). Our adoption was paid for by the sacrifice of God's own Son, Jesus (Hebrews 2:10-15), and applied to us by Baptism (Galatians 3:26-27). Ever grateful, we always think of ourselves as His children (Mark 10:13-16).
By knowing Christ, we mean having a personal relationship with Him -- just as "knowing a person" means having a relationship with them (John 17:3). Knowing Christ is more than knowing about Christ, which the demons do (James 2:19). It is personal, intimate, and life- changing (Matthew 11:28) -- the greatest blessing this life has to offer (Philippians 3:7-11).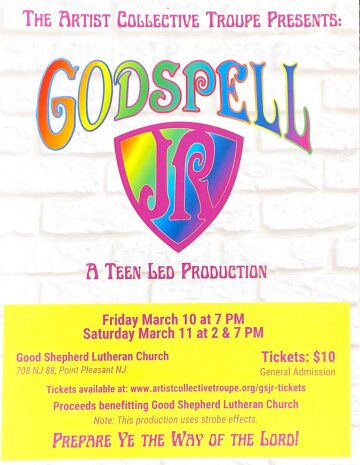 This Week at Good Shepherd Lutheran Church
In Our Prayers
To add someone to our list, please fill out a pink Prayer Request Form and submit it to Pastor or the Church office. Also, please let us know when we can remove names. Prayer requests submitted without a pink form are removed after one week. If we have removed a name in error, please resubmit the name and accept our apologies. Thank you.
Missionaries:
Rev. Dale and Suzanne Kaster, Prague
Under Doctor's Care:
Joan Aldarelli J.R. Aldarelli,
Carlee Allfrey, Alice Blaze,
Kieran Dillane, Garrett Gruendling,
Dale Kaster, James McCaffrey,
Linda McKelvey, Erna Meyerle
Tammy Pausz, Susan Rentas,
Kate Rubin, John Shand,
Amelia Shappell, Mary Skalitza
Harler Jean Visbeck, Nancy Widman
Janice Yunginger, Carlie Zeidler
Special Needs: The Brown family, James McNellis, Robert H. Mueller, the Murray family, and the Zupanc family. All who serve to keep us healthy, fed, and supplied.
Armed Forces: All who serve to keep us safe.
Daniel Gewecke Katie Gruendling
Kelly Handy Jonathan Kaster
Matthew Orgill Mason Remondelli David Schauer
I am a disciple of Jesus Christ.
Our address is: 708 Route 88, Point Pleasant Boro, NJ, 8742