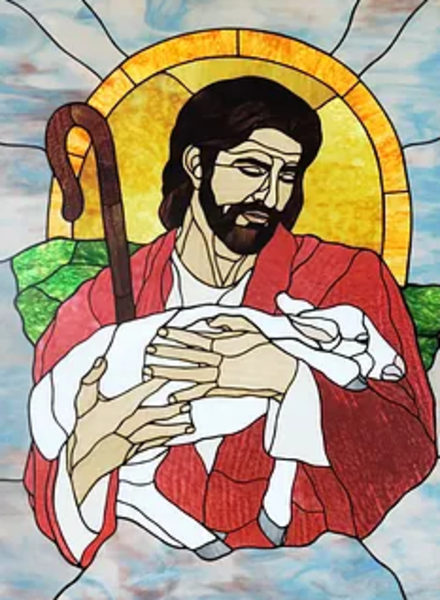 The Shepherd's Voice
Sunday, March 26, 2023
What's Happening Today
As We Gather
Do You suppose it is possible that various people who were involved in Jesus' suffering and death ever had the opportunity to talk with one another about it?...perhaps even right then, while the events were happening? Can you imagine what they might have said?... people like:
-Malchus, whose ear was cut off and healed at Gethsemane, and Mark, who ran from the garden naked;
-Barabbas, the criminal released when Jesus was condemned, and Caiaphas, the high priest who led the cries for his release;
-Pontius Pilate, the governor, and Procula, his wife;
-Simon of Cyrene, who carried Jesus' cross, and the Centurion who compelled him to;
-The Two Thieves who were crucified with Christ;
-Mary, Jesus' grieving mother, and John, the 'beloved disciple' who took her into his home.
If you could have listened to conversations like those, what might you have OVERHEARD?
With piercing insight and dramatic reality, these Lenten services invite us to eavesdrop on the concerns and conflicts of people whose lives were touched-and changed- by the crucifixion of Jesus Christ- just as our lives have been.
Today's Readings
Bible Reading: From Pontius Pilate to the Cross
Last Call: March Mission of the Month
Lutheran World Relief is currently taking donations to help those affected by the earthquakes in Turkey. Your generous gift will deliver urgent support, like temporary shelter and critically needed care and supplies for families who lost their homes. You will reach children, women and men with the care they need right now, helping them endure immediate hardships and easing their suffering.
Seasonal Insight
Our chancel is vested with purple paraments to indicate the somberness of repentance as we contemplate Jesus' suffering and death for our sins.
Easter Lilies
Altar Guild is taking orders for Easter Lilies today after the Service. Price is $10, cash only. Lilies may be taken home immediately after the Service on Easter morning.
Last Call: Easter Baskets
St. Gregory's will be collecting filled baskets to be given out to families in our community as part of our Easter Food Distribution in April. As in the past, we've received beautiful filled baskets from you, our local schools, churches and organizations. We are so appreciative and couldn't do the work we do without all the thoughtful donations from our neighbors. If you are able to help out this year we would ask that you bring the baskets to St. Gregory's, located on the Atlantic Avenue door of St. Mary's By The Sea. Our deadline is March 29th and our hours are Mon-Fri 10:00 - 12:00. Some suggestions for the baskets - other than Easter candy - are small toys, books, stuffed animals. We usually have a large number of teens and some good suggestions for them would be a soccer or basketball, cosmetics, gift cards to Target, Mike's Subs, Barnes and Noble....
Thank you for your support.
Last Call: Good Friday Fish Fry
Join us Good Friday, April 7th, following the 4:00 pm Service, for a delicious fish fry provided by Shore Fresh Seafood Market. Pricing is $10 per person which includes the meal and beverages; all we ask is for you to bring a dessert to share. The deadline to order your meal is March 31st; meals cannot be purchased at the door. Use the signup sheet in the foyer/narthex and remit payment to the church office or Diane Mohlenhoff.
St. Gregory's Volunteers Needed
Volunteers are needed on April 3,4,5 to help put together baskets and food for St. Gregory's Easter distribution. The hours are 10 am-2 pm. Please call Cathy at 732-892-8105 and say you are from Good Shepherd.
Holy Week 2023
On Palm Sunday, April 2, there will be only ONE Service at 10:00 am so that we may all be together to observe this important day in the life of Jesus for our salvation.
Holy Thursday, April 6, will offer ONE Service at 7:00 pm, not in the morning. Attendance at last year's morning Service was very poor.
For Good Friday, April 7, we will try something different: ONE Service at 4:00 pm, followed by our annual Fish Fry at 5:30-ish. Details for signing up and paying will be available soon.
We will celebrate the Resurrection of Jesus on Easter Sunday, April 9, with ONE Service at 10:00 am, preceded by a light breakfast at 9:00 am.
We invite you to mark your calendars and join us for this special spiritual journey.
Last Call: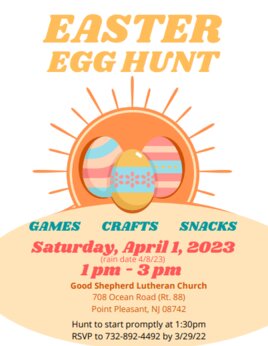 This Week at Good Shepherd Lutheran Church
In Our Prayers
To add someone to our list, please fill out a pink Prayer Request Form and submit it to Pastor or the Church office. Also, please let us know when we can remove names. Prayer requests submitted without a pink form are removed after one week. If we have removed a name in error, please resubmit the name and accept our apologies. Thank you.
Missionaries:
Rev. Dale and Suzanne Kaster, Prague
Under Doctor's Care:
Joan Aldarelli J.R. Aldarelli,
Carlee Allfrey, Alice Blaze,
Kieran Dillane, Garrett Gruendling,
Ernest Johnson, Dale Kaster,
Linda McKelvey, Erna Meyerle,
Kenneth Pausz, Tammy Pausz,
Susan Rentas, Kate Rubin,
John Shand, Mary Skalitza,
Joe Sroka, Harler Jean Visbeck,
Nancy Widman, Janice Yunginger,
Carlie Zeidler
Special Needs: The Brown family, James McNellis, Robert H. Mueller, the Murray family, and the Zupanc family. All who serve to keep us healthy, fed, and supplied.
Armed Forces: All who serve to keep us safe.
Daniel Gewecke Katie Gruendling
Kelly Handy Jonathan Kaster
Matthew Orgill Mason Remondelli David Schauer
I am a disciple of Jesus Christ.
Our address is: 708 Route 88, Point Pleasant Boro, NJ, 8742