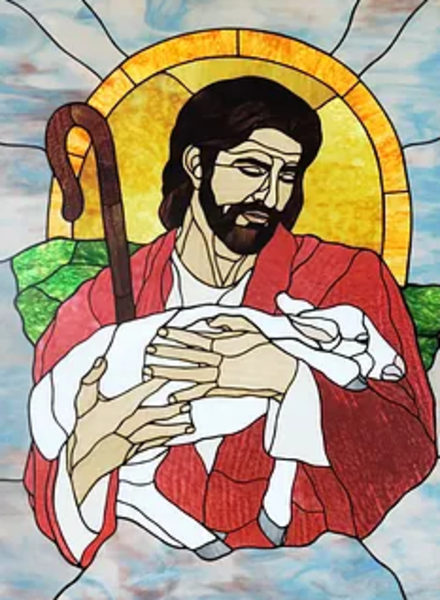 The Shepherd's Voice
Sunday, April 16, 2023
What's Happening Today
As We Gather
We gather today still in the glow of the most joyous and amazing celebration of Easter, the resurrection of our Lord and Savior, Jesus Christ, from the dead. The sights and sounds of that celebration linger in our memory, not as just a past event finished and forgotten, but as Peter calls it today, "a living hope," as enduring and strong as the certainty of our living Lord and the promised future of our own resurrection. We return to continue the Easter celebration because in the afterglow of the days since Easter Sunday, many still do not know that hope. Like the absent apostle Thomas, we still face what seems to be a hopeless world. Today we remember that our only hope is built on a divine Savior whose crucifixion wounds were endured for us and for all. Indeed, we are to learn that every Sunday throughout the entire year is an Easter celebration as our living Lord draws us into His holy, life-giving wounds through His very same body and blood given us in Holy Communion. Thomas saw and believed. Peter rejoiced. Though we do not now see Him, "you believe in Him and rejoice with joy that is inexpressible and filled with glory," the only sure and living hope.
Today's Readings
First.: Acts 5:29–42 (Peter preaches over the objections of the Jewish authorities.)
N.T.: 1 Peter 1:3-9 (Born again to a living hope")
Gospel: John 20:19–31 (Jesus appears to the disciples.)
Reader: Jamie Hawthorne
April Mission of the Month
Dottie's House provides housing assistance and programs for women and children dealing with domestic violence in Ocean County NJ, serving all of NJ. Dottie's House is a long-term, comprehensive program offering a multitude of services to the residents who live there including weekly case management, supportive counseling, domestic violence groups, and therapeutic art classes for the children. They reside in fully furnished apartments, equipped with everything necessary to complete their homes and are able to take everything with them when they successfully graduate from the program. Your donation will help families receive ongoing support on a daily basis to ensure their recovery as they work towards independence and a life free from violence.
Our Christian Congratulations
We congratulate our Administrative Assistant, Amanda Perea, upon the birth of her daughter, Leola Katherine, on Tuesday, April 11. Leola weighed in at 8lbs, 12 oz, and is glad to be home with mom, dad Justin, and big brother Levi. May God bless Amanda's family with His grace, patience, protection, and wisdom!
Worship in the Woods
Has resumed at 9:00 am. Join us for an abbreviated, informal Spoken Service with Communion.
Many Thanks To:
-All who enriched our Lenten and Holy Week observances, including the Dialog Readers
-All who prepared our Special Services of Ash Wednesday, Palm Sunday, Holy Thursday, Good Friday, and Easter Sunday, especially the Alter Guild
- All who made our special events happen, including the Fish Fry, Egg Hunt, and Easter Breakfast, particularly our Deacons
- All who attended our various activities (the attendance on Palm Sunday, Holy Thursday, Good Friday, Holy Saturday, and Easter Sunday was tremendous!)
What a joy it was to observe our Lord's sacrifice and triumph in so many ways with so many people!
Special Thanks To:
The Artist Collective Troupe for their donation of $1,800 to our church! They rehearse their performances in our basement and decided to thank us with three benefit performances of Godspell Jr. in March. We truly appreciate their donation and look forward to an ongoing positive relationship in the future.
Seasonal Insight
Our chancel is vested with and gold paraments to indicate the joy of Jesus' royal triumph over death!
Free Stuff Table
Please browse and help yourself. Take something for your family or a friend.
A Few Words from Theresa
I am very happy to be assisting this lovely community again by filling the role of Administrative Assistant while Amanda is out on leave. Previously I helped here briefly in 2018 and have also volunteered here with AARP during previous tax seasons. I thank you for welcoming back.
Bible Class News
Starting on Monday, April 17, we will begin a study of Prayer: A Biblical Spirituality, by John Kleinig. We meet from 4:00 to 5:00 in the Fellowship Room. Please join us and learn how to pray better.
Financial Information

Thank you for your continuing support!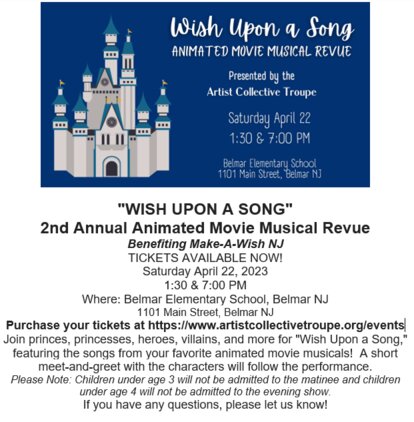 The Artist Collective Troupe's production of our 2nd Annual Wish Upon A Song Animated Movie Musical Revue is quickly approaching! ACT would like to thank you and your members for all of their support!
We would like to offer all the members and affiliates of Good Shepherd Church a 20% savings code on tickets to this production!
Please feel free to share the code: SAVE20 with all your members and other organizations that you share space with.
This Week at Good Shepherd Lutheran Church
In Our Prayers
To add someone to our list, please fill out a pink Prayer Request Form and submit it to Pastor or the Church office. Also, please let us know when we can remove names. Prayer requests submitted without a pink form are removed after one week. If we have removed a name in error, please resubmit the name and accept our apologies. Thank you.
Missionaries:
Rev. Dale and Suzanne Kaster, Prague
To Those Who Mourn: Family and friends of Mary Skalitza
Under Doctor's Care:
Joan Aldarelli J.R. Aldarelli,
Carlee Allfrey, Ida Angiola,
Alice Blaze, Kieran Dillane,
Ernest Johnson, Joe Kosmich,
Kenneth Pausz, Tammy Pausz,
Kate Rubin, John Shand,
Joe Sroka, Harler Jean Visbeck,
Nancy Widman, Paul Wylam,
Janice Yunginger, Carlie Zeidler
Special Needs: The Brown family, James McNellis, Jennifer Mirra, the Murray family, and the Zupanc family. All who serve to keep us healthy, fed, and supplied.
Armed Forces: All who serve to keep us safe.
Daniel Gewecke Katie Gruendling
Kelly Handy Jonathan Kaster
Matthew Orgill Mason Remondelli David Schauer
I am a disciple of Jesus Christ.
Our address is: 708 Route 88, Point Pleasant Boro, NJ, 8742