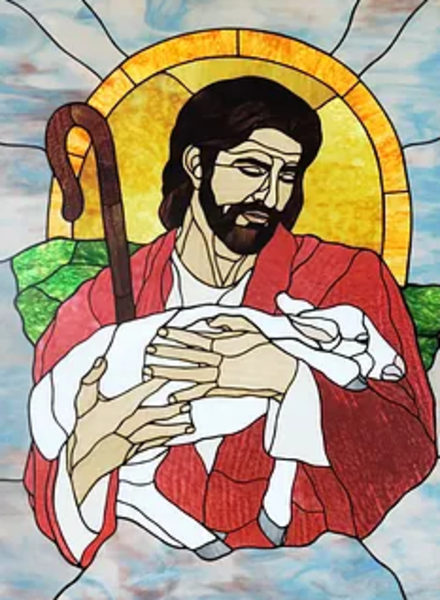 The Shepherd's Voice
Sunday, April 30, 2023
What's Happening Today
As We Gather
Today we hear about Jesus as both our Shepherd and the door for us, the sheep. Jesus is the Good Shepherd, who leads us to green pastures and still waters. And Jesus is the door, the gate by which we enter eternal life. As we follow Jesus, we know that He is always leading us toward righteousness, toward an eternal dwelling in the house of the Lord.
Today's Readings
First.: Acts 2:42-47 (Devoted to the Apostles' teaching, prayer, fellowship, and the breaking of bread.)
N.T.: 1 Peter 2:19–25 (We are returned to the Shepherd and Overseer of our souls.)
Gospel: John 10:1–10 (Jesus is the door of the sheep.)
Reader: Ed Mohlenhoff
Last Call: April Mission of the Month
Dottie's House provides housing assistance and programs for women and children dealing with domestic violence in Ocean County NJ, serving all of NJ. Dottie's House is a long-term, comprehensive program offering a multitude of services to the residents who live there including weekly case management, supportive counseling, domestic violence groups, and therapeutic art classes for the children. They reside in fully furnished apartments, equipped with everything necessary to complete their homes and are able to take everything with them when they successfully graduate from the program. Your donation will help families receive ongoing support on a daily basis to ensure their recovery as they work towards independence and a life free from violence.
Today's Altar Flowers are Given to the Glory of God
By Charlotte Visbeck in honor of JR Aldarelli's birthday.
Worship in the Woods
Has resumed at 9:00 am, hopefully outdoors in our Outdoor Prayer Chapel by the white cross. Join us for an abbreviated, informal Spoken Service with Communion.
Seasonal Insight
Our chancel is vested with and gold paraments to indicate the joy of Jesus' royal triumph over death!
Free Stuff Table
Please browse and help yourself. Take something for your family or a friend.
A Few Words from Theresa
I am very happy to be assisting this lovely community again by filling the role of Administrative Assistant while Amanda is out on leave. Previously I helped here briefly in 2018 and have also volunteered here with AARP during previous tax seasons. I thank you for welcoming back.
Bible Class News
Has resumed on Mondays from 4:00pm to 5:00pm in the Fellowship Room. We have begun a study of Prayer: A Biblical Spirituality. Please join us and learn how to pray better.
Guiding Statement Congregational Meeting
There will be a Meeting on May 21 after the 10:00am service to explain the Call process for a new Pastor. The Meeting will also discuss the acceptance of the Guiding Statement which is printed below. There will be only ONE service that day at 10:00am. Please make the time to be with us for the service and the Meeting.
Financial Information

INTRODUCTION
The ultimate Guiding Statement for the Christian Church is the Great Commission of
Jesus Christ given in Matthew 28:18-20: "All authority in heaven and on earth has been given to
Me. Therefore, by going, make disciples of all nations, baptizing them in the name of the Father
and of the Son and of the Holy Spirit, and teaching them to observe everything I have taught
you. And surely I am with you always, to the very end of the age." We have translated that to
the following:
GUIDING STATEMENT
As children of a gracious God who know Jesus Christ by faith,
we make Him known by our words and deeds
What does this mean?
EXPLANATION
By children of God, we mean that we are the recipients of the great love of God the Father (1
John 3:1). Born separated from God (Ephesians 2:1-15), He has now adopted us into His
family (John 1:12-13). Our adoption was paid for by the sacrifice of God's own Son, Jesus
(Hebrews 2:10-15), and applied to us by Baptism (Galatians 3:26-27). Ever grateful, we always
think of ourselves as His children (Mark 10:13-16).
By knowing Christ, we mean having a personal relationship with Him -- just as "knowing a
person" means having a relationship with them (John 17:3). Knowing Christ is more than
knowing about Christ, which the demons do (James 2:19). It is personal, intimate, and life-
changing (Matthew 11:28) -- the greatest blessing this life has to offer (Philippians 3:7-11).
By faith, we mean "trust" -- we take God at His word (Romans 4:1-3). Biblical faith is more than
believing in God -- it is believing God (Hebrews 11:1). This is what made Abraham, and makes
us, acceptable to God (Romans 3:21-22, 28). This faith makes us righteous before God and
eternally saves us (Romans 4:13). Such faith is a miracle, created by God Himself (Ephesians
2:8-9), and sustained by His Word (Romans 10:17) and Communion (Matthew 26:26-28)
By making Him known, we mean our witness to people around us, near and far (Acts 1:8).
Our relationship to God as His children, and our faith in Christ as our Savior, are to be shared
with people, not kept to ourselves (Matthew 5:14-16). Jesus makes God known to us (John
1:18); we can't help but make Him known to others (Acts 4:20).
By words and deeds, we mean that what we do is consistent with what we say (James 2:14-
16). Saying one thing while doing another is hypocrisy, which Jesus strongly condemns
(Matthew 23:13-32). Likewise, our words of witness need to be attached to our deeds. Actively
helping someone without mentioning Jesus is an incomplete witness (Romans 10:14-15).
CONCLUSION
"(We are) confident of this: that He who began a good work in (us) will carry it on to completion
until the day of Christ Jesus." (Philippians 1:6).
This Week at Good Shepherd Lutheran Church
In Our Prayers
To add someone to our list, please fill out a pink Prayer Request Form and submit it to Pastor or the Church office. Also, please let us know when we can remove names. Prayer requests submitted without a pink form are removed after one week. If we have removed a name in error, please resubmit the name and accept our apologies. Thank you.
Missionaries:
Rev. Dale and Suzanne Kaster, Prague
Under Doctor's Care:
Joan Aldarelli,
Carlee Allfrey, Ida Angiola,
Alice Blaze,
Ernest Johnson, Joe Kosmich,
Kenneth Pausz, Tammy Pausz,
Kate Rubin, John Shand,
Joe Sroka, Harler Jean Visbeck,
Nancy Widman, Paul Wylam,
Janice Yunginger
Special Needs: James McNellis, Jennifer Mirra, the Murray family, and the Zupanc family. All who serve to keep us healthy, fed, and supplied.
Armed Forces: All who serve to keep us safe.
Daniel Gewecke Katie Gruendling
Kelly Handy Jonathan Kaster
Matthew Orgill Mason Remondelli David Schauer
I am a disciple of Jesus Christ.
Our address is: 708 Route 88, Point Pleasant Boro, NJ, 8742