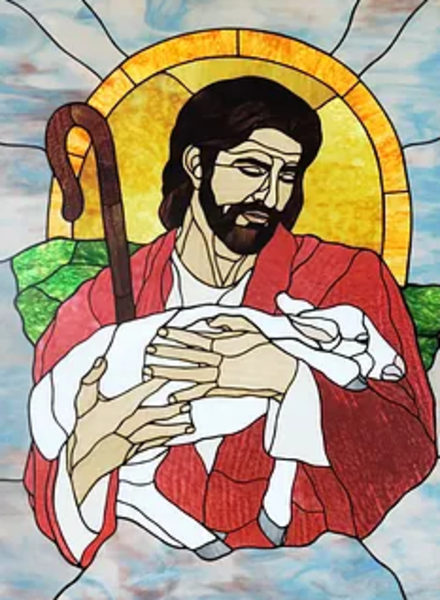 The Shepherd's Voice
Sunday, May 14, 2023
What's Happening Today
As We Gather
We live in a world where we increasingly hear strange ideas. The people we work, play, and live near increasingly consider the truths that our God created this world and redeemed us to be strange. Jesus, Peter, and Paul lived in a world that had some striking similarities to our own. As we live out our Baptism, we are empowered by the Holy Spirit to love Jesus and keep His commands. We are urged to always be "prepared to make a defense to anyone who asks you for a reason for the hope that is in you" (1 Peter 3:15). As we do so, it is easy to fall into the angry, divisive, argumentative patterns that we hear in the political realm. Yet, we are called to share our hope with gentleness and respect, so that we keep a clear conscience and suffer for doing good rather than evil.
Today's Readings
First.: Acts 17:16-31 (Paul witnesses about the one true God.)
N.T.: 1 Peter 3:13–22 (Be prepared to share your faith with gentleness and respect.)
Gospel: John 14:15–21 (Jesus is with us, now and forever.)
Reader: Jamie Hawthorne
May Mission of the Month
Generator for GSLC: This month's Mission is set out to fund a generator for Good Shepherd. This generator will make sure the sump pumps still work in the event of a power outage/flood, thus preventing the basement from flooding. The generator will also be used to keep the fridge and freezer running. This way Good Shepherd will always remain up and running. Any extra monies would go into the General Church Fund.
Today's Altar Flowers are Given to the Glory of God
By Charlotte Visbeck in memory of Pauline Johnson and Jean Visbeck and all mothers.
Seasonal Insight
Our chancel is vested with and gold paraments to indicate the joy of Jesus' royal triumph over death!
Free Stuff Table-Has New Stuff
Please browse and help yourself. Take something for your family or a friend.
Guiding Statement Congregational Meeting
There will be a Meeting today after the 10:00am service to explain the Call process for a new Pastor. The Meeting will also discuss the acceptance of the Guiding Statement which is printed below. There will be only ONE service that day at 10:00am. Please make the time to be with us for the service and the Meeting.
PLEASE JOIN GOOD SHEPHERD LUTHERAN CHURCH
AS WE HONOR AND CELEBRATE THE RETIREMEN T
OF OUR BELOVED PASTOR
Rev. Christian Schonberg
Date: F R I D A Y , J U N E 3 0 T H , 2 0 2 3
Time: Six O'Clock in the Evening
Dinner Reception - Adults: $48 per person, Children: $10 per child
Location:
T H E L O B S T E R S H A N T Y
83 CHANNEL DRIVE
P O I N T P L E A S A N T B E A C H , N J 08742
To Reserve Please Call
The Church Office at 7 3 2 . 8 9 2 . 4 4 9 2
R S V P by J U N E 1 4, 2 0 2 3
CHECKS MAY BE MADE PAYABLE AND
MAILED TO :
G O O D S H E P H E R D L U T H E R A N C H U R C H
7 0 8 O C E A N R O A D
P O I N T P L E A S A N T , N J 0 8 7 4 2
(PLEAS E WRITE RETIREMENT DINNER IN THE MEMO LINE)
AN ONLINE PAYMENT MAY BE MADE BY VISITING:
G S P P N J . O R G / T I T H E S - O F F E R I N G S - D O N A T I O N S
(PLEASE CHOOSE RETIREMENT DINNER FROM THE DROP-DOWN BOX)
I F Y O U W O U L D L I K E T O C O N T R I B U T E T O T H E COLLECTION OF A GROUP
GIFT, PLEASE ADD THE WORD GIFT TO THE MEMO LINE OF YOUR CHECK
O R
ADD AN ADDITIONAL OPTION
TO THE DROP-DOWN BOX
LABELED RETIREMENT GIFT
WITH YOUR ONLINE PAYMENT
This Week at Good Shepherd Lutheran Church
In Our Prayers
To add someone to our list, please fill out a pink Prayer Request Form and submit it to Pastor or the Church office. Also, please let us know when we can remove names. Prayer requests submitted without a pink form are removed after one week. If we have removed a name in error, please resubmit the name and accept our apologies. Thank you.
Missionaries:
Rev. Dale and Suzanne Kaster, Prague
Hospitalized: Joseph Kosmich
Under Doctor's Care:
Joan Aldarelli,
Carlee Allfrey, Ida Angiola,
Alice Blaze,
Ernest Johnson, Joe Kosmich,
Kenneth Pausz, Tammy Pausz,
Kate Rubin, John Shand,
Joe Sroka, Harler Jean Visbeck,
Nancy Widman, Paul Wylam,
Janice Yunginger
Special Needs: James McNellis, Jennifer Mirra, the Murray family, and the Zupanc family. All who serve to keep us healthy, fed, and supplied.
Armed Forces: All who serve to keep us safe.
Daniel Gewecke Katie Gruendling
Kelly Handy Jonathan Kaster
Matthew Orgill Mason Remondelli David Schauer
I am a disciple of Jesus Christ.
Our address is: 708 Route 88, Point Pleasant Boro, NJ, 8742