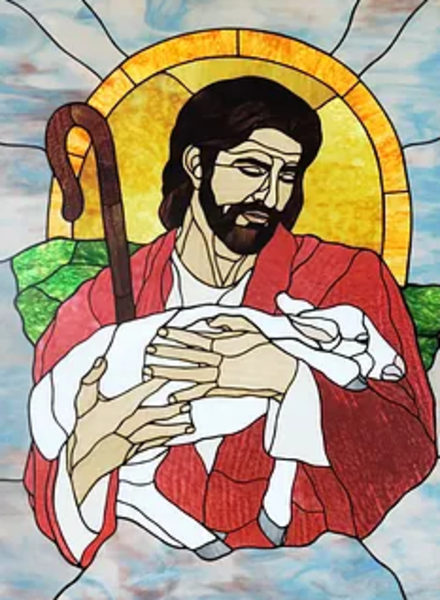 The Shepherd's Voice
Sunday, February 09, 2020
What's Happening Today
As We Gather
We consider today that Jesus calls Himself the light of the world and also calls us the light of the world in the Holy Gospel. While Jesus shines His grace upon the earth, He also calls upon us to shine our light throughout the entire world, so that many come to know Him as their Savior. How blessed are we to be the light of the world with Jesus! Warmed by His light, we share that light He has given us with others in how we act, in what we say, and especially in spreading the good news about Jesus' forgiveness.

Today's Readings
Old Testament:   Isaiah 58:3–9    (God urges mercy and compassion to those in need.)
New Testament: 1 Corinthians 2:1–16      (Paul proclaims nothing but Christ crucified.)
Gospel: Matthew 5:13–20 (You are the light of the world. Let your light shine.)

Today's Altar Flowers are Given to the Glory of God
By Bill Bartsch, in loving memory of his father, Reinholdt W. Bartsch Sr.

Our Christian Sympathy
is extended to the family and friends of Mildred Sepulveda, who died on Thursday, February 6. Funeral arrangements are pending. May the God of all comfort strengthen all who mourn with the hope and promise of the resurrection and reunion in heaven.

February Mission Of the Month- Edie Rose O' Neill
Edie Rose O'Neill, the three-month-old only child of Redbank residences Bridget and Justin O'Neill, is currently at the Children's Hospital of Philadelphia,recovering from a liver donation. . Your donation will be used to support Edie's family medical expenses. Bridget is taking an unpaid leave of absence from work and Justin has been a stay-at-home dad taking care of Edie around the clock.  Please pray for her and all involved.

February Mission Donations
St. Gregory's Pantry: personal products-shampoo, toothpaste, soap, toothbrushes, etc.
Misfit Angels: personal products, socks, blankets, granola bars, gift cards
Service Assistants

Please sign up to Serve on the sheet in the foyer/Narthex.
What's Been Happening
Free AARP Tax Preparation
On Mondays, until April 13, IRS Certified Tax Counselors will prepare and e-file Federal and State income tax returns. They will also assist with Property Tax Rebate. This is a free service. AARP membership is not required. Please call 732-664-7481 for more information and to make an appointment. 

Trophy Safe For Another Year!
The 2020 Diaper Derby has concluded, and the Trophy is safe in Good Shepherd for another year! Many thanks to everyone who made it possible! We collected 3,444 diapers, which amounted to 13,814 "points" (number of diapers x size of diaper). Redeemer, Manchester, came in as a close second. May God bless the babies and families who will use them!

January Mission of the Month 
Donations for the Mile Square Church in Hoboken came to $702.00! Way to go!
What's Happening Soon
Lent Begins on February 26
Join us for our annual Ash Wednesday Services on Wednesday, February 26, at 11:00 AM and 7:30 PM as we begin a spiritual journey to help prepare us for Easter. Our focus this year will be: "Meet Jesus' Closest Friends", otherwise known as "apostles". Who were they? What did they do? How were they like us? How were they different? Find out how God built His kingdom through "unschooled, ordinary men", and how He builds it through you.

Ash Wednesday Soup Lunch
Instead of our traditional Soup Supper on Ash Wednesday (which has been increasingly difficult to host), we will be offering a Soup Lunch at Noon on February 26, immediately following the 11:00 AM Service. Please join us for both Service-n-Soup, and sign the sheet if you can bring anything.

Midweek Lenten Services
Starting on Ash Wednesday, February 26, and continuing through Wednesday, April 1, join us for our special Lenten Services at 11:00 AM and 7:30 PM as we explore the lives of the apostles, Jesus' closest friends. Holy Communion will be offered at each Service. There will be a special Service on Wednesday, April 8, at 11:00 AM for those who cannot attend the evening Good Friday Service.

Sundays in Lent
Lent is a time for repentance and change as you are drawn closer to Jesus. Beginning on Sunday, March 1, Pastor will explore "The Dangers of Church". Joining the body of Christ is not as safe as people think it is. Now that the Church has become an "institution", it is "catering" to its "customers", all of whom have differing expectations. What is the expectation of Jesus? Is this the kingdom He established? Join us for this significant conversation!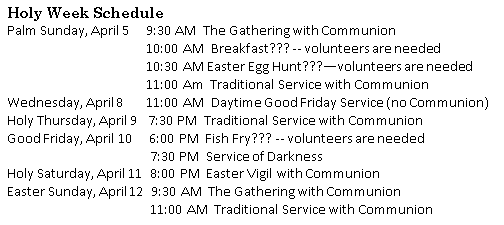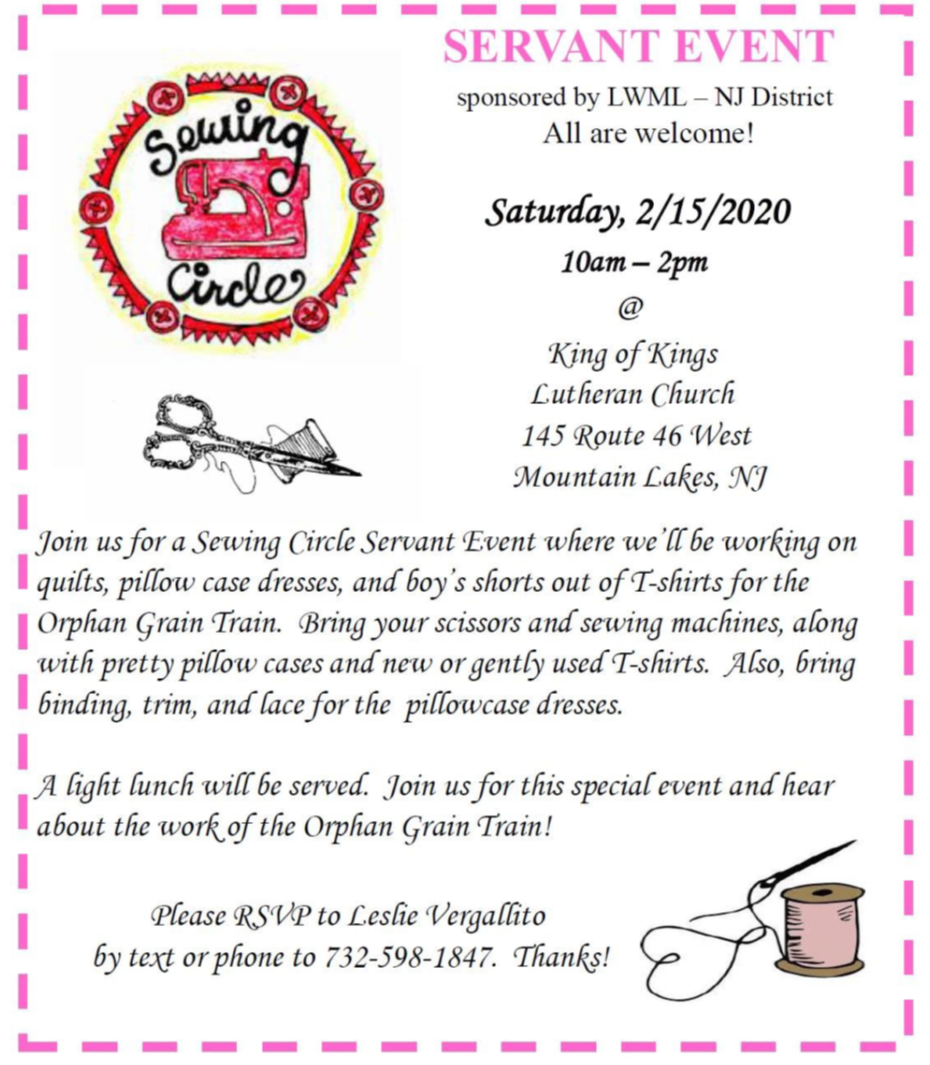 This Week at Good Shepherd Lutheran Church
In Our Prayers
To add someone to our list, please fill out a pink Prayer Request Form and submit it to Pastor or the Church office. Also, please let us know when we can remove names. Prayer requests submitted without a pink form are removed after one week. If we have removed a name in error, please resubmit the name and accept our apologies. Thank you.
Missionaries:
Rev. Dale and Suzanne Kaster, Prague
Pastor Matt Lytikainen and the Kairos Network
Ministry Needs:
Family Ministry Teams and Leaders
Community Outreach Teams and Leaders
Those Who Mourn: Family and friends of Mildred Sepulveda.
Under Doctor's Care:
John Aldarelli Barbara Bellamy Barb Burley
Ken Burley Henry Benson Alice Blaze
Dan Boettcher Pat Boettcher Sheryl Borkowski
Ginny DeRosa Kieran Dillane Mary Elliott
Leah Farina Vicky Forte Paul Giannantonio
Virginia Hackel Crystal Herring Jessica Kramer
Jeanie Lyness Daniel McCallum Linda McKelvey
Nancy McNab Bill Meade Bruce Mohlenhoff
John Mullins Edie O'Neil Brian Phillips
Cheryl Scherer Carl SchubauerJohn Shand
Dennis P. Smith Jr Gloria SmithHarler Jean Visbeck
Ray Visbeck Najwa Wallschlaeger
Special Needs: The Murray family, the Schleifer family, and those living in parts of Australia currently affected by the wildfires.
Armed Forces:
All who serve to keep us safe.
Christopher Garrigan Justin Gruendling Kelly Handy
Travis Harvey Jonathan Kaster Matthew Orgill
Mason Remondelli Erick Schoenberger David Schauer
Readings for Next Sunday
Deuteronomy 30:15–20 (God urges Israel to choose life, not death.)
1 Corinthians 3:1–9 (Paul planted, Apollos watered, but God gave the growth.)
Matthew 5:21–37 (Leave your gift and go be reconciled.)
I am a disciple of Jesus Christ.
Our address is: 708 Route 88, Point Pleasant Boro, NJ, 8742