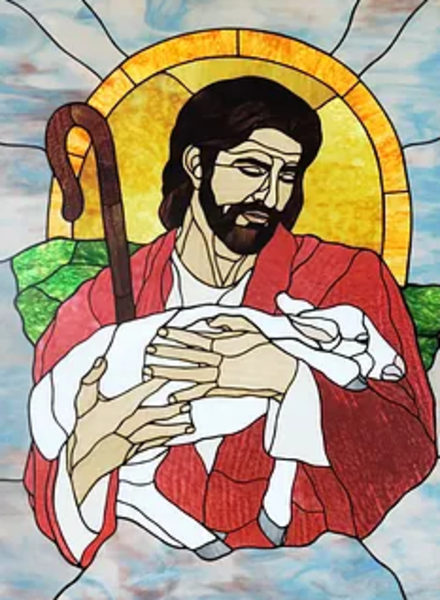 The Shepherd's Voice
Sunday, May 17, 2020
What's Happening Today
As We Gather
Our fifty-day celebration of Easter continues as we solemnly gather in the presence of our crucified and risen Savior Jesus Christ. Present He is for we see and hear Him touching and speaking to us through His Spirit, in the water of Holy Baptism, in His very body and blood in Holy Communion, in His words of Holy Absolution, and in the preaching of His Word. We gather not as much to give anything to Him but to receive from Him His gifts of deliverance, salvation, and righteousness. Today, once again He bestows on you His own righteousness, making of us a chosen race, a royal priesthood, a holy nation, a people for His own possession. Our sin has been taken away, and we are renewed with eternal life by the faith created in us by His Spirit. In this faith our doubts and fears are taken away as we look forward to our heavenly home, the many rooms and mansions, the place prepared for us, as we await His final return.
Today's Readings
First Reading Acts 17:16–31 (Paul in Athens)
https://bible.faithlife.com/bible/acts/17/16-3
N. T. 1 Peter 3:13–22 (Suffering for Christ) https://bible.faithlife.com/bible/1-peter/3/13-22
Gospel John 14:15–21 (The promise of the Holy Spirit)https://bible.faithlife.com/bible/john/14/15-21
May Mission of the Month- Baby Bottle Boomerang
The Baby Bottle Boomerang fundraiser usually brings in almost half of the annual budget for The Open Door! Your donation will help mothers in need. Please note, we will NOT be distributing, filling, or collecting baby bottles this year. Please donate your gift(s) to Good Shepherd either online or by mail and indicate that they are for the May Mission of the Month, or The Open Door, or the Baby Bottle Boomerang. We will then send a check from the church to The Open Door. Thank you!
What's Been Happening
Live-stream Service
We are now live-streaming our Services on our Facebook page, Good Shepherd Lutheran Church. Please join us via live-stream on Sundays at 9:30 AM! Our Services are also posted on our website, gsppnj.org, later in the morning for those who don't do Facebook or are not available at 9:30. Please share our Services as you see fit. God bless us, everyone!
Photo Collection
We are hoping to begin collecting 'selfies' of individuals, couples, and families who are sheltering in place with a small message in hand such as, "We miss you", "Safe at home", etc., to feel connected during this time of isolation. Please send pictures to Gsppnj.gatheringteam@gmail.com. We will show pictures each week during Sunday's Service.
This Week at Good Shepherd Lutheran Church
In Our Prayers
To add someone to our list, please fill out a pink Prayer Request Form and submit it to Pastor or the Church office. Also, please let us know when we can remove names. Prayer requests submitted without a pink form are removed after one week. If we have removed a name in error, please resubmit the name and accept our apologies. Thank you.
Missionaries:
Rev. Dale and Suzanne Kaster, Prague
Pastor Matt Lytikainen and the Kairos Network
Under Doctor's Care:
John Aldarelli Barbara Bellamy Henry Benson
Alice Blaze Sheryl Borkowski Leah Farina
Vicky Forte Paul Giannantonio Punna Khanna
Jeanie Lyness Daniel McCallum Linda McKelvey
John Shand Dennis P. Smith Jr Gloria Smith
Harler Jean Visbeck Ray Visbeck
Special Needs: The Murray family, Ilolla Poitras, and the Zupanc family. All who serve to keep us healthy, fed, and supplied.
Armed Forces: All who serve to keep us safe.
Christopher Garrigan Justin Gruendling Kelly Handy
Travis Harvey Jonathan Kaster Matthew Orgill
Mason Remondelli David Schauer
Readings for Next Sunday
Acts 1:12–26 (Matthias chosen to replace Judas)
1 Peter 4:12–19; 5:6–11 (Suffering as a Christian)
John 17:1–11 (The High Priestly Prayer)
I am a disciple of Jesus Christ.
Our address is: 708 Route 88, Point Pleasant Boro, NJ, 8742