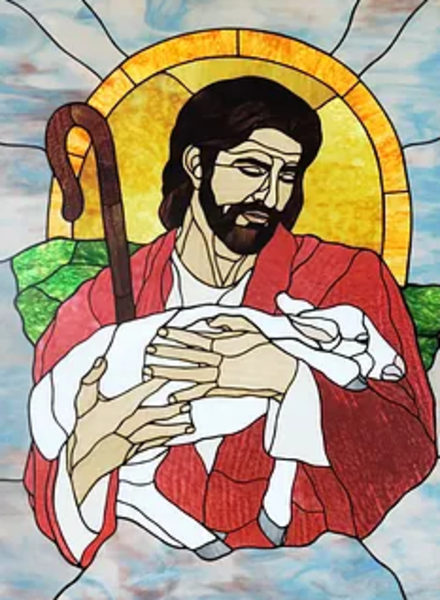 The Shepherd's Voice
Sunday, May 24, 2020
What's Happening Today
As We Gather
Our Savior Jesus Christ told us He was going to His Father. The first disciples saw Him do this, actually leaving them and us behind, ascending through the clouds. But they and we are to know His "going" is not exactly His "leaving." For He has not left us alone as orphans. We are to know that His real presence with us is now not by sight but by faith through His Sacraments. It is His voice we hear from now on, saying, "I forgive you all your sins." By faith we know that Holy Baptism and Holy Communion are not primarily something we do only to remember Him but the Means by which He washes us and fills us now with His righteousness. Through it all, we are formed by His cross, enduring suffering for His sake with the great and sure hope that, in the end, we will be with Him forever.
Today's Readings
First Reading Acts 1:12–26 (Matthias chosen to replace Judas)https://bible.faithlife.com/bible/acts/1/12-26
N. T. 1 Peter 4:12–19; 5:6–11 (Suffering as a Christian)https://bible.faithlife.com/bible/1-peter/4/12-19
https://bible.faithlife.com/bible/1-peter/5/6-11
Gospel John 17:1–11 (The High Priestly Prayer)https://bible.faithlife.com/bible/john/17/1-11
May Mission of the Month- Baby Bottle Boomerang
The Baby Bottle Boomerang fundraiser usually brings in almost half of the annual budget for The Open Door! Your donation will help mothers in need. Please note, we will NOT be distributing, filling, or collecting baby bottles this year. Please donate your gift(s) to Good Shepherd either online or by mail and indicate that they are for the May Mission of the Month, or The Open Door, or the Baby Bottle Boomerang. We will then send a check from the church to The Open Door. Thank you!
Our Christian Congratulations
are extended to Bob Mueller and his family on the occasion of his 100th birthday this Friday, May 29! We ask that you please send him a greeting to Sunnyside Manor 2500 Ridgewood Road
Wall, NJ 07719, and remember him with joy in your prayers. This year Bob's family will not be able to celebrate with him at the Manor, but the staff will surely make this memorable for all. May our loving God grant Bob and his family a joyful celebration on the 29th!
What's Been Happening
Live-stream Service
We are now live-streaming our Services on our Facebook page, Good Shepherd Lutheran Church. Please join us via live-stream on Sundays at 9:30 AM! Our Services are also posted on our website, gsppnj.org, later in the morning for those who don't do Facebook or are not available at 9:30. Please share our Services as you see fit. God bless us, everyone!
Photo Collection
We are hoping to begin collecting 'selfies' of individuals, couples, and families who are sheltering in place with a small message in hand such as, "We miss you", "Safe at home", etc., to feel connected during this time of isolation. Please send pictures to Gsppnj.gatheringteam@gmail.com. We will show pictures each week during Sunday's Service.
This Week at Good Shepherd Lutheran Church
In Our Prayers
To add someone to our list, please fill out a pink Prayer Request Form and submit it to Pastor or the Church office. Also, please let us know when we can remove names. Prayer requests submitted without a pink form are removed after one week. If we have removed a name in error, please resubmit the name and accept our apologies. Thank you.
Missionaries:
Rev. Dale and Suzanne Kaster, Prague
Pastor Matt Lytikainen and the Kairos Network
Under Doctor's Care:
John Aldarelli Barbara Bellamy Henry Benson
Alice Blaze Sheryl Borkowski Leah Farina
Vicky Forte Paul Giannantonio Punna Khanna
Jeanie Lyness Daniel McCallum Linda McKelvey
John Shand Dennis P. Smith Jr Gloria Smith
Harler Jean Visbeck Ray Visbeck
Thanksgiving: Bob Mueller on his 100th birthday.
Special Needs: The Murray family, Ilolla Poitras, and the Zupanc family. All who serve to keep us healthy, fed, and supplied.
Armed Forces: All who serve to keep us safe.
Christopher Garrigan Justin Gruendling Kelly Handy
Travis Harvey Jonathan Kaster Matthew Orgill
Mason Remondelli David Schauer
Readings for Next Sunday
Numbers 11:24–30 (Moses prays for the Spirit upon all.)
Acts 2:1–21 (The coming of the Holy Spirit)
John 7:37–39 (Rivers of living water)
I am a disciple of Jesus Christ.
Our address is: 708 Route 88, Point Pleasant Boro, NJ, 8742