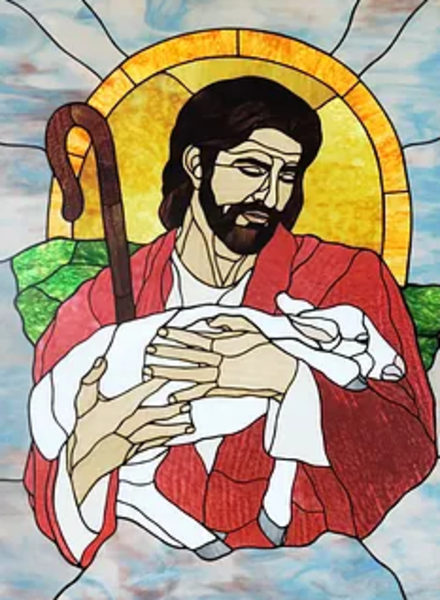 The Shepherd's Voice
Sunday, June 07, 2020
What's Happening Today
As We Gather
The great fifty days of our Easter celebration have passed for another year, crowned by the climax of the outpouring of the Holy Spirit on Pentecost. Today we celebrate the doctrine of the mystery of the one true God. Our celebration, however, seems to say, "Easter isn't really over." Even though we have rebelled and brought death by our sin, still God's glorious and "very good" creation has become even better in Christ, with eternal life the way God originally intended things to be. This is the great good news we proclaim all our days by which God brings forgiveness and life to all, making disciples in all the nations of the earth. Glory be to the Father and to the Son and to the Holy Spirit, one God, now and forever. Amen.
Today's Readings
O.T. Genesis 1:1–2:4a (The beginning)
https://bible.faithlife.com/bible/genesis-1-1--2-4a
N. T. Acts 2:14a, 22–36 (Jesus, both Lord and Messiah)
https://bible.faithlife.com/bible/acts-2-14a
https://bible.faithlife.com/bible/acts/2/22-36
Gospel Matthew 28:16–20 (The Great Commission)
https://bible.faithlife.com/bible/matthew/28/16-20
June Mission of the Month- Baby Bottle Boomerang
The Baby Bottle Boomerang fundraiser usually brings in almost half of the annual budget for The Open Door! Your donation will help mothers in need. Please note, we will NOT be distributing, filling, or collecting baby bottles this year. Please donate your gift(s) to Good Shepherd either online or by mail and indicate that they are for the May Mission of the Month, or The Open Door, or the Baby Bottle Boomerang. We will then send a check from the church to The Open Door. Thank you!
What's Been Happening
Live-stream Service
We are now live-streaming our Services on our Facebook page, Good Shepherd Lutheran Church. Please join us via live-stream on Sundays at 9:30 AM! Our Services are also posted on our website, gsppnj.org, later in the morning for those who don't do Facebook or are not available at 9:30. Please share our Services as you see fit. God bless us, everyone!
Photo Collection
We are hoping to begin collecting 'selfies' of individuals, couples, and families who are sheltering in place with a small message in hand such as, "We miss you", "Safe at home", etc., to feel connected during this time of isolation. Please send pictures to Gsppnj.gatheringteam@gmail.com. We will show pictures each week during Sunday's Service.
A Message from Vacation Bible School
Hello VBS family! We hope this finds you and your family well! You are receiving this email because your child has attended Vacation Bible School at Good Shepherd Lutheran Church in Point Pleasant. After much thought and prayer we are sorry to announce that we will not be hosting our VBS program this summer. Due to the current situation regarding Covid-19 we feel this is the safest decision. The safety of your kids and the volunteers is our number one priority! We will miss seeing and reconnecting with the children this summer! Personally, this would have been my 10th year directing our VBS program. With God's grace we will be back together for the summer of 2021 with our best VBS yet.
If you are interested in possibly participating in some virtual VBS activities please complete this survey by June 15th. Please copy and paste the link into your web browser.
https://docs.google.com/forms/d/e/1FAIpQLSfwsondqkjaB07dKUO45GdNotix_MMBrkpnzQRa8cZujL4lFg/viewform
We pray you and your family stay well and we hope to see you soon! -Lisa Waterman & the entire VBS team
A Message from Caregiver Volunteers of Central Jersey (CVCJ)
We have missed each one of you so very much and looking forward to being with you again soon. While face to face services are temporarily suspended, our staff continued to work remotely to contact all our senior clients and families, to ensure their safety, reduce social isolation, food insecurity, and providing them with resources through our community partners. We continue to respond to support requests on a daily basis.
Over the next few weeks we will be rolling out both our "contactless grocery shopping services" , roundtrip medical transportation and an increased level of friendly and reassuring phone calls. We have initiated "on-line training" for all volunteers who can help us achieve our mission in this new environment to keep our volunteers, our clients, and those we come in contact with safe. Our schedule of on-line training is on our website: https://caregivervolunteers.org/volunteer/ To register, please send a message to info@caregivervolunteers.org and we will send you the meeting ID number and password. You can also call us at 732-505-2273.
As we regain and add volunteers we will resume our traditional services (pet therapy, respite, and friendly visiting, Alzheimer and Dementia Care) and be able to extend our services to additional seniors needing our assistance.
While the 'shape' of our services may change, we assure you of our commitment to honor and serve our senior community.
We ask God's blessings on all of you and prayers to keep you safe!
Mary Malagiere, Caregiver Volunteers of Central Jersey
--
Mary O. Malagiere
Manager of Volunteers and Community Outreach
Caregiver Volunteers of Central Jersey
Riverwood Plaza, Bldg 2
67 Route 37 West
Toms River, NJ 08755
732-505-2273
Facebook: Caregiver Volunteers and Caregiver Canines
This Week at Good Shepherd Lutheran Church
In Our Prayers
To add someone to our list, please fill out a pink Prayer Request Form and submit it to Pastor or the Church office. Also, please let us know when we can remove names. Prayer requests submitted without a pink form are removed after one week. If we have removed a name in error, please resubmit the name and accept our apologies. Thank you.
Missionaries:
Rev. Dale and Suzanne Kaster, Prague
Pastor Matt Lytikainen and the Kairos Network
Under Doctor's Care:
John Aldarelli Barbara Bellamy Henry Benson
Alice Blaze Sheryl Borkowski Leah Farina
Vicky Forte Paul Giannantonio Punna Khanna
Jeanie Lyness Daniel McCallum Linda McKelvey
John Shand Dennis P. Smith Jr Gloria Smith
Harler Jean Visbeck Ray Visbeck
Special Needs: The Murray family, Ilolla Poitras, and the Zupanc family. All who serve to keep us healthy, fed, and supplied.
Armed Forces: All who serve to keep us safe.
Christopher Garrigan Justin Gruendling Kelly Handy
Travis Harvey Jonathan Kaster Matthew Orgill
Mason Remondelli David Schauer
Readings for Next Sunday
Exodus 19:2–8 (At Mount Sinai)
Romans 5:6–15 (Reconciled through Christ)
Matthew 9:35–10:8 (Jesus sends out the Twelve.)
I am a disciple of Jesus Christ.
Our address is: 708 Route 88, Point Pleasant Boro, NJ, 8742