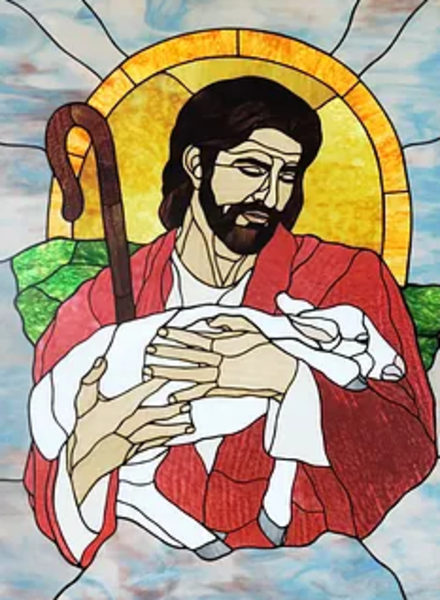 The Shepherd's Voice
Sunday, July 05, 2020
What's Happening Today
As We Gather
Paul is talking to himself in today's Epistle, for although he knows what's right, he finds it virtually impossible to do. That's because he (and all of us) have this sickness called sin, for which we ourselves have no antidote. Worse, it keeps producing evil symptoms in our thoughts, words, and deeds. As a result, we are both sick in spirit and tired from struggling. Zechariah foresaw the solution; we can see his prophecy fulfilled as Jesus entered Jerusalem on Palm Sunday, there to die for us and rise victorious. In the Gospel, our Lord thanks our heavenly Father for revealing to us that He is indeed the One we need to overcome our sickness of sin. Indeed, thanks to our Savior, when people call out to Him, God hears their cry and saves them.
Today's Readings
O.T. Zechariah 9:9–12 (Through the prophet, the Lord promises an end to spiritual warfare.)
https://bible.faithlife.com/bible/zechariah/9/9-12?_ga=2.94532764.167901873.1593447475-251304765.1584641633
N. T. Romans 7:14–25a (Unable to stop sinning, Paul finds deliverance only in Jesus Christ.) https://bible.faithlife.com/bible/romans-7-14--25a?_ga=2.94532764.167901873.1593447475-251304765.1584641633
Gospel Matthew 11:25–30 (Jesus invites His hearers to come to Him for true rest.)https://bible.faithlife.com/bible/matthew/11/25-30?_ga=2.94532764.167901873.1593447475-251304765.1584641633
Indoor Service with Livestream at 9:30
30 people can attend but face masks and 6 feet of social distancing are required. Therefore, please DO NOT sit in a pew marked by blue tape, and sit only at the extreme ends of unmarked pews (unless you are a family unit -- then you may take up as much pew space as you need). Please sit on the LEFT side. Everyone who attends should be symptom/exposure free for two weeks. When you come, please park in every other parking space. We will not be Sharing the Peace during the Service (except verbally) nor passing the offering plate (it will be set up by the back door of the nave). We will not be handing out bulletins (please refer to your weekly e-newsletter) nor using hymnals or pew Bibles. Bagels and coffee will not be provided, and Pastor will be dismissing worshippers pew by pew to keep the exit traffic flowing consistently. We look forward to seeing everyone! God bless!
Indoor Spoken Service 11:00
We will be holding an indoor spoken Service at 11:00 AM. Same rules apply as for the 9:30 am Service, but please sit on the RIGHT side. Additionally, only 24 people may attend this Service. Thank you. God bless us, everyone!
Many Thanks
to Rev. Phil Matarazzo for filling in for Pastor Schonberg today, who is on a staycation this week. Pastor will be back in the office on Wednesday, July 8th. May God bless Pastor Phil as he brings us God's Word and leads us in worship today.
Portals of Prayer
The new Portals of Prayer are ready. You will be able to get them in the foyer/narthex.
This Week at Good Shepherd Lutheran Church
In Our Prayers
To add someone to our list, please fill out a pink Prayer Request Form and submit it to Pastor or the Church office. Also, please let us know when we can remove names. Prayer requests submitted without a pink form are removed after one week. If we have removed a name in error, please resubmit the name and accept our apologies. Thank you.
Missionaries:
Rev. Dale and Suzanne Kaster, Prague
Pastor Matt Lytikainen and the Kairos Network
Those Who Mourn: Family and friends of Dee Dalik
Under Doctor's Care:
John Aldarelli Barbara Bellamy Henry Benson
Alice Blaze Sheryl Borkowski Leah Farina
Vicky Forte Paul Giannantonio Punna Khanna
Jeanie Lyness Daniel McCallum Linda McKelvey
John Shand Dennis P. Smith Jr Gloria Smith
Harler Jean Visbeck Ray Visbeck
Special Needs: The Murray family, Ilona Poitras, the Renout family, and the Zupanc family. All who serve to keep us healthy, fed, and supplied.
Armed Forces: All who serve to keep us safe.
Christopher Garrigan Justin Gruendling Kelly Handy
Travis Harvey Jonathan Kaster Matthew Orgill
Mason Remondelli David Schauer
Readings for Next Sunday
Isaiah 55:10–13 (God's Word accomplishes His plans.)
Romans 8:12–17 (Because the Spirit leads us, we know we are children of God.)
Matthew 13:1–9, 18–23 (Whoever hears the Word and understands it will
produce a great harvest.)
I am a disciple of Jesus Christ.
Our address is: 708 Route 88, Point Pleasant Boro, NJ, 8742