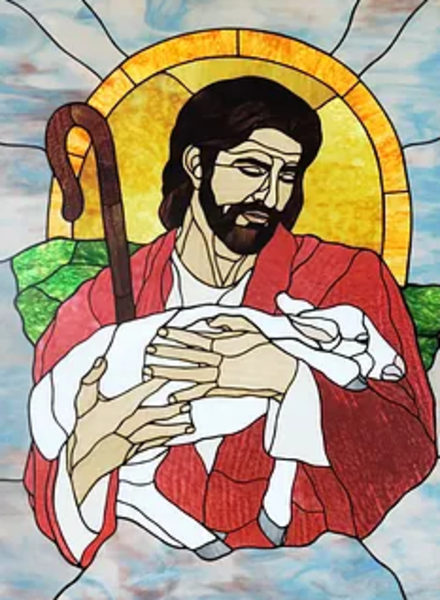 The Shepherd's Voice
Sunday, September 27, 2020
What's Happening Today
As We Gather
We always want to know why. The rulers of the people wanted to know why Jesus was saying what He said and doing what He did. But Jesus challenged them with His Word and with the prophetic voice of John the Baptist. Why did they not listen, and why did they not repent? Why do we not listen and repent? Jesus told a parable of two sons—one whose words were yes but his heart was no, and the other whose words were no but whose heart said yes. We are called to listen and repent, with our words and in our heart.
Today's Readings
O.T. Ezekiel 18:1–4, 25–32 (The Lord takes no pleasure in the death of anyone.) https://bible.faithlife.com/bible/ezekiel/18/25-32
https://bible.faithlife.com/bible/ezekiel/18/1-4
N. T. Philippians 2:1–18 (At the name of Jesus every knee shall bow.) https://bible.faithlife.com/bible/philippians/2/1-18
Gospel Matthew 21:23–32 (Which of the two did the will of his father?) https://bible.faithlife.com/bible/matthew/21/23-32
Our Christian Sympathy
is extended to the family and friends of Christine McHugh, who died on Tuesday, September 22. Colonial Funeral Home on Route 88 in Brick is hosting a time of Visitation with Christine's family on Sunday, September 27, from 3:00 to 7:00 PM. Christine's Funeral Service will be held at Good Shepherd on Monday, September 28, at 12:00 PM, followed by a Committal Service in the Greenwood Cemetery in Brielle. May the God of all comfort strengthen all who mourn with the hope and promise of the resurrection and reunion in heaven.
Last Call: Mission of the Month is Back!
The September Mission of the Month will be Hurricane Relief for those affected by Laura and any other storm that may happen this month. The exact recipient is yet to be determined (Synod's Disaster Response, District's Disaster Response, or a local affected congregation). Thank you for your donation as we remember the support we received after Sandy.
Service Protocol
We are currently offering two Services: a 9:30 Livestream Service that you can watch on our church Facebook page, or later in the day or week on our Facebook page or website; and an 11:00 Service which has traditional music. We are not handing out or using paper of any kind. We are requiring face masks (we have extras by the front door if you need one) and social distancing (every other pew is closed). We have hand sanitizer at the front door and at each restroom door. We do not pass an offering plate; instead, it is located in the back of the nave for you to deposit the offering you have brought. At the end of the 9:30 Service, sanitizing wipes are distributed so that each person can wipe down the area around where they have sat. With all of these procedures, each Service can accommodate 50 people (between 5 to 20 people are currently attending each Service). At the end of each Service, people are dismissed from the back pews first, then the middle pews, and finally the front pews. Please join us!
Communion Procedure
We are currently offering Communion according to our usual schedule: at 9:30 on the first and third Sunday, at 11:00 on the second and fourth Sunday, and at both Services on the fifth Sunday. However, our procedure is slightly different. Communion is now set up on a table in front of the first pew which Pastor moves to the front of the center aisle. The bread and the wine are prepared in individual disposable containers in two trays of our Communion ware. After Pastor consecrates the elements, people are invited to come forward in a single line, six feet apart from each other. They pick up a container of each of the elements and return to their seat. When all have returned, we all commune together as Pastor says, "Take, eat, the body of Christ..." and "Take, drink, the blood of Christ..." At the end of the Service, people dispose of their empty containers into the receptacle located in the back of the nave by the offering plate. Please join us as we share in the gift and blessing of this Sacrament.
Farm Fellowship Night
Come join the True Life Church at Allaire Community Farm for an evening of family fun, taking place on September 27, 5:00pm-7:00 pm. Events include hayrides, petting zoo, popcorn, games, and crafts. This is a free event with a love offering taken to benefit the clients of The Open Door Pregnancy Center. Concessions, Open Door Merchandise and pumpkin picking will also be available for purchase. Cash or check only please.
Free Stuff Table
Located in the narthex/foyer we have a table set up with free items, mostly books. Please check it out and take whatever you think you or someone you know would like.
What's Happening Soon
Change in Sunday Schedule!
Beginning on Sunday, October 4, there will be a change in our Sunday schedule. We will go to ONE livestream Service at 10:00 AM. Pastor mentioned this idea in the spring. Our Family Ministry Facebook group was surveyed about the time. The Church Council gave its "blessing" at its September meeting. We will do this for four months (October to January), when we will vote to continue or discontinue it at our regular January Voters Meeting. We are doing this for two reasons: to be a unified congregation so we can be stronger and "closer" together, and because there is a Voters Meeting scheduled for October 4 (see below). Please note the change and join us!
Voters Meeting
Sunday, October 4, after our "Unified Service" at 10:00 AM, there will be a Voter's Meeting to approve the funding and installation of replacement windows in the original church building (1955). The project had been discussed when we were talking about the boilers. We have completed that project successfully and now are asking that the remaining funds be allocated to the replacement of the windows in our original building. Details will be provided and provision made for those who cannot vote electronically. If you are a voting member, please participate in this important decision. Thank you.
Men of Faith Resumes!
Beginning on Wednesday, October 7, at 5:30 PM, the Men of Faith will resume meeting in the church basement (not the kitchen!) so that we can observe social distancing. Pastor will have pizza for us, and we will catch up with each other about our lives and families for the last six months. We will also plan out the rest of the year and look forward to 2021. Men of the church over 18 and friends, please join us (and wear a mask, of course).
What's Been Happening
Good Shepherd Nursery School began its' eighth year of Christian-based education on Monday, September 14, 2020. It's been quite a year as the 2019/2020 year ended early and abruptly in mid-March due to the Pandemic. This is a challenging time to be in education, as the State is limiting our attendance to 10 per class. We anticipate an especially difficult year financially. Please support our school in your prayers; through direct donation to the school or through the Scholarship Fund; or by donating items below that will be needed this year due to the extra cleaning and sanitizing that is required (regular supplies, if donated, will help keep our operating costs down):
Hand sanitizer pumps (large, like the ones in church)
Plastic gloves (used for cleaning, size M)
Paper Towels
Bleach
Clorox or Lysol Anti- Bacterial wipes
Goldfish Crackers (individual packages only, please)
Pretzels (individual packages)
Dixie cups (smallest size)
Napkins
If the school should have to close this year due to a spike in infections, we will store and use any donated items as soon as we re-open. Thank you for your support. Donations can be brought in on Sunday mornings or during the week from 10 am to noon.
Friendly Seniors Reconnect
On Wednesday, September 16, our Friendly Seniors reconnected with a Welcome Back lunch provided by Kelly McCloskey and staff at Complete Care in Brick. Twelve people attended the outdoor gathering and participated in good food, conversation, games, and weather. We are very grateful to Kelly for organizing the event. Our Seniors will reconnect again on Wednesday, October 7, at 11:00 AM -- please join us!
Financial Information

This Week at Good Shepherd Lutheran Church
In Our Prayers
To add someone to our list, please fill out a pink Prayer Request Form and submit it to Pastor or the Church office. Also, please let us know when we can remove names. Prayer requests submitted without a pink form are removed after one week. If we have removed a name in error, please resubmit the name and accept our apologies. Thank you.
Missionaries:
Rev. Dale and Suzanne Kaster, Prague
Pastor Matt Lytikainen and the Kairos Network
To Those Who Mourn: Family and friends of Christine McHugh
Under Doctor's Care:
John Aldarelli Barbara Bellamy
Alice Blaze Sheryl Borkowski
Kieran Dillane John EcknaLeah Farina
Vicky Forte Paul Giannantonio Punna Khanna
Jeanie Lyness Daniel McCallum Linda McKelvey
John Shand Dennis P. Smith Jr
Harler Jean Visbeck Ray Visbeck
Special Needs: Doris Mingay, the Murray family, Ilona Poitras, the Visbeck family, and the Zupanc family. All who serve to keep us healthy, fed, and supplied.
Armed Forces: All who serve to keep us safe.
Christopher Garrigan Justin Gruendling Kelly Handy
Travis Harvey Jonathan Kaster Matthew Orgill
Mason Remondelli David Schauer
Readings for Next Sunday
Isaiah 5:1–7(The vineyard of the Lord is judged.)
Philippians 3:4b–14 (Paul witnesses to the congregation at Philippi.)
Matthew 21:33–46 (The parable of the tenants in the vineyard)
I am a disciple of Jesus Christ.
Our address is: 708 Route 88, Point Pleasant Boro, NJ, 8742