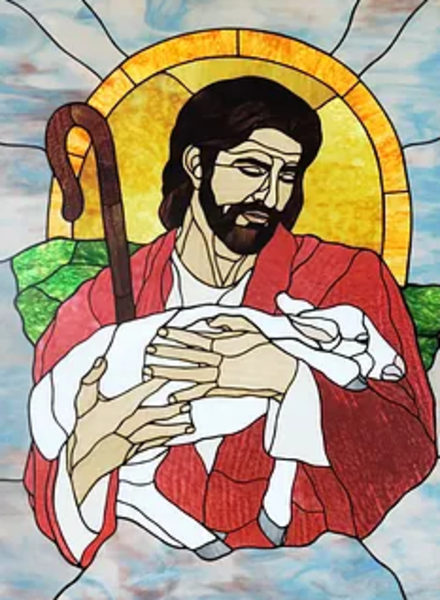 The Shepherd's Voice
Sunday, October 11, 2020
What's Happening Today
As We Gather
"Come to the table." In our daily experiences, there is no invitation that is more readily received and fully appreciated. To be at the table is to be assured of nourishment and refreshment. In Psalm 23, we are told of a table that is prepared under challenging circumstances. Yet, even there, the cup of God's blessing overflows. Our gathering for worship and our coming to the Table of the Lord is a weekly experience of overflowing blessing filled with signs of God's gracious presence. We rejoice that we are invited to His amazing table!
Today's Readings
O.T. Isaiah 25:6–9(The Lord will bring salvation to His people.) https://bible.faithlife.com/bible/philippians/4/4-13
N. T. Philippians 4:4–13 (Encouragement for joyful Christian living) https://bible.faithlife.com/bible/philippians/4/4-13
Gospel Matthew 22:1–14 (The parable about the wedding feast) https://bible.faithlife.com/bible/matthew/22/1-14
Our Christian Congratulations
Are extended to Dean and Stefanie Millwood upon the baptism of their daughter, Rae Alexandra Millwood. Rae's godparents are Travis and Shannon Johnson and James Klar. May the Lord bless Rae as she grows in the grace and knowledge of her Lord and Savior, Jesus Christ!
Today's Altar Flowers are Given to the Glory of God
by Ray and Charlotte Visbeck, in loving memory of Charlotte's father, Charles Johnson; the rose bud is for the Baptism of Rae Alexandra Millwood.
October Mission of the Month
"The Lord God took the man and put him in the Garden of Eden to take care of it and to look after it." Genesis 2:15
When God created the world, he placed the responsibility of caring for all that He had made on mankind: the air we breathe, the land we live off of, the water we drink, and the wildlife that roams the planet with us. Today we see that we've fallen a bit short on that commitment, and there are non-profit organizations across the state working to improve all of these for our quality of life. These non-profits formed EarthShare New Jersey in 1994 to help raise awareness of and funding for their missions which directly impact human health and wellness. Today, we invite you to learn more about the programs EarthShare New Jersey has to help all of us have more Responsible Tomorrows. We work to mobilize people to conserve and protect our air, water, land and wildlife for a cleaner, healthier and safer place to live, work, and play. Simple lifestyle changes and choices make a big difference. Sometimes the improvements we seek are within our reach. Thank you for considering support of our mission, and for everything you do to care for and look after our Earth.
Service Protocol
We are currently offering one Service on Sunday: a 10:00 Unified Service that you can attend in person or watch on our church Facebook page, or later in the day or week on our Facebook page or website. We are requiring face masks (we have extras by the front door if you need one) and social distancing (every other pew is closed). We have hand sanitizer at the front door, at each restroom door, and in each pew. We do not pass an offering plate; instead, it is located in the back of the nave for you to deposit the offering you have brought. At the end of the Service, people are dismissed from the back pews first, then the middle pews, and finally the front pews. Please join us!
Communion Procedure
We are currently offering Communion every Sunday. However, our procedure is slightly different. Communion is now set up on a table in front of the first pew which Pastor moves to the front of the center aisle. The bread and the wine are prepared in individual disposable containers in the trays of our Communion ware. After Pastor consecrates the elements, people are invited to come forward in a single line, six feet apart from each other. They pick up a container of each of the elements and return to their seat. When all have returned, we all commune together as Pastor says, "Take, eat, the body of Christ..." and "Take, drink, the blood of Christ..." At the end of the Service, people dispose of their empty containers into the receptacle located in the back of the nave by the offering plate. Please join us as we share in the gift and blessing of this Sacrament.
Change in Sunday Schedule!
We now have ONE livestream and in-person Service on Sunday at 10:00 AM. Pastor mentioned this idea in the spring. Our Family Ministry Facebook group was surveyed about the time. The Church Council gave its "blessing" at its September meeting. We will do this for four months (October to January), when we will vote to continue or discontinue it at our regular January Voters Meeting. We are doing this to be a unified congregation so we can be stronger and "closer" together. Please note the change and join us!
Devotionals Available
The October-November-December issues of "Portals of Prayer" and "Hopeful Living" for seniors are available on the table on the left side of the foyer/narthex as you leave our Service. Please help yourself. You can also stop by during the week (between 10 and Noon) to pick up your copy.
Free Stuff Table
Located in the narthex/foyer we have a table set up with free items, mostly books. Please check it out and take whatever you think you or someone you know would like.
What's Happening Soon
All Saints Day: November 1, 2020
If you would like a relative or friend who died as a Christian in the past 12 months to be remembered in the Service, please submit their name to Pastor or the Church office by Thursday, October 29th.
Poinsettias
It is that time again! Once again, we will be placing poinsettias around our altar area. The cost per plant remains $8, cash only. Please see an Altar Guild member in the narthex/foyer to place your order. Your plant(s) may be taken home after Christmas morning Service.
What's Been Happening
Voter Meeting Results
The vote to have the windows done and funded was approved by all 25 voters. It has been signed and will be started as soon as possible. Thank you.
Friendly Seniors Reconnect
Our Friendly Seniors have resumed their meetings on the first and third Wednesdays of the month (same as our Men of Faith). Their next meeting will therefore be on October 21 at 11:00 AM. All seniors are most welcome to attend for some good food, good conversation, and a fun project. Contact Judy Gruendling or Janice Yunginger for more information.
Men of Faith has Resumed
Our Men of Faith have resumed their meetings on the first and third Wednesdays of the month. Their next meeting will therefore be on October 21 at 5:30PM. Men of the church over 18 and friends, please join us (and wear a mask, of course).
Caregiver/HHA Needed
Looking for a live In CHHA/Caregiver for a 92 year old woman with congestive heart failure on Hospice. Location is Point Pleasant Boro. Please call for all details if interested.
Gary # 201-424-1334 Cathy # 973-960-5477
Good Shepherd Nursery School began its' eighth year of Christian-based education on Monday, September 14, 2020. It's been quite a year as the 2019/2020 year ended early and abruptly in mid-March due to the Pandemic. This is a challenging time to be in education; we anticipate an especially difficult year financially. Please support our school in your prayers; through direct donation to the school or through the Scholarship Fund; or by donating items below that will be needed this year due to the extra cleaning and sanitizing that is required (regular supplies, if donated, will help keep our operating costs down):
Hand sanitizer pumps (large, like the ones in church)
Plastic gloves (used for cleaning, size M)
Paper Towels
Bleach
Clorox or Lysol Anti- Bacterial wipes
Goldfish Crackers (individual packages only, please)
Pretzels (individual packages)
Dixie cups (smallest size)
Napkins
If the school should have to close this year due to a spike in infections, we will store and use any donated items as soon as we re-open. Thank you for your support. Donations can be brought in on Sunday mornings or during the week from 10 am to noon.
This Week at Good Shepherd Lutheran Church
In Our Prayers
To add someone to our list, please fill out a pink Prayer Request Form and submit it to Pastor or the Church office. Also, please let us know when we can remove names. Prayer requests submitted without a pink form are removed after one week. If we have removed a name in error, please resubmit the name and accept our apologies. Thank you.
Missionaries:
Rev. Dale and Suzanne Kaster, Prague
Pastor Matt Lytikainen and the Kairos Network
Under Doctor's Care:
John Aldarelli Barbara Bellamy
Alice Blaze Sheryl Borkowski
Kieran Dillane John Eckna
Leah Farina Vicky Forte
Paul Giannantonio Punna Khanna
Jeanie Lyness Daniel McCallum
Linda McKelvey John Shand
Dennis P. Smith Jr Harler Jean Visbeck
Ray Visbeck
Special Needs: Doris Mingay, the Murray family, Ilona Poitras, the Visbeck family, and the Zupanc family. All who serve to keep us healthy, fed, and supplied.
Armed Forces: All who serve to keep us safe.
Christopher Garrigan Justin Gruendling Kelly Handy
Travis Harvey Jonathan Kaster Matthew Orgill
Mason Remondelli David Schauer
Readings for Next Sunday
Isaiah 45:1–7 (The Lord uses Cyrus as an instrument of
Deliverance.)
1 Thessalonians 1:1–10 (The Thessalonians' faith and example)
Matthew 22:15–22 (Jesus tested by the Pharisees about paying taxes.)
I am a disciple of Jesus Christ.
Our address is: 708 Route 88, Point Pleasant Boro, NJ, 8742