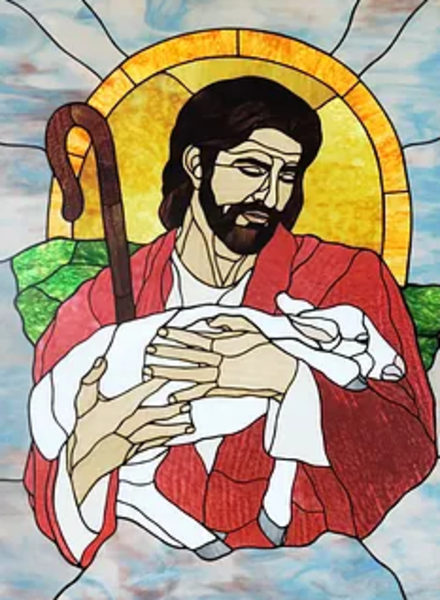 The Shepherd's Voice
Sunday, November 01, 2020
What's Happening Today
As We Gather
At Christmas is sung "God rest you merry, gentlemen," with "tidings of comfort and joy." Those tidings were made because our Lord had entered human history. We will finally realize those tidings for ourselves when we join the saints in eternal glory, they who are seen in the vision we will read from Revelation. In the meantime, in these mean times, we rely on hope to get us through each day, as St. Paul writes in the Epistle. That hope is based on our being God's adopted children, brothers and sisters of our risen Lord Jesus. It is both comforting and joyful, no matter our circumstances. As Jesus proclaims in the Gospel's Beatitudes, people with such hope are blessed indeed!).
Today's Readings
First Reading Revelation 7: 9–17 (Saints around God's throne know eternal salvation.) https://bible.faithlife.com/bible/revelation/7/9-17
N. T. 1 John 3:1–3 (We are already God's children.) https://bible.faithlife.com/bible/1-john/3/1-3
Gospel Matthew 5:1–12 (Jesus' followers are blessed now because of His sure promises.) https://bible.faithlife.com/bible/matthew/5/1-12
Today's Altar Flowers are Given to the Glory of God
For those who have gone before us.
November Mission of the Month
You are invited to make a gift to St. Gregory's Pantry, a local food pantry helping to feed those in need. This Christmas alone, St. Gregory's will distribute to over 300 needy families and have gifts for children. Through generosity and commitment, St. Gregory's Pantry provides temporary aid to approximately 10,000 individuals annually. Please make your check out to Good Shepherd and memo it "Mission of the Month". Thank you!
Free Stuff Table
Located in the narthex/foyer we have a table set up with free items, mostly books. Pastor just added a whole new bunch of stuff. Please check it out and take whatever you think you or someone you know would like.
Adult Forum Resumes!
Beginning on today, at 9:00 AM, our Adult Forum will resume (formerly known as Bible Class). We will meet in the nave, in the "closed" (taped) pews, until 9:45 AM, and we will livestream for those who cannot attend in person. We will look at the New Testament book of Acts based on the video series "A.D.", which will take us a bit beyond Acts, to 70 AD. This study is meant to pick up where Pastor's sermon series on the apostles left off. Please join us!
What's Happening Soon
Voters Meeting
Our Fall Voters Meeting will be held on November 22nd, immediately following our 10:00 AM Service. It will be livestreamed, just like our October 4 Voters Meeting. The main items on the agenda are the election of Church Council members (see below) and an initial look at the 2021 budget. After the Meeting, our Deacons would like to provide a light lunch, with individually wrapped items (subs, etc.), to enable us to have some socially distanced conversation and fellowship. If you would like to attend, please sign the sheet in the foyer/narthex.
Nominations and Elections
Every Fall, we elect or re-elect people from our church to serve on our Church Council. Each of our four Boards has at least one opening: Executive (Vice President), Elders, Deacons, and Trustees. The Vision Team also has at least one opening, and the Nursery School Board has several openings. (See below for a listing of responsibilities.) Please consider serving Jesus and our church in this way. You can volunteer yourself or nominate someone else to Ed Mohlenhoff, our Nominating Committee Chair. Thank you!
Board Responsibilities
To help you in your consideration, here are the areas of responsibility for our Boards:
Executive: Administrative, Financial, Legal
Elders: Worship, Education, Christian Care
Deacons: Fellowship, Outreach, Christian Service
Trustees: Buildings, Grounds, Maintenance
Vision: Seeing and adapting to the Future
Nursery School: Supporting our school
Please consider where your interests and skills coincide with these responsibilities. Thank you!
Thanksgiving Eve Service
Will be held on Wednesday, November 25th at 11:00 am. Please join us to thank God for the many good things He has given us! A loaf of bread will be given to each family in attendance.
Poinsettias
It is that time again! Once again, we will be placing poinsettias around our altar area. The cost per plant remains $8, cash only. Please see an Altar Guild member in the narthex/foyer to place your order. Your plant(s) may be taken home after Christmas morning Service.
Operation Christmas Child
The Christmas season is on the way! Since 1993, more than 178 million children, in over 150 countries, have experienced God's love through the power of a simple shoebox gift.
Shoebox donations for Operation Christmas Child will look a little different this year, but, we will still be collecting! National Collection Week (NCW) is Monday, November 16, to Monday, November 23, and Good Shepherd is registered as a Drop Off Location for the third year in a row! Donations of shoeboxes from the community will be accepted during NCW with No Contact Drop Off Procedures to promote health and safety for all. Shoebox Donors are encouraged to Build a Shoebox online; however, personally packed boxes will also be accepted at the Church. These may be delivered to the Church no later than Sunday, November 22.For more information about Building a Shoebox online or for Samaritan's Purse COVID-19 protocols, please visit: https://www.samaritanspurse.org/operation-christmas-child/buildonline/, or Contact OCC Project Leader and Site Manager, Amber Brown, at 732-580-5034 for more information or to serve during NCW. Additional contact: Dani Sloan 732-608-1641
What's Been Happening
Good Shepherd Nursery School -Update
The Nursery School would like to thank the Church Congregation for all the wonderful donations! Thanks to your generosity we have an ample supply of napkins, bleach and hand sanitizer!
In addition, we have been able to fill the position for Teachers Assistant in the Pre-k classroom. Thank you all for your continued prayers for a healthy, happy school year for our children and staff! Please support our school in your prayers; through direct donation to the school or through the Scholarship Fund; or by donating items below that will be needed this year due to the extra cleaning and sanitizing that is required (regular supplies, if donated, will help keep our operating costs down):
Paper Towels
Clorox or Lysol Anti- Bacterial wipes
Goldfish Crackers (individual packages only, please)
Pretzels (individual packages)
Dixie cups (smallest size)
If the school should have to close this year due to a spike in infections, we will store and use any donated items as soon as we re-open. Thank you for your support. Donations can be brought in on Sunday mornings or during the week from 10 am to noon.
Financial Information

Thank you for your continuing support!
The Commemoration of the Faithful Departed 2020
"I heard a voice from heaven saying, 'Write this: Blessed are the dead who die in the Lord henceforth.' 'Blessed indeed,' says the Spirit, 'that they may rest from their labors, for their deeds follow them.'" (Rev. 14:13)
Let us remember with thanksgiving those who have gone before us in the Christian Faith. They were created by God to give Him praise and honor. He gave them new life through His Son in Holy Baptism, and nourished them in the company of His people at His holy table. In His mercy, He has summoned them to His nearer presence so that they may continue in joyful service of Him forever. Let us pray...
(The following people, who received the ministry of the congregation during their last days and a Christian burial, are now remembered before the Lord with thanksgiving.)
Henry Benson
Robert Bernthal
Anne Cecelski
Virginia DeRosa
Christine McHugh
Dorothy Petrenko
Mildred Sepulveda
Margaret (Peggy) Wolf
Warren H. Wolf
In joyful expectation of the resurrection to life, we remember before You, O Lord, all our departed family and friends who have gone before us in the same Faith. We give you thanks for the gift of faith, and we hold fast to the certainty of Your promises in Jesus Christ.
(The following people, whose names were submitted by members of our congregation, are remembered before the Lord with thanksgiving.)
Sheila Crotty
Glen Crystal
Dee Dalik
Patricia Dolan
Robert Murry
Rose Schadwill
Bruce Wendling
and all those who are in our hearts and minds this day.
Lord, remember Your Church throughout the world; make all its members grow in love for You and for one another. As You have received our brothers and sisters who have gone to their rest in the hope of the resurrection to eternal life, bring us at the last with them into the light of Your presence, that in union with all Your saints we may give You glory forever, through Your Son, Jesus Christ, our Lord.
All: AMEN!
This Week at Good Shepherd Lutheran Church
In Our Prayers
To add someone to our list, please fill out a pink Prayer Request Form and submit it to Pastor or the Church office. Also, please let us know when we can remove names. Prayer requests submitted without a pink form are removed after one week. If we have removed a name in error, please resubmit the name and accept our apologies. Thank you.
Missionaries:
Rev. Dale and Suzanne Kaster, Prague
Pastor Matt Lytikainen and the Kairos Network
Hospitalized: Peter McCann
Under Doctor's Care:
John Aldarelli Barbara Bellamy
Alice Blaze Sheryl Borkowski
Kieran Dillane John Eckna
Leah Farina Vicky Forte
Paul Giannantonio Punna Khanna
Jeanie Lyness Daniel McCallum
Linda McKelvey Susan Rentas
John Shand Dennis P. Smith Jr
Harler Jean Visbeck Ray Visbeck
To Those Who Mourn: Family and friends of Robert Murry.
Special Needs: Doris Mingay, the Murray family, Ilona Poitras, the Visbeck family, and the Zupanc family. All who serve to keep us healthy, fed, and supplied.
Armed Forces: All who serve to keep us safe.
Christopher Garrigan Justin Gruendling Kate Gruendling
Kelly Handy Travis Harvey Jonathan Kaster Matthew Orgill
Mason Remondelli David Schauer
Readings for Next Sunday
Amos 5:18–24 (The day of the Lord is coming.)
1 Thessalonians 4:13–18 (We will always be with the Lord.)
Matthew 25:1–13 (The parable of the ten virgins.)
I am a disciple of Jesus Christ.
Our address is: 708 Route 88, Point Pleasant Boro, NJ, 8742