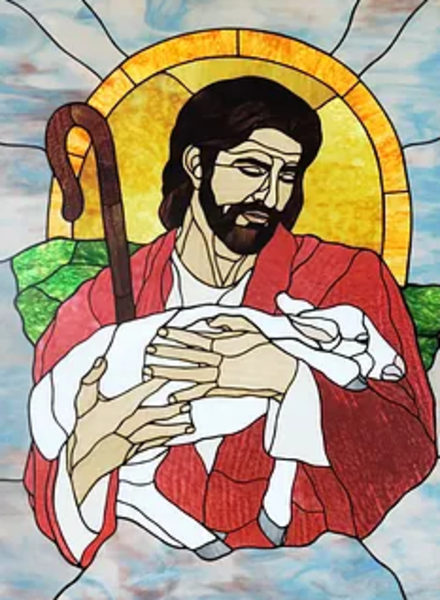 The Shepherd's Voice
Sunday, January 31, 2021
What's Happening Today
As We Gather
In today's Gospel from Mark 1, we are reminded of Jesus' divine authority in His teaching to the people and also in His power over evil spirits. This power and authority was foretold by prophets such as Moses, pointing to the One who would fulfill all things as the long-awaited perfect prophet and Savior. In that power and authority, Christ has won our victory through His death and rising, and we are blessed with freedom in that faith to be used to His glory in service to others.
Today's Readings
O.T. Deuteronomy 18:15–20 (A new prophet like Moses) https://bible.faithlife.com/bible/deuteronomy/18/15-20
N. T. 1 Corinthians 8:1–13 (In Your freedom, do not cause others to stumble.) https://bible.faithlife.com/bible/1-corinthians/8/1-13
Gospel Mark 1:21–28 (Jesus teaches with authority and shows His power.) https://bible.faithlife.com/bible/mark/1/21-28
Last Call: January Mission of the Month
The Kairos Network is a missionary organization of the New Jersey District striving to create a community of authentic believers and to witness a city transformed by the life-changing reality of the gospel, as people come to know Jesus as their Lord and Savior. Your donation will help support webinars and various outreach efforts.
Voters Meeting
Our Annual congregational voters meeting will be held today, immediately following our 10:00am Service. It will be livestreamed, just like our November 22nd voters meeting. The materials you will need for this meeting are being sent separately by email. The main items on the agenda will be the presentation of the 2021 budget and assets review. We also need to discuss and vote on the Synodical Convention 2022/2023 and our election of the lay delegate for the NJ Convention. Then a discussion on the nominations and Overtures for the NJ District Convention. This will be followed by the Official Act report of 2020 by Pastor Schonberg. We are strongly urging you to attend the Service or at least the voters meeting and return your ballot. Thank you for participating.
Livestream Update
We are no longer livestreaming on Facebook. Please go directly to our website: gsppnj.org to view our Service on Sundays at 10:00am. Services from previous weeks should also be available to view (though some may be broken up due to our livestreaming problems). We are currently working on the sound quality issue. Thank you for your continuing patience, understanding, and perseverance.
Busy Bags
New COVID friendly Busy Bags are available in the foyer/narthex for children who would like an activity to do during the Service. These were printed, packaged, and sanitized in the home office of one person. Feel free to take one for your child(ren) and take them home with you. As these are a one-time use type of activity, they should not be returned or left at the church. Thank you.
Free Stuff Table
It's back and loaded with goodies in the foyer/narthex. Check it out and help yourself.
What's Happening Soon
AARP Tax Preparation
Free tax return preparation will resume this year, but in a different format due to Covid-19. Please call 732-898-1860 for an appointment (do not call the church office). When you arrive for your appointment, you will drop off your paperwork and come back the following week to pick up your paperwork and completed return. There will be no on-site or in-person preparation of tax returns. Thank you for your understanding.
Altar Flowers
The sign-up sheet for 2021 altar flowers is now available. One vase is $14 and two vases are $13 each. The sign-up book is located in the foyer/narthex. We appreciate your contribution to our Services.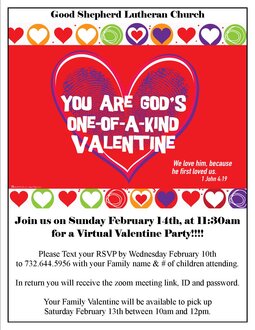 What's Been Happening
Career Opportunity at the Samaritan Center
The Samaritan Center is looking for a Part Time, 10 hour a week, Licensed Professional Counselor or Licensed Clinical Social Worker. The successful candidate will apply and be accepted on commercial insurance panels as soon as possible after hire. The Therapist will have a structured/routine weekly schedule, individuals, couples and families will be scheduled through central scheduling. There will be opportunity to expand clinical hours on a "fee for service" basis.
See on our website https://njsamaritan.org/careers for more information. Located in Manasquan NJ, currently providing only virtual counseling. Interested professionals please send your resume to carolann@njsamaritan.org.
Remember Our Homebound and Elderly
Please remember our homebound and elderly in prayer or with a card or phone call: Annaliese Benson, Fran McCallum, Doris Mingay, Robert Mueller, and Rev. Paul Voitko. Contact information is listed on the board in the foyer/Narthex.
Financial Information

This Week at Good Shepherd Lutheran Church
In Our Prayers
To add someone to our list, please fill out a pink Prayer Request Form and submit it to Pastor or the Church office. Also, please let us know when we can remove names. Prayer requests submitted without a pink form are removed after one week. If we have removed a name in error, please resubmit the name and accept our apologies. Thank you.
Missionaries:
Rev. Dale and Suzanne Kaster, Prague
Pastor Matt Lytikainen and the Kairos Network
Those Who Mourn: Family and friends of Art Doring and Nancy Spade.
Under Doctor's Care:
John Aldarelli Barbara Bellamy
Alice Blaze Dan Boettcher Sheryl Borkowski
Alyssa Claar Kieran Dillane
Art Doring John Eckna Leah Farina
Vicky Forte Garrett Gruendling Jennifer Herkert
Punna Khanna Ray Kuri, Sr
Jeanie Lyness Daniel McCallum
Linda McKelvey Erna Meyerle
Ruth Mohlenhoff Susan Rentas
John Shand Mena Schollenberger
Dennis P. Smith Jr Harler Jean Visbeck
Special Needs: Doris Mingay, the Murray family, Ilona Poitras, and the Zupanc family. All who serve to keep us healthy, fed, and supplied.
Armed Forces: All who serve to keep us safe.
Justin Gruendling Kate Gruendling
Kelly Handy Travis Harvey Jonathan Kaster Matthew Orgill
Mason Remondelli David Schauer
Readings for Next Sunday
Isaiah 40:21–31 (The Lord's understanding is unsearchable.)
1 Corinthians 9:16–27 (Sharing the Gospel with all people)
Mark 1:21–28 (Jesus teaches with authority and shows His power.)
I am a disciple of Jesus Christ.
Our address is: 708 Route 88, Point Pleasant Boro, NJ, 8742