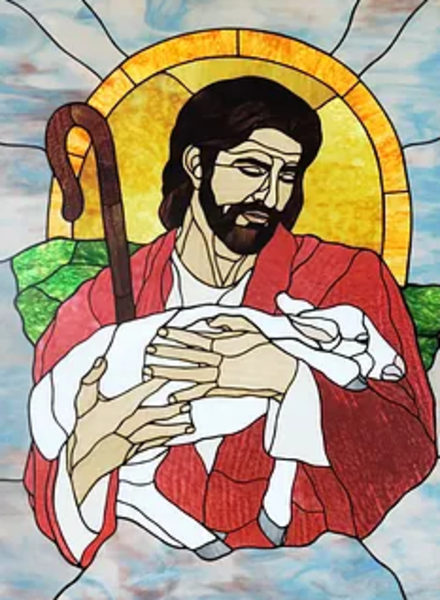 The Shepherd's Voice
Sunday, February 21, 2021
What's Happening Today
As We Gather
Today we hear of God testing Abraham and of Satan tempting Jesus. James reminds us that God tempts no one. So, how can we know whether God is testing us or Satan is tempting us? James reminds us that "Every good gift and every perfect gift is from above, coming down from the Father of lights with whom there is no variation or shadow due to change" (James 1:17). As we go through life, striving to live out our calling as God's people, we will hit obstacles and face tests to our faith and to how we live that faith. God can work through these tests to draw us closer to Him. On the other hand, Satan wants to lure and entice us away from the path God would have us walk.
Today's Readings
O.T. Genesis 22:1–18 (God tested Abraham.) https://bible.faithlife.com/bible/genesis/22/1-18
N. T. James 1:12–18 (The path temptation treads) https://bible.faithlife.com/bible/james/1/12-18
Gospel Mark 1:9–15 (Jesus is baptized and sent to be tempted.) https://bible.faithlife.com/bible/mark/1/9-15
Today's Altar Flowers are Given to the Glory of God
by Charlotte Visbeck in memory of Nicholas Visbeck.
February Mission of the Month
The Joan Valentine House is a New Jersey nonprofit corporation composed of family members and friends of the mentally ill who are dedicated to providing residents with the safe, healthy, pleasant, caring environment they deserve. The Joan Valentine House is committed to the total care of each resident, which includes full housing provisions, the coordination of health care thru physical and psychiatric health care providers, and various additional support services.They are located on Bay Avenue in Point Pleasant. Thank you for your support.
Busy Bags
New COVID friendly Busy Bags are available in the foyer/narthex for children who would like an activity to do during the Service. These were printed, packaged, and sanitized in the home office of one person. Feel free to take one for your child(ren) and take them home with you. As these are a one-time use type of activity, they should not be returned or left at the church. Thank you.
What's Happening Soon
Lenten Family Devotions
Join Pastor on the Wednesday evenings following Ash Wednesday (February 24 and March 3, 10, 17, and 24) at 7:00 PM for a time of "Family Devotions" using the Prayer Card that was distributed with your 2021 offering envelopes. You may join in person or on our website (gsppnj.org). Have your Prayer Card with you as we go through one of the Orders each week. For those joining in person, Holy Communion will be offered for those who wish to receive. If you haven't received a Prayer Card, please contact our church office. God bless our journey to a triumphant celebration of the Resurrection!
Altar Flowers
The sign-up sheet for 2021 altar flowers is now available. One vase is $14 and two vases are $13 each. The sign-up book is located in the foyer/narthex. We appreciate your contribution to our Services.
What's Been Happening
Remember Our Homebound and Elderly
Please remember our homebound and elderly in prayer or with a card or phone call: Annaliese Benson, Fran McCallum, Doris Mingay, Robert Mueller, and Rev. Paul Voitko. Contact information is listed on the board in the foyer/Narthex.
Financial Information

This Week at Good Shepherd Lutheran Church
In Our Prayers
To add someone to our list, please fill out a pink Prayer Request Form and submit it to Pastor or the Church office. Also, please let us know when we can remove names. Prayer requests submitted without a pink form are removed after one week. If we have removed a name in error, please resubmit the name and accept our apologies. Thank you.
Missionaries:
Rev. Dale and Suzanne Kaster, Prague
Pastor Matt Lytikainen and the Kairos Network
Under Doctor's Care:
John Aldarelli Alice Blaze
Dan Boettcher Sheryl Borkowski
Kieran Dillane John Eckna
Vicky Forte Garrett Gruendling
Punna Khanna Ray Kuri, Sr
Daniel McCallum Linda McKelvey
Erna Meyerle Ruth Mohlenhoff
Susan Rentas John Shand
Mena Schollenberger Dennis P. Smith Jr
Harler Jean Visbeck
Special Needs: Doris Mingay, the Murray family, Ilona Poitras, and the Zupanc family. Those is Texas and surrounding area being affected by the winter storms. All who serve to keep us healthy, fed, and supplied.
Armed Forces: All who serve to keep us safe.
Justin Gruendling Kate Gruendling
Kelly Handy Travis Harvey Jonathan Kaster Matthew Orgill
Mason Remondelli David Schauer
Readings for Next Sunday
Genesis 17:1–7, 15–16 (God makes a covenant promise to Abram.)
Romans 5:1–11 (Grace: Christ died for the ungodly.)
Mark 8:27–38 (Truly knowing Christ means following Him.)
I am a disciple of Jesus Christ.
Our address is: 708 Route 88, Point Pleasant Boro, NJ, 8742