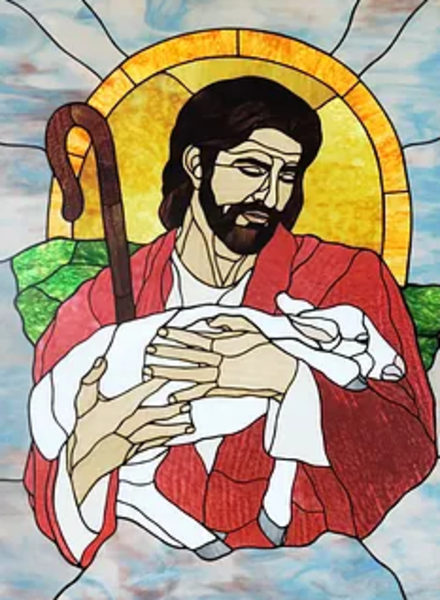 The Shepherd's Voice
Sunday, March 21, 2021
What's Happening Today
As We Gather
In today's Gospel, Jesus inverts the usual triangle of power into an upside-down pyramid of service. The greatest in God's kingdom, the position sought by His disciples in the Gospel, is now at the bottom, serving everyone above. Jesus is describing Himself! In contrast to priests who repeatedly pray for others and offer sacrifices also for their own sins, Jesus was a one-time priest, offering Himself as the sacrifice while being sinless. In this new covenant, promised in the Reading from Jeremiah, we know of our Lord's great love, now written in our hearts. From the inside out, our desire is to return Christ's sacrificial, forgiving love by serving one another in His name.
Today's Readings
O.T. Jeremiah 31:31–34 (A new covenant is coming, written on people's hearts.) https://bible.faithlife.com/bible/jeremiah/31/31-34
N. T. Hebrews 5:1–10 (Jesus was both one-time priest and sacrifice, dying for all.) https://bible.faithlife.com/bible/hebrews/5/1-10
Gospel Mark 10:32–45 (Jesus teaches about true greatness.) https://bible.faithlife.com/bible/mark/10/32-45
Today's Altar Flowers are Given to the Glory of God
By R. William Bartsch in memory of Joanie.
March Mission of the Month
Make-A-Wish creates life-changing wishes for children with critical illnesses. When a wish comes true, it creates hope and the ability to experience life beyond illness. Make-A-Wish believes a single wish transforms the lives of wish children and their families. Make-A-Wish New Jersey was founded in 1983. Serving children in every municipality in the Garden State, Make-A-Wish New Jersey has granted more than 10,000 wishes since its inception and strives to fulfill the vision of granting the wish of every eligible child, approximately 700 children a year in New Jersey. Your support is vital to accomplishing this vision.
Sign up for Easter
As discussed last Sunday, in order to help us better plan for Easter morning, please click on the link below to reserve your seat(s). Select April 4 to sign up. All the restrictions are explained in the chart. Odd numbered pews/rows are on the right/lectern side facing the altar; even numbered pews/rows are on the left/pulpit side. There are also three rows that can be set up in the foyer/narthex, and two rows in the choir loft, so that we can safely accommodate about 70 people in one Service. When you come to worship on Easter, please sit in the seat(s) you have selected. We plan to have a chart to help you remember. Here is the link: https://www.signupgenius.com/index.cfmgo=s.signup&urlid=10c0a4ca4a62aaaf58-good&view=calendar&mo=1617231600
Thank you for your understanding and cooperation. May God grant us a blessed celebration of Christ's victory!
Easter Lilies
Altar Guild will be taking orders for Easter Lilies today after the Service. Price will be $8, cash only. Lilies may be taken home immediately after the Service on Easter morning.
Busy Bags
COVID friendly Busy Bags are available on the table in the foyer/narthex for children who would like an activity to do during the Service. These were printed, packaged, and sanitized in the home office of one person. Feel free to take one for your child(ren) and take them home with you. As these are a one-time use type of activity, they should not be returned or left at the church. Thank you.
Free Stuff Table
Now loaded with all new goodies in the foyer/narthex. Check it out and help yourself.
What's Happening Soon
Holy Week Services
As the pandemic restrictions ease up, we will once again hold our annual Holy Week Services on Thursday and Friday, April 1 and 2, at 7:00 PM. The Holy Thursday Service on April 1 will include Communion and the traditional Stripping of the Altar. The Good Friday Service on April 2 will be the traditional Service of Darkness. Both Services will involve one time use of a hymnal and bulletin -- please pick them up as you enter the church and leave them in your seat at the end of the Service. Also, the Thursday Service will sit in the "open", "non-taped" pews, and the Friday Service will sit in the "closed", "taped" pews. Thank you for your understanding and cooperation!
Grounds Cleanup
If you have some extra time, gloves, and a pick up truck, and would like to spend some time outdoors doing something constructive, please feel free to gather and remove the brush and branches that have fallen on our property over the winter. Our grounds will look better and be much better prepared for "spring cleaning" when the time comes. Thank you.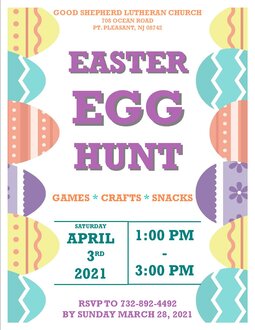 What's Been Happening
Lenten Family Devotions
Join Pastor on Wednesday evening , March 24, at 7:00 PM for a time of "Family Devotions" using the Prayer Card that was distributed with your 2021 offering envelopes. You may join in person or on our website (gsppnj.org). Please remember your Prayer Card and Bible. For those joining in person, Holy Communion will be offered for those who wish to receive. If you haven't received a Prayer Card, please contact our church office. God bless our journey to a triumphant celebration of the Resurrection!
A Few Words from Pastor
Melinda and I are so thankful for your Christmas gift to us! Thank you to each of you who made it possible. We are also thankful for the Christmas cards, best wishes, prayers and support that you have blessed us with. May God grant all of us a new year filled with opportunities to trust God, love each other, and share our faith! Thank you!
Many Thanks from Amanda Perea
Thank you all for your Christmas gift! I have been with Good Shepherd Lutheran Church for over a year now and this experience has been enjoyable and humbling to me. I am here to help with whatever you may need and look forward to continuing to help carry out the church's mission. Thank you!
From Jennifer Jones, Nursery School Director
Dear Good Shepherd Family,
I can't tell you what a wonderful surprise it was for me to find the card and check in my mailbox today! I was so touched by your generosity but even more so by your thoughtfulness.
As my service at Good Shepherd is soon coming to a close, I want to thank all of you for the support you have shown both myself and the school these last several years .
I know you have prayed for our success and many have contributed to our scholarship fund as well as donating snacks and cleaning supplies this year.
I'm happy to share with you that we are already full next year ! We have never had a full enrollment so early in the year and I'm overjoyed to see the school's reputation blossoming as well as the love of Jesus being shared with so many little ones!
I will always be thankful for my years at Good Shepherd Nursery School and I will make sure to come back and visit! Thank you for the opportunity to serve in your ministry.
God Bless You, Jennifer Jones
Remember Our Homebound and Elderly
Please remember our homebound and elderly in prayer or with a card or phone call: Annaliese Benson, Fran McCallum, Doris Mingay, Robert Mueller, and Rev. Paul Voitko. Contact information is listed on the board in the foyer/Narthex.
This Week at Good Shepherd Lutheran Church
In Our Prayers
To add someone to our list, please fill out a pink Prayer Request Form and submit it to Pastor or the Church office. Also, please let us know when we can remove names. Prayer requests submitted without a pink form are removed after one week. If we have removed a name in error, please resubmit the name and accept our apologies. Thank you.
Missionaries:
Rev. Dale and Suzanne Kaster, Prague
Pastor Matt Lytikainen and the Kairos Network
Hospice:
Garrett T. Midgett II
Under Doctor's Care:
John Aldarelli Alice Blaze
Dan Boettcher Sheryl Borkowski
Kieran Dillane John Eckna
Vicky Forte Punna Khanna
Ray Kuri, Sr Daniel McCallum
Linda McKelvey Erna Meyerle
Ruth Mohlenhoff Susan Rentas
Mena Schollenberger John Shand
Cathy Shawhan Dennis P. Smith Jr
Harler Jean Visbeck
Special Needs: Doris Mingay, Robert H. Mueller, the Murray family, Ilona Poitras, and the Zupanc family. Those is Texas and surrounding area being affected by the winter storms. All who serve to keep us healthy, fed, and supplied.
Armed Forces: All who serve to keep us safe.
Justin Gruendling Kate Gruendling
Kelly Handy Travis Harvey Jonathan Kaster Matthew Orgill
Mason Remondelli David Schauer
Readings for Next Sunday
Jeremiah 31:31–34 (A new covenant is coming, written on people's hearts.)
Hebrews 5:1–10 (Jesus was both one-time priest and sacrifice, dying for all.)
Mark 10:32–45 (Jesus teaches about true greatness.)
I am a disciple of Jesus Christ.
Our address is: 708 Route 88, Point Pleasant Boro, NJ, 8742