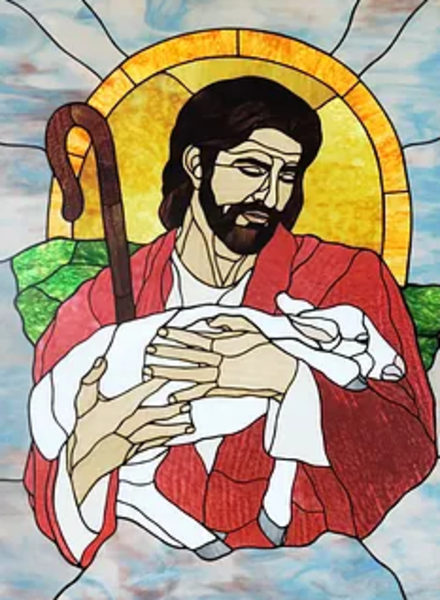 The Shepherd's Voice
Sunday, April 25, 2021
What's Happening Today
As We Gather
Of all the animals that could have been used to portray humanity, does it feel strange to be called a sheep? After all, it is not the most honorable creature. There are no defense mechanisms to escape a predator, no intimidating roar, and limited ability to fend for one's self when it comes to seeking nourishment, water, and safety. Yet these things reveal the point we are called to understand. It may not be good to be a sheep on our own, but it is great to be a sheep with a Good Shepherd to care for the flock. Jesus is our perfect shepherd who protects and defends, feeds and nourishes, leads and provides all we need in this body and life. Together as His flock, we are blessed to follow Him as by His Word and Means of Grace He leads us to streams of living water and paths of righteousness for His name's sake.
Today's Readings
First Acts 4:1–12 (Peter and John witness before the council.) https://bible.faithlife.com/bible/acts/4/1-12
N. T. 1 John 3:16–24 (Love one another.) https://bible.faithlife.com/bible/1-john/3/16-24
Gospel John 10:11–18 (Jesus the Good Shepherd) https://bible.faithlife.com/bible/john/10/11-18
Reader Ed Mohlenoff
Last Call: April Mission of the Month
Would you like an opportunity to offer care and comfort to the faculty and staff who are greatly affected by the closure of Concordia Bronxville? The Atlantic District, in partnership with the other East Coast Districts of the Lutheran Church Missouri Synod, have formed the Care & Comfort Fund. This fund will be available to all faculty and staff and will be used, in full, to support their various needs in this time. Their desire is to help as many faculty and staff as they are able. The need is great. The Care & Comfort Fund will be able to offer the support they need.
Readers Wanted!
If you would like to join our small band of merry Readers, please contact Jeff Largiader (732-918-9028) or speak to Pastor. We are developing a rotation of Readers and would love to include you. Some level of skill in public reading is preferred, but not required because it can be learned. Please consider this opportunity to serve the Lord and our church.
Busy Bags
COVID friendly Busy Bags are available on the table in the foyer/narthex for children who would like an activity to do during the Service. These were printed, packaged, and sanitized in the home office of one person. Feel free to take one for your child(ren) and take them home with you. As these are a one-time use type of activity, they should not be returned or left at the church. Thank you.
What's Happening Soon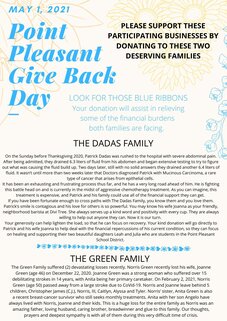 Sunday Bible Class is Back!
Starting on Sunday, May 9 (Happy Mother's Day!), at 9:00 AM, we will resume meeting in the church and live-streaming our Sunday morning Bible Class. Through the end of June, we will be looking at the early Church as recorded in Acts; then we'll decide what to do for the Summer and Fall. Please read ahead so that our time is spent learning and discussing. Here's a brief schedule to get us started:
May 9 -- the Ascension of Jesus in the closing verses of Matthew, Mark, Luke, and John
May 16 -- the time between the Ascension and Pentecost in Acts 1
May 23 and 30 -- Pentecost in Acts 2
Please join us!
What's Been Happening
Remember Our Homebound and Elderly
Please remember our homebound and elderly in prayer or with a card or phone call: Annaliese Benson, Fran McCallum,Robert Mueller, and Rev. Paul Voitko. Contact information is listed on the board in the foyer/Narthex.
Financial Information

Thank you for your continuing support!
This Week at Good Shepherd Lutheran Church
In Our Prayers
To add someone to our list, please fill out a pink Prayer Request Form and submit it to Pastor or the Church office. Also, please let us know when we can remove names. Prayer requests submitted without a pink form are removed after one week. If we have removed a name in error, please resubmit the name and accept our apologies. Thank you.
Missionaries:
Rev. Dale and Suzanne Kaster, Prague
Pastor Matt Lytikainen and the Kairos Network
Hospitalized: Joan Aponte and Jeff Luckenback
Under Doctor's Care:
John Aldarelli Alice Blaze
Dan Boettcher Sheryl Borkowski
Kieran Dillane John Eckna
Vicky Forte Punna Khanna
Ray Kuri, Sr Daniel McCallum
Linda McKelvey Erna Meyerle
Ruth Mohlenhoff Susan Rentas
Mena Schollenberger John Shand
Cathy Shawhan Dennis P. Smith Jr
Harler Jean Visbeck
Special Needs: Garrett T. Midgett II, Robert H. Mueller, the Murray family, Ilona Poitras, Steinbronn Family, and Zupanc family. All who serve to keep us healthy, fed, and supplied.
Armed Forces: All who serve to keep us safe.
Justin Gruendling Kate Gruendling
Kelly Handy Travis Harvey Jonathan Kaster Matthew Orgill
Mason Remondelli David Schauer
Readings for Next Sunday
Acts 8:26–40 (Philip witnesses about Jesus to the Ethiopian official.)
1 John 4:1–11 (An exhortation to lives of Christian love)
John 15:1–8 (Jesus says that He is the vine and His people are the branches.)
I am a disciple of Jesus Christ.
Our address is: 708 Route 88, Point Pleasant Boro, NJ, 8742