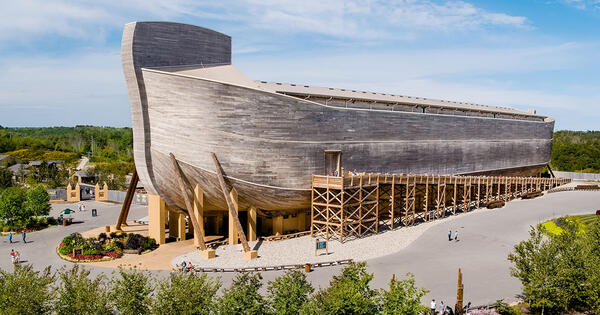 Destination: "The Beginning"
Letter from Pastor Kimbrough
Dear Grace Baptist Family,
We are continuing our look at "destinations." It is the early part of the summer vacation season and there are many people who are making plans and preparations for their summer vacation destination.
I am having us take a look at another type of destination. These are Biblical places that we should visit and linger in and actually make a part of our daily lives.
Our destination today is, "The Beginning."
We just returned from a couple of days in which we visited the Creation Museum [https://creationmuseum.org] and the Ark Encounter [https://arkencounter.com]. If you have never been, then take a look at the links provided and I think you will want to try and visit some day. We had a wonderful experience and were enriched and blessed.
Genesis chapters 1-11 is one of the most attacked portions of Scripture in the Bible…for good reason. In these chapters we find treasures of truth that are essential to our faith. In fact, one of the statements at the Museum sums it up as Satan might whisper, "If I can convince you that the Flood was not real then I can convince you that Heaven and Hell are not real."
We need a vigilant defense of the authority of Scripture. So it is imperative that we have reasonable answers to questions regarding our faith and our belief in Scripture and in what the Bible teaches about Creation.
If you go to the destination of "The Beginning" you will start at Genesis 1:1 In the beginning, God created the heavens and the earth. From there you will go through the next 10 chapters through chapter 11.
As you go to this destination you will observe at least the following topics:
God
The beginning of time
Creation of all things—in six literal 24 hour days
There is a Creator
Adam and Eve
Cain and Abel
Accountability to God
Authority
Rules
Gender distinction
Animal/human distinction
Man has a soul
Sin entered the world and the fall of man
Guilt
Redemption
Love of God
Plan of God
People of God
Worship of God
Faithfulness of God
Judgment of God
Power of God
Presence of God
Relationship with God
The Ark
Noah
Worldwide global flood
Promises of God—a Savior to come; a rainbow
God's provision for life and living and all Creation
Fellowship with God
Marriage
Rest
Work
Conflict
Family
Death
Satan
Beauty of creation
Punishment for sin
Parenting
Justice
Mercy
Covenant of God
Language
Dispersion of the human race
There is a lot to see and observe at this destination!
As you can imagine, there is much more to discover when you go to "The Beginning."
If you go to this destination, let me suggest the following:
Take some time to read Genesis 1-11
Identify the key people—notice their role in the early history of the world, their responses and observe life lessons from them
Identify the key events that you will find in these chapters
Look for the principles listed above and discover others
Express you gratitude to God in a posture of worship to Him
I hope you will go to this Biblical destination.
And if possible, I hope you will one day be able to visit the Creation Museum and the Ark Encounter.
In Christ,
Wynne Kimbrough
Your Pastor
Our address is: 2980 Old Peachtree Road, Dacula, GA, 30019