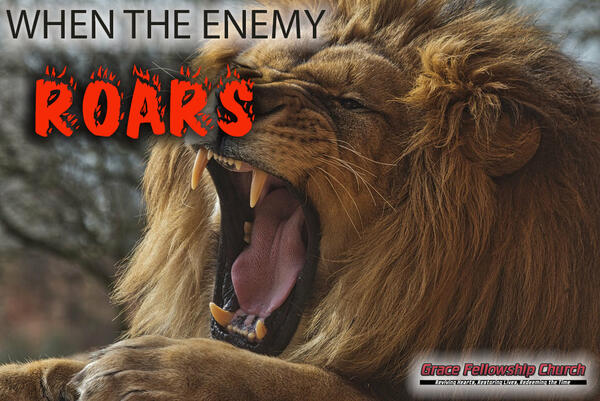 When the Enemy Roars
VISION Newsletter Pastor E. Keith Hassell April 2021
1 Peter 5:8 (NKJV) "Be sober, be vigilant; because your adversary the devil walks about like a roaring lion, seeking whom he may devour."
Have you ever trusted God and won the victory, only to suffer a "gut-punch" spiritual attack immediately following? This is a common experience for those who take a stand for Christ and to do what is right. When counterattacks occur, what do we do? Do we become discouraged? Do we run? Do we hide? Do we quit? You may be experiencing the whiplash of a spiritual counterattack at this very moment. Be assured, the same God who gave you victory before is ready to give you victory again!
In 1 Kings 19:1-18, we read the account of the enemy's counterattack against the prophet Elijah. The prophet Elijah was one of the greatest prophets who ever lived. In a time of national apostasy, Elijah prayed, and a severe drought came on the land that lasted for three and one-half years. On Mount Carmel, he challenged the four hundred and fifty prophets of Baal and the four hundred prophets of Asherah, in what we might call a spiritual dual, to prove who was the true God—Baal or YAHWEH. The challenge was to see whose God would answer by fire from heaven. The prophets of Baal prayed frantically with no results. When Elijah prayed, God sent fire out of heaven and the prophets of Baal were executed. He prayed again, and the drought was broken. God answered with a torrential downpour of rain. That was quite a victory! Unfortunately, he had little time to rejoice before the enemy roared!
Immediately upon hearing that Elijah had killed her prophets, Queen Jezebel sent Elijah word that she would surely execute him immediately! When Elijah heard the news of this counterattack, his courage wilted into terror. Elijah ran for his life! What caused this mighty prophet to wilt? The enemy ROARED!
The apostle Peter describes the devil as a roaring lion. The devil never gives up. He is the master of counterattacks. His roar represents his intimidating threats to steal, kill, and destroy. The devil's roar can strike fear into the hearts of the most courageous of saints.
The devil's roar is compared to that of a lion. A lion can roar as loud as 114 decibels, which is about twenty-five times louder than a gas-powered lawn mower. By comparison, a loud rock concert is between 115-120 decibels.
A couple of years ago, my wife and I were keeping our young grandson and decided to take him to the zoo. While there, we visited the lion's exhibit. There the lion lay in the grass. After we walked away, the lion stood up and let out a mighty roar! The roar was so thunderous that people came running toward the lion's exhibit with hopes to see the lion roar. Of course, if the lion had been loose, everyone would have been running the other way!
In an article entitled, "Beware the Roaring Lion", Dean Smith wrote: "For years, scientists have been puzzled by the unusual affect the lion's roar has on its prey. When the lion gives a deep, guttural roar, instead of instantly fleeing, animals are momentarily paralyzed giving the lion a brief opportunity to strike. Researchers have now discovered the reason for this. Along with its roar, the lion utters what is called "infrasound." This is a low-frequency blast that the prey actually feels instead of hears. Humans can hear sound waves between 20 to 20,000 hz, but this part of the lion's roar falls below this range coming in at 18 hz. It's like a hit before the hit. It is so powerful that it can momentarily stun an animal. In fact, lion trainers have been known to go into shock when lions utter this low-level roar. This part of the roar is so powerful it can even pass through mountains and dense jungle forests. Military researchers have long known of the effects of this low-frequency blast and are trying to incorporate it into modern weaponry, which would be used to stun advancing troops. So as Peter addresses the issue of satanic attack, he is saying it's not what you actually hear that's dangerous, but rather what you don't hear."[1]
Have you been paralyzed by the devil's roar? Has the enemy tried to intimidate your faith with a counterattack? The enemy roared at Elijah through the mouth of Queen Jezebel. At the sound of the enemy's roar, this mighty prophet of faith and power fled in fear to save his life. The enemy's roar caused Elijah to experience a personal crisis of faith. Has the enemy tried to paralyze your faith with fear?
How do we overcome the enemy's roar? An examination of the account of Elijah reveals eight principles. First, we must resist the enemy's roar with faith (1 Kings 19:1-3). Remember, the enemy's roar is meant to rob us of faith and to fill us with fear. We must not allow the enemy's roar to replace faith with fear.
Second, we must resist the temptation to flee (1 Kings 19:3). The same God who gave us victory before is the same God who will give us victory in the enemy's counterattack.
Third, we must resist feelings of discouragement. A warrior's greatest struggle with fear and discouragement often comes just after his or her greatest victory. Discouragement often leads to depression. The greatest men and women who were used by God throughout history have often fallen victim to depression. The enemy's roar can stun us. It can make us question our faith, ourselves, and our resolve to fight.
It is important to recognize the signs of depression. We see seven signs in the life of Elijah. One sign is weariness: "It is enough!" A second sign is disillusionment: "for the children of Israel have forsaken Your covenant, torn down Your altars, and killed Your prophets with the sword." A third sign is forgetfulness: Elijah failed to remember the victories of the past. A fourth sign is self-pity: "I alone am left; and they seek to take my life." A fifth sign is the feeling of unworthiness: "Who am I?" A sixth sign is despairing of life: "Lord, take my life!" A seventh sign is withdrawal: "He lay and slept under a broom tree."
We come now to the fourth principle for overcoming the enemy's roar. We must get back to the normal routines of life (1 Kings 19:5-6): "Then an angel touched him, and said to him, 'Arise and eat.'" Maintaining a healthy routine can help us overcome depression.
Fifth, we must not flee from the enemy but run to the bedrock of our faith (1 Kings 19:8): "So he arose, and ate and drank; and he went in the strength of that food forty days and forty nights as far as Horeb, the mountain of God." Horeb was where God betrothed the nation of Israel to Himself as His covenant people.
Sixth, we must get honest with God and allow Him to get honest with us (1 Kings 19:9-10): "And behold, the word of the Lord came to him, and He said to him, 'What are you doing here, Elijah?'" We must admit with where we are and let God show us the way back.
Seventh, we must listen to and be led by the still small voice of God in our heart (1 Kings 19:11-13). We must not allow noise and circumstances to dictate our reaction. We must hear and respond to God's voice.
Eighth, we must get back to what God has called us to do (1 Kings 19:15). We are placed here on a divine assignment. The devil's roar cannot change that. It is his desperate reaction to our success!
In conclusion, when the enemy roars, we must look to God for victory. Ask yourself: "How would I respond to this counterattack if I was confident of ultimate victory?" God won a great victory through Elijah. It was not time to flee. It was time to finish the fight! God challenged Elijah to rise in faith and obey His voice for final victory. The enemy may roar, but God has the final roar! The same God who brought us to victory before will bring us to victory again!
[1][1] Dean Smith, "Beware the Roaring Lion"
This FaithLife page is designed to encourage fellowship and discipleship within the church body at Grace Fellowship along with its friendly followers.
Our address is: Grace Fellowship 2904 FM Loop 343 Rusk, Texas