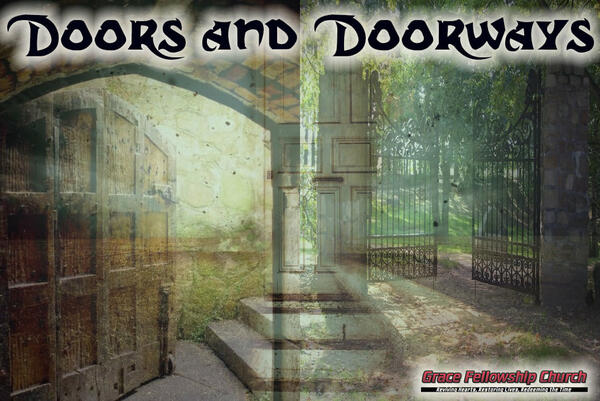 Doors and Doorways
VISION Newsletter Pastor E. Keith Hassell May 2021
Genesis 4:1–7 (NKJV) "Now Adam knew Eve his wife, and she conceived and bore Cain, and said, 'I have acquired a man from the Lord.' 2 Then she bore again, this time his brother Abel. Now Abel was a keeper of sheep, but Cain was a tiller of the ground. 3 And in the process of time it came to pass that Cain brought an offering of the fruit of the ground to the Lord. 4 Abel also brought of the firstborn of his flock and of their fat. And the Lord respected Abel and his offering, 5 but He did not respect Cain and his offering. And Cain was very angry, and his countenance fell. 6 So the Lord said to Cain, 'Why are you angry? And why has your countenance fallen? 7 If you do well, will you not be accepted? And if you do not do well, sin lies at the door. And its desire is for you, but you should rule over it.'"
Proverbs 5:1–13 (NKJV) "My son, pay attention to my wisdom; Lend your ear to my understanding, 2 that you may preserve discretion, and your lips may keep knowledge. 3 For the lips of an immoral woman drip honey, and her mouth is smoother than oil; 4 But in the end she is bitter as wormwood, sharp as a two-edged sword. 5 Her feet go down to death, her steps lay hold of hell. 6 Lest you ponder her path of life— her ways are unstable; You do not know them. 7 Therefore hear me now, my children, and do not depart from the words of my mouth. 8 Remove your way far from her, and do not go near the door of her house, 9 Lest you give your honor to others, and your years to the cruel one; 10 Lest aliens be filled with your wealth, and your labors go to the house of a foreigner; 11 And you mourn at last, when your flesh and your body are consumed, 12 and say: 'How I have hated instruction, and my heart despised correction! 13 I have not obeyed the voice of my teachers, nor inclined my ear to those who instructed me!'"
Temptation comes to all of us. The question is asked, "How do I deal with temptation?" The answer usually given is, "Just resist it!" The follow up question is usually, "Okay, but how?"
In dealing with temptation, it is necessary to distinguish between two different types of temptation. One begins within and one begins without. The first type of temptation is what I call "loveless temptation". Loveless temptation is the fallen inclination to react in our flesh rather than to respond in love. Loveless temptation is what Cain faced in the case of his brother Abel. God likened this temptation as sin waiting for an open door into Cain's heart. Sin might be likened to a poisonous viper coiled at the threshold waiting to strike. Cain was angry because God rejected his bloodless sacrifice while receiving Abel's blood sacrifice. It was an issue of substitutionary sacrifice for sin. Cain approached God based on his own sacrifice. Abel approached God based upon the bloody substitutionary sacrifice of a lamb. Cain focused his anger on Abel, his brother. Cain experienced the loveless temptation to strike Abel in poisonous anger, bitterness, and hatred. In an act of merciful intervention, God warned Cain of sin's presence and exhorted him to rule (take dominion) over it by not opening the door. So, how do we resist loveless temptation? We must rule over our own spirit and keep the door shut on sin's expression in our lives. Rather than allow our sinful passions to strike out in unloving ways toward others, we must rule over these selfish and self-seeking inclinations of the heart. We must rule over our flesh, keep the door shut on sin, walk in love, and do what is right in the sight of God.
The second type of temptation is what I call "luring temptation." Luring temptation begins with outside seduction. Seduction is the enemy's attempt to awaken a desire for what is forbidden. The devil is called the Tempter. He knows and targets our weaknesses. He uses different fishing poles (people), fishing lines (excuses, flattery), and fishing bait (offers) to lure us into bondage. Luring temptation is likened to an immoral woman. Her lips drip with honey and her mouth is smoother than oil, but in the end, she is more bitter than wormwood and is as sharp as a two-edged sword. How do we deal with luring temptation? Let us step back and look at the subject of doors and doorways.
Doors speak of barriers, separations, and distinctions. God puts doors between us and sin in the form of His commandments. Doorways speak of access. We walk through doorways to move from one realm to another. The devil seeks to enter through a doorway into our hearts. He seeks access through an open door, the sinful removal of a divine protective barrier.
The devil uses temptation to lure us to open the door to sin by disobeying God's commandments. Once sin has occurred, the consequences of sin begin to drop like dominoes.
The best way to deal with temptation is not to deal with it! What does this mean? It means to stay away from the door of temptation. It means to remove yourself far from the lure (seduction) of temptation. Proverbs 5:8 (NKJV) says, "Remove your way far from her, and do not go near the door of her house." We must determine not to go near the door of seduction.
To do this, we must establish boundaries to distance ourselves from the lure of temptation. Romans 13:14 (NKJV) says, "But put on the Lord Jesus Christ, and make no provision for the flesh, to fulfill its lusts." We must seek to "put on" the nature and likeness of Jesus and cut off any avenue where sin can lurk in the darkness of our lives. I like to live by the motto the Lord gave me years ago: "No sin. No pride. No compromise. No excuse."
Unfortunately, we have all opened the door to sin in some way. Often, we have found ourselves in bondage to the sin we entertained. The good news is that God can deliver us out of the bondage of sin.
Israel was in bondage to Egypt, but God broke the will of Pharaoh during the Passover. The people entered the blood-stained doorway into their home. That blood-stained doorway was the means through which their lives were spared and delivered. Consider now the Person and work of Jesus Christ that won our deliverance. Jesus is our Passover Lamb. He is The Door and the Cross is the blood-stained Doorway of Deliverance. Jesus said in John 10:1–10 (NKJV) "'Most assuredly, I say to you, he who does not enter the sheepfold by the door, but climbs up some other way, the same is a thief and a robber. 2 But he who enters by the door is the shepherd of the sheep. 3 To him the doorkeeper opens, and the sheep hear his voice; and he calls his own sheep by name and leads them out. 4 And when he brings out his own sheep, he goes before them; and the sheep follow him, for they know his voice. 5 Yet they will by no means follow a stranger, but will flee from him, for they do not know the voice of strangers.' 6 Jesus used this illustration, but they did not understand the things which He spoke to them. 7 Then Jesus said to them again, 'Most assuredly, I say to you, I am the door of the sheep. 8 All who ever came before Me are thieves and robbers, but the sheep did not hear them. 9 I am the door. If anyone enters by Me, he will be saved, and will go in and out and find pasture. 10 The thief does not come except to steal, and to kill, and to destroy. I have come that they may have life, and that they may have it more abundantly.'" The message of Jesus Christ and Him crucified was the message the Paul preached: "For I determined not to know anything among you except Jesus Christ and Him crucified."[1] For him, it was the only message that could save, heal, deliver, and set free.
Have you ignored God's commands and the voice of wisdom? Have you opened the door to sin in your life? Maybe you have opened the door to the loveless temptation in your flesh to strike out against others. Maybe you have been trapped by the seductive power of luring temptation. You find yourself trapped and looking for a way out. What can you do?
First, you must repent for opening the door to sin through your disobedience, pride, and rebellion. Do not make excuses or downplay the nature of your sin. Second, renounce all agreement with your sin. Give it no comfort. Give it no sympathy. Third, get rid of any provision to fulfill your former temptation. Clean your house of any access to the bait of temptation. Fourth, ask God to deliver you from the power of your sin. Finally, come to Christ and His Cross as the Door and Doorway out of bondage and into God's salvation and blessing.
Spiritual doors and doorways are real. Do not give the devil access into your life. Do not stray near temptation's door. Do not entertain the devil's lure. Keep the door shut on sin and you will keep yourself within the realm of God's blessing.
[1] 1 Corinthians 2:2 (NKJV)
This FaithLife page is designed to encourage fellowship and discipleship within the church body at Grace Fellowship along with its friendly followers.
Our address is: Grace Fellowship 2904 FM Loop 343 Rusk, Texas