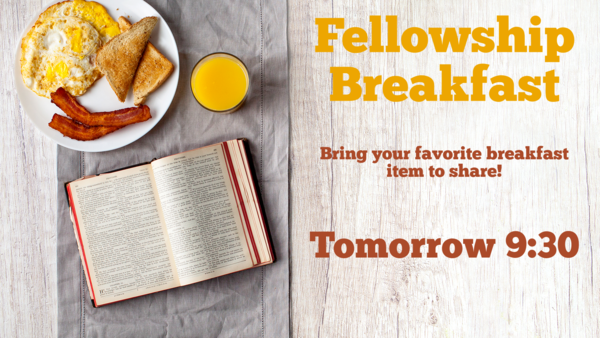 Join us in-person tomorrow! (or online)
YouTube Premiere 10:45 CST
January 9th, 2022
We have in-person services Sunday; however, if you cannot make it, we will still have our Livestream. Our online Premiere service is on January 9th at 10:45 am CST. Click HERE to join! I hope you can make it!
Or, you can copy and paste this link into your browser:
We encourage you to join us in person at our main "in-house" services. We will meet at 9:30 for our Fellowship Breakfast & 10:45 for the main service.
I encourage you to give to our ministry. You can give online at GraceKingsford.org/give or text the word 'Give' with the amount (e.g. Give 100) to (906) 205-0188. Or you can just mail in an offering to 1295 Pyle Drive, Kingsford, MI 49802. Thank you for your faithfulness to Grace Baptist Church.
We invite you to give to the ministry of Grace Baptist Church. We believe that the practice of giving ourselves first to the Lord will result in giving generously that will meet all the needs of this local church (2 Cor. 8:1-7). Accordingly, grace-giving should be sacrificial as God has blessed, in obedience to Scripture, and out of love for God & His mercy.
Our Prayers
Mike Slater [Pam Trask's nephew] He is home now from the hospital recovering from severe gastrointestinal issues.
Bill Dixon [Kris Michael's friend] — His wife passed away recently, and his daughter is very ill right now.
Michael Graham [Pastor's Brother-in-law] Mike has aggressive stage III cancer. Please be in prayer for him, his wife, and his two kids as he starts chemo & radiation.
President Biden — Pray that He & Harris will be unable to cause ungodly division, & bring the American people together this new year under YHWH's authority.
Upcoming Events
Download
Wednesday, January 12th  •  6:30–7:30 pm (CDT)
Download
Sunday, January 30th, 12 pm (CST)
Download
Thursday, February 3rd  •  10–11 am (CST)
A Place of Hope
Our address is: 1295 Pyle Drive, Kingsford, MI, 49802