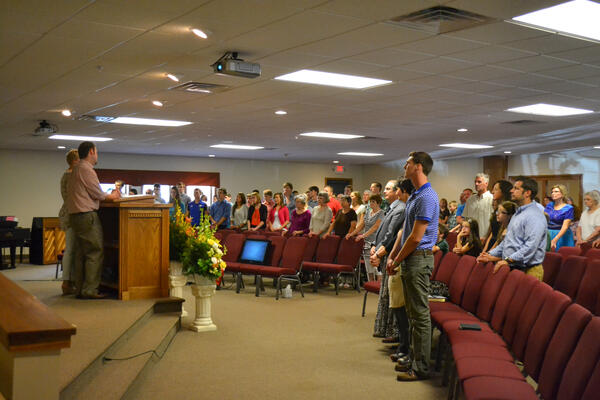 Join us tomorrow morning!
YouTube Livestream 9:15
May 17th, 2020
I hope you can make it! Our Main Service Livestream starts at 9:15am CDT Click HERE to join live!
Or, you can copy and paste this link into your browser:
Upcoming Events:
Sundays — Prayer Meetings at 9am, the fellowship time, and Sunday School at 10am are on hold for next week.
Sunday, May 31st — Annual Business meeting with voting after the main service. All members please be present.
Note:
As the social distancing executive order is to expire, more people will be integrating into public life including coming back to the church building for services. It is becoming even more important to wear masks church to protect the vulnerable in our church.
Prayer Requests:
Don Roberge — He is needing a heart operation to replace a heart valve. Please pray that he will be able to schedule it soon.
Walter Jensen — He is home recovering from sepsis and surgery to remove his cancer. Pray that he will recover quickly.
Cindy Yelich — Flooding in their home forced Cindy & Pat to leave their home. Pray for protection of their house and belongings, & for the provision that God has given them through Lois Giuliani.
Suzanne [Rebekah Kelsey's friend] - She crashed biking in Colorado, and has been missing since. Please pray for guidance for those out looking for her, comfort for the family, and protection on Suzanne.
Yvonne O'Leary — Praise our Lord she received the much anticipated surgery that removed her cancer! She is recovering now. Pray for healing & that she would receive our Lord in this trial.
Yvonne Peterson—She is in the hospital battling cancer with only weeks to live. Pray for the whole family.
President Trump — That JHVH would give Trump discernment & understanding so that our nation may know stability internally & abroad.
You can give online at GraceKingsford.org/give or text the word 'Give' with the amount (e.g. Give 100) to (906) 205-0188. Thank you for your faithfulness to Grace Baptist Church.
Our address is: 1295 Pyle Drive, Kingsford, MI, 49802