Join us tomorrow morning!
YouTube Premiere 9:15
January 10th, 2021
I hope you can make it! Our online Service Premiere for this Sunday, January 10th at 9:15 am CST Click HERE to join live!
Or, you can copy and paste this link into your browser:
Our main "in house" service will be at the church at 10:45am
Check out our new channel that will have short videos on apologetics & quick devotionals. Click Here to subscribe to G.R.A.C.E. Giving Right Answers and Christ-like Encouragement and
Click Here to watch the latest episode
Prayer Requests:
Don Robarge — Pray that his heart is healed & for full strength.
Cindy Yelich — Pray for provision for a new home as they attempt to sell their old home.
Tom Calkins — Pray that he regains stamina & strength.
Katrina Miilu — Pray for a full & speedy recovery from her surgery & that no malignancy was found.
Yvonne O'Leary — Pray for her cancer to be healed and for her future treatment.
Susan Wilson [Laurie Miller's Sister] She is recovering from multiple myeloma. Pray for strength for her to heal fully from cancer and from the treatments.
Jan Trumble [from Ladies' Bible Study]— Recently diagnosed with lung cancer & started chemotherapy. Pray that she will be healed.
President Trump — That our president and his family would not suffer injustice in the courts.
We invite you to give to the ministry of Grace Baptist Church. We believe that the practice of giving ourselves first to the Lord will result in giving generously that will meet all the needs of this local church (2 Cor. 8:1-7). Accordingly, grace-giving should be sacrificial as God has blessed, in obedience to Scripture, and out of love for God & His mercy.
You can give online at GraceKingsford.org/give or text the word 'Give' with the amount (e.g. Give 100) to (906) 205-0188. Or you can just mail in an offering to 1295 Pyle Drive, Kingsford, MI 49802. Thank you for your faithfulness to Grace Baptist Church.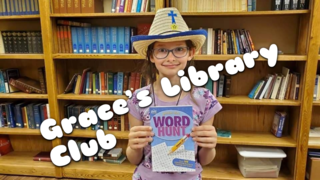 Winter is here! What better time than now to grab a book
from our church library and read? Since we have many books
for all ages and stages, everyone is invited to join the club!
#1--During the month of December, find your way to
our church library, check out a book (using the
check-out log on the back table), and enjoy a
good read over the next few weeks.
#2--Beginning THIS MONTH, we will meet on the 2nd
Tuesday from 6:30-7:30. p.m. around the table
in our church library.
#3--Each person will have between 5-10 minutes to tell
us about the book they read. Prepare a few
notes to help you during your book talk.
Tell us the title, author, date written and quick plot
summary of the book (or article if you prefer to read
a Christian History Magazine). What was the Setting?
Characters? Theme? What did you learn from the
book? Are there quotes from the book or article that
impressed you? Was it biblically accurate? And so on.
#4-- Grab a book from our Grace Library today and enjoy a
good read. Children, young adults, and senior saints
can all join the fun--Grace Library Club!
A Place of Hope
Our address is: 1295 Pyle Drive, Kingsford, MI, 49802